This post may contain some affiliate links for your convenience (which means if you make a purchase after clicking a link I will earn a small commission to help keep my blog up and running, but it won't cost you a penny more). For more information, please read my disclosure policy.
It's time for a 40 books by 40 update. By this point in the challenge, I needed some new authors to check out so I looked to some of more reading-savy friends. One recommendation that stood out to me was the Goldy Bear Culinary Mystery Series by Diane Mott Davidson. Food and murder mysteries. I am sold. The first book in the series is Catering to Nobody, which drops us in on the life of Colorado caterer Goldy. She has started her life over with her pre-teenaged son after leaving an abusive marriage and does catering to support herself. In need of a job, she caters a funeral. This is where things take a turn. Her ex-father-in-law is poisoned by something at funeral lunch and Goldy's business is shut down and she is the main suspect! The police have no doubt it was her, so Goldy must step in to prove her innocence.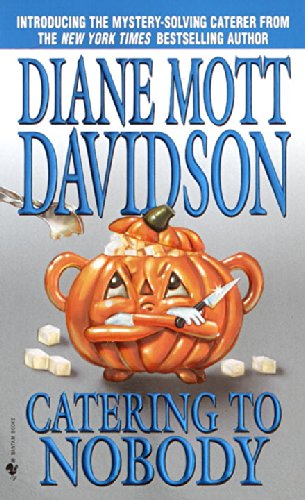 I enjoyed this book, but wasn't blown away by it. It was a quick and light read but I thought I would enjoy it more than I did. I did like the recipes scattered throughout the book. You are rooting for Goldy throughout the whole book because she has lost the only way of supporting herself and her son. Davidson keeps the book interesting with multiple characters and a plot that keeps you turning the pages. I liked the book, but I didn't LOVE the book. I will, however, give the next book a try, Dying for Chocolate.
Any new book series you are trying out? What is your favorite book series? Thanks for stopping by 🙂