This post may contain some affiliate links for your convenience (which means if you make a purchase after clicking a link I will earn a small commission to help keep my blog up and running, but it won't cost you a penny more). For more information, please read my disclosure policy.
How to comfort in tragedy: how to help a grieving spouse.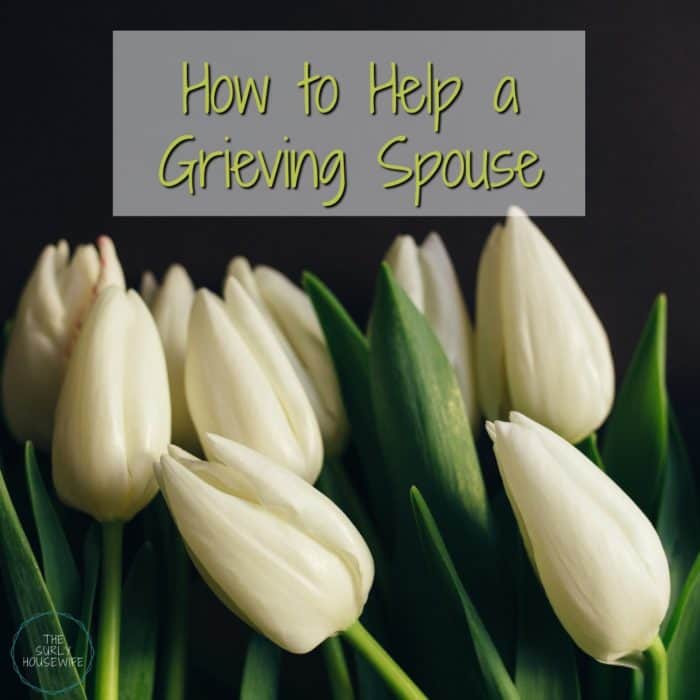 "The pain doesn't go away. You just make room for it." This quote from The Walking Dead is the best saying I have heard about the grieving process. My father-in-law was killed in a work place accident. My husband is my best friend, biggest supporter, and my partner in everything. The death of his father was the hardest time in our marriage. Even though, years later, I would deal in my own way with this loss, I knew it was my job as his wife and partner to help him through this hard time. I am not a grief counselor or psychologist but I speak from personal experience on how to help a grieving spouse.
Our Story
At the age of 24, my husband's world came crashing down when his father was killed. My father-in-law worked in water tower paint and repair and on August 19, 2004, he fell to his death. Despite the dangerous occupation, we were shocked and devastated by this loss. Jason and his dad were very close. Jason is an only child and his mother has not been in his life since he was 2 years old. Philo was his only family, and he was naturally grief-stricken. We were both young and had not even been married 2 years but we got through it stronger and closer than ever.
How to Help a Grieving Spouse
Communication
The biggest piece of advice I can offer is just be there for your spouse. It may seem very simple and straightforward but being 100% present while they are grieving is very powerful. My husband is a very affectionate and physical person and I knew the best way to be there for him was to hold him while he was sobbing. Of course, this may not be the case for everyone, so you need communicate with one another. They may want to be left alone. They may want to talk about memories or it may be too painful. Their boundaries need to be respected. Simply saying "I am here to support and love you through this. What do you need to me to do?" can work wonders.  Everyone is different, which is why it is so, so, so, so important to keep the lines of communication open.
Avoid clichés
Do not give your husband the good ole "he's in a better place" bullshit. They will hear that enough from well-meaning people who don't know what else to say. Because the truth of the matter is "The pain doesn't go away. You just make room for it." It may sound cliché but is the utter truth. Time heals shit. You will never get over the loss, you simply learn to, as Andrea said "Make room for it." It's death. It's an ending. There is no bright side and you have to learn that this person is gone. Forever. This isn't going to be easy, but you can get through it.
Empathy
This is one is tricky because you can't let your empathy get in the way of your own grieving process but you can't make it all about yourself either. You can't be over sympathetic and act like you totally know what they are going through (unless you do of course). But you don't want to tell them to suck it up and move on. Again, because two people are grieving it is essential that you talk to each other.
Prepare for Drama
It is very sad to say but death brings out the best and the worst in people. Be prepared for drama of some sort. It may be with family, friends, or between the two of you. But you can almost guarantee there will be drama of some sort, from losing friendships to financial hardships. It could be devastating to your relationship if you don't keep the drama in check. Try as hard as possible to keep the drama away. But if it happens, be prepared to defend your spouse. I highly, highly, HIGHLY recommend the book "Boundaries" to help you deal with any drama you come across.
Prepare for the future
Grief is a roller coaster and you never know when the reality will hit. When my husband and I went to the movie "United 93," he literally lost it in the theatre during the scene in which the plane goes down. It was like a day had not passed since his father died and it was almost two years later. The point being, your spouse is always going to need your support, some days more than others.
While some are able to move through the grieving process quickly, others are crippled by their grief and may take years to fully come to grips with their loss. Love, patience, and understanding are virtues that will enable you to help, no matter what stage of grief they are in. I never dreamed I would need to know how to help a grieving spouse so early in our marriage, but with open communication, patience, and love we have come out of our tragedy stronger than ever!