This post may contain some affiliate links for your convenience (which means if you make a purchase after clicking a link I will earn a small commission to help keep my blog up and running, but it won't cost you a penny more). For more information, please read my disclosure policy.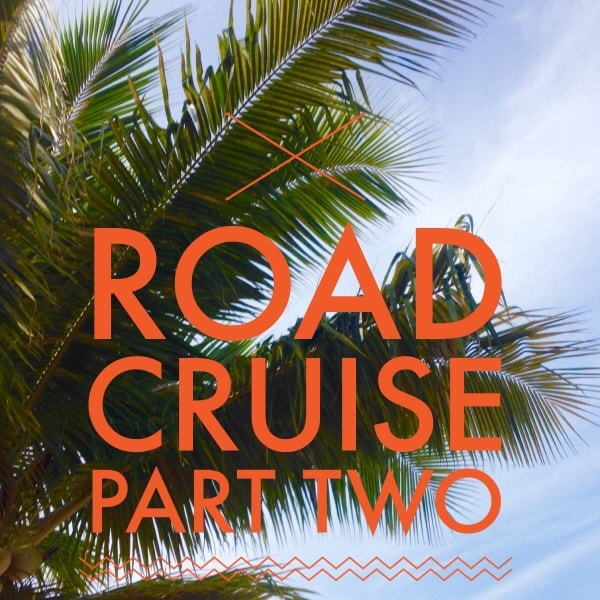 At the end of our first road cruise update, we had just boarded the ship and were ready for our week of rest and relaxation. The full post on RoadCruise Part One is here!
DAY THREE – DAY AT SEA
We began the day with breakfast! On the open seas, with no children. We were actually able to have a full conversation. It was amazing.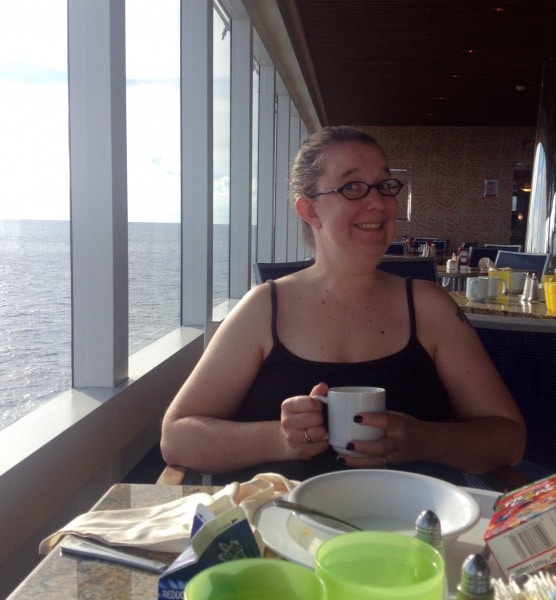 My husband and I went on a cruise about six years ago, and one of the things we missed most was second breakfast. We had a true second breakfast at Seaday brunch. Steak and eggs complete with a bloody mary and a mimosa. I miss second breakfast.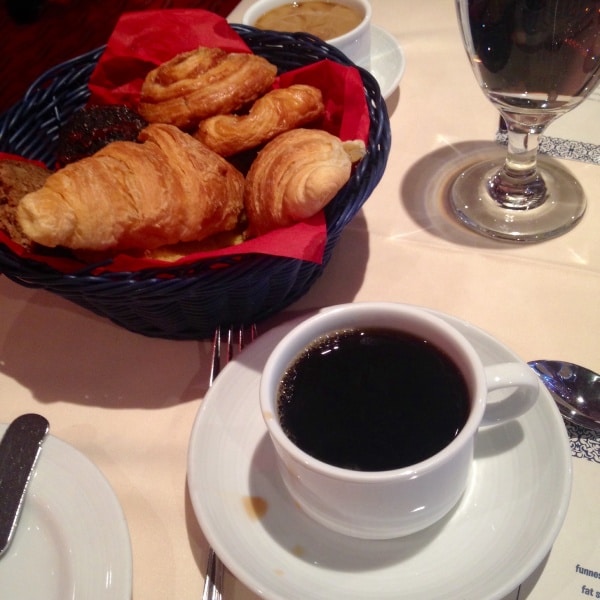 I also didn't realize how much I missed the ocean. I love how blue the water is and watching the wake come off the ship is just mesmerizing.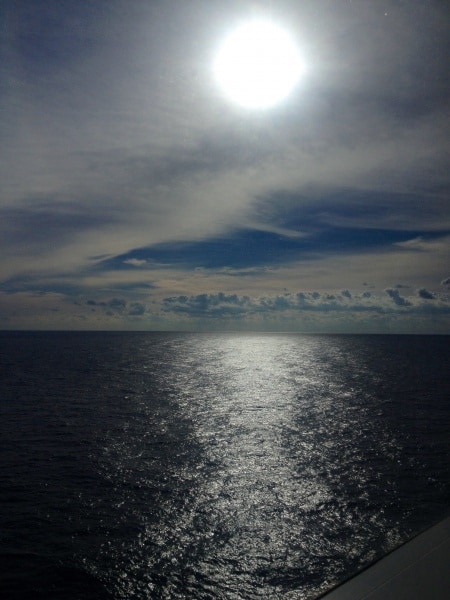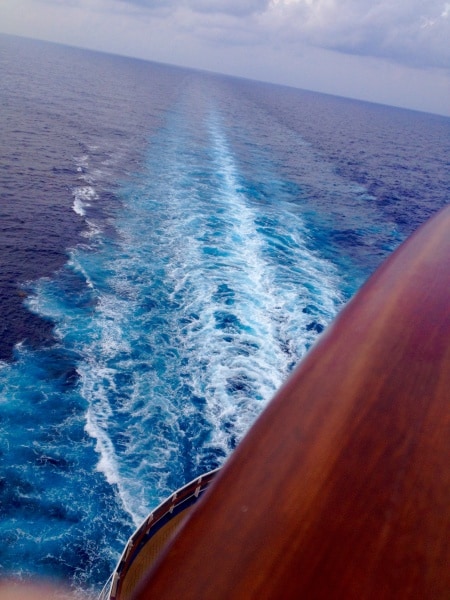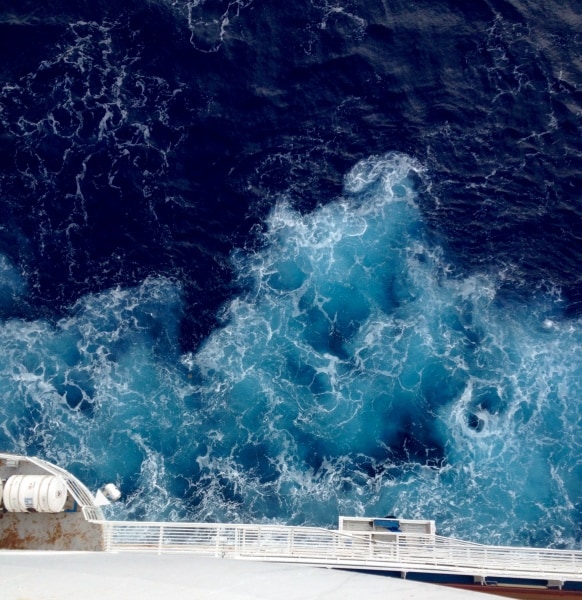 After our second breakfast, we explored the ship and ended up at a bar. Naturally. After a bit of people watching, we had a nap, a late lunch, and headed to the Serenity deck, the over 21 portion of the ship.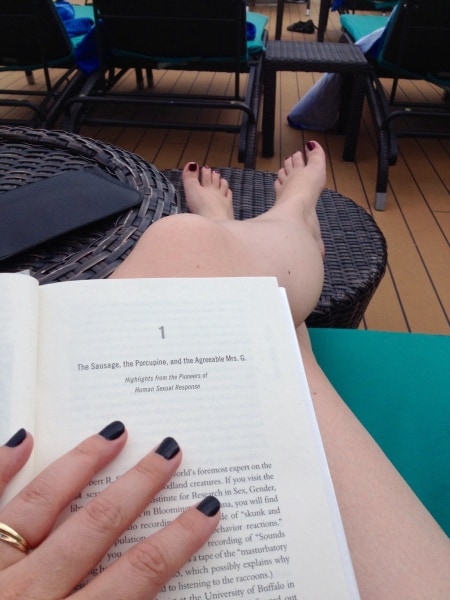 It was elegant night on the ship, so we had to look presentable at dinner. The only picture we took, turned out blurry, but I did get plenty of photos of Office Jason's new hairstyle.
This is the only food picture we took from the dining room. It was too dark for most of them to turn our anyway. I don't remember what this dessert was, but it was divine. It was a perfect end to our prime rib dinner. We didn't have one bad dish in the dining room our whole week and our wait staff was amazing. I miss them too.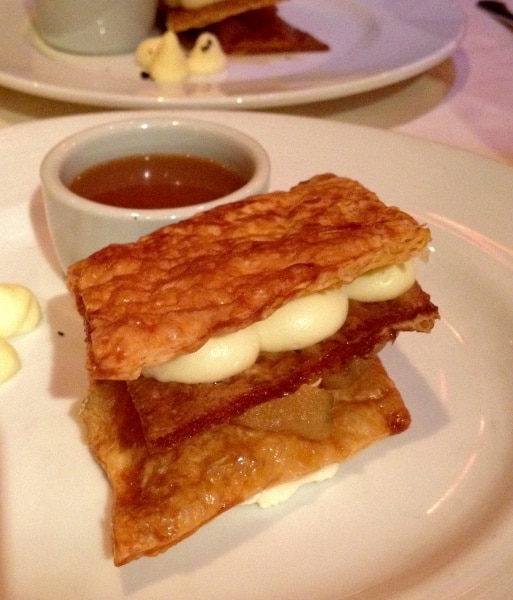 After we devoured our dinner, we went and changed into relaxy clothes and started watching "The Departed" of all things. Of all things to do on the ship, we watched a movie in our room. But we did venture out for an after dinner drink, some people watching, and the comedy show. Carnival has the Punchliner Comedy Club: 4 shows a night (except one I believe) and 2 comics the first part of the week and 2 the last part of the week. They have family friendly shows and adults-only shows. And new material all week. It is such a nice amenity to the ship.
DAY FOUR – DAY AT SEA
Our second at sea day was stormy, cloudy, and misty. An irish coffee was the perfect way to start the day 🙂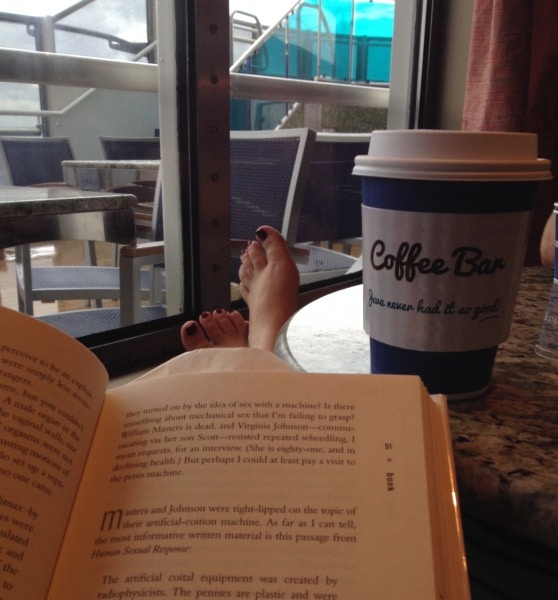 It did rain much of the day which kept most people indoors which was great for people watching and DRINKS in the atrium. Rum and coke and a white Russian. Perfect!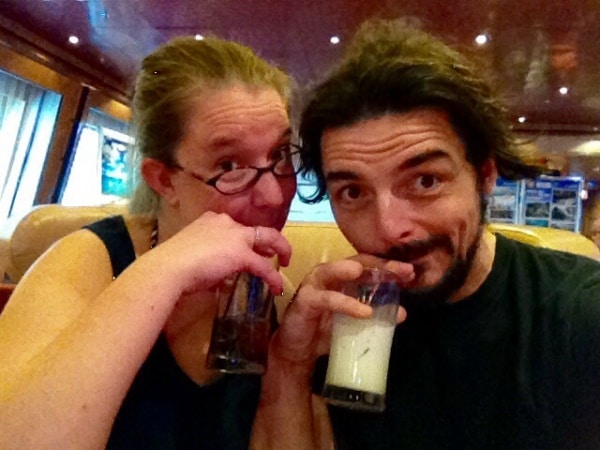 Our day at sea consisted of people watching, lunch, beers and books, and a nap before we headed to dinner. I honestly did lose track of how many naps we took during the week.
We weren't really up for selfies before each dinner, but we did snap this one.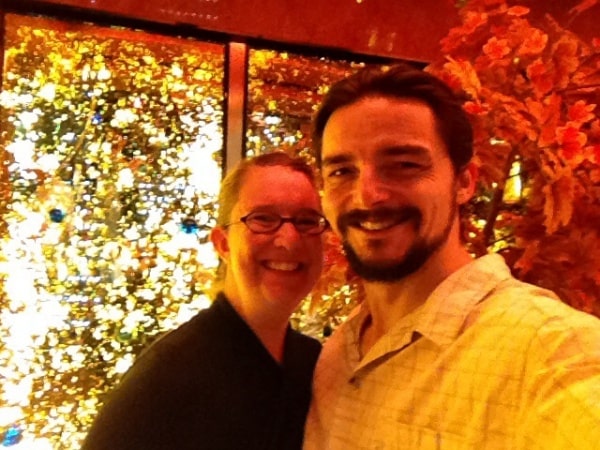 After dinner we grabbed (shocking) another drink. Well, I did and Jason looked so sad with his coffee.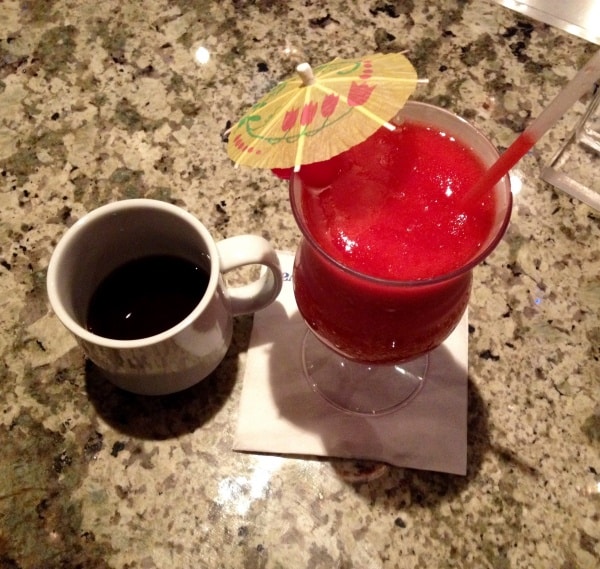 DAY FIVE – MAHOGANY BAY, ISLA ROATAN
Our first port-of-call was in Honduras' Bay Islands, Isla Roatan. You, literally, port right at the beach. Along with the beach, Mahogany Bay, there is a shopping area, restaurants, wildlife refuge, and boats for the various excursions. With the beach so close, we chose not to do any excursions. It was so nice to be within walking distance of the beach and the ocean. You can see the beach from the ship! We had breakfast and waited for a majority of the people to go ashore and were able to disembark the ship with little line.
Time to get off the boat folks.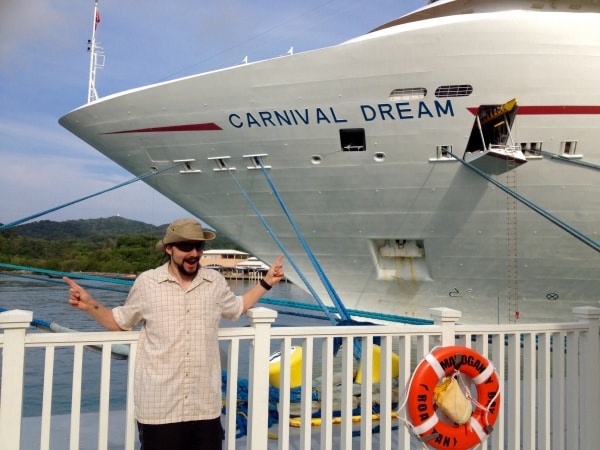 Beach day! We had an awesome spot despite waiting to get off the boat. A gorgeous way to spend the afternoon.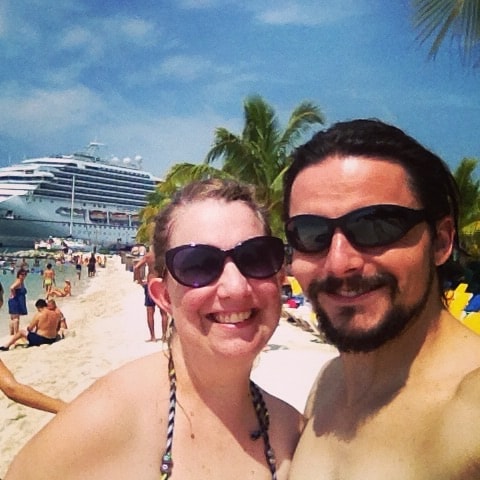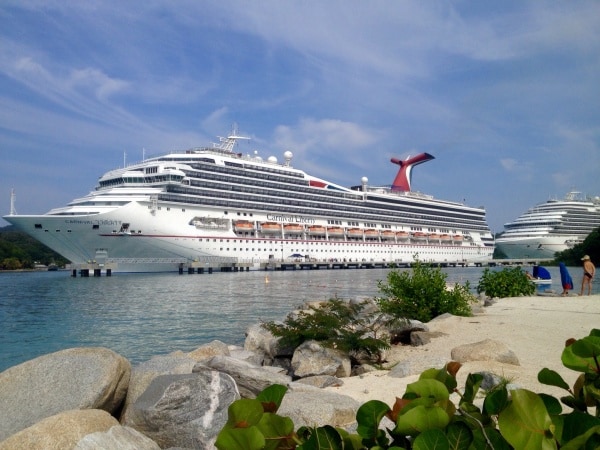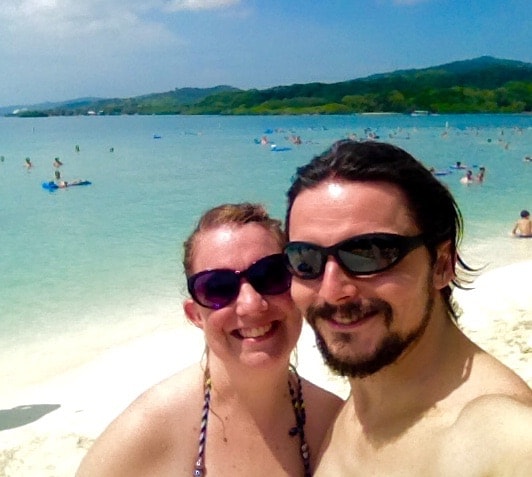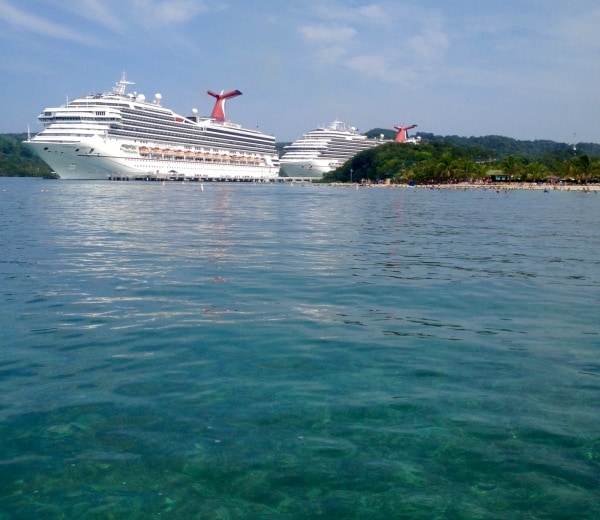 We had a late lunch back onboard. Then we enjoyed the empty serenity deck and waited to depart. The previous day was cloudy, so we were looking forward to the sunset as we left the port. The view from the boat as we departed the island was just breathtaking.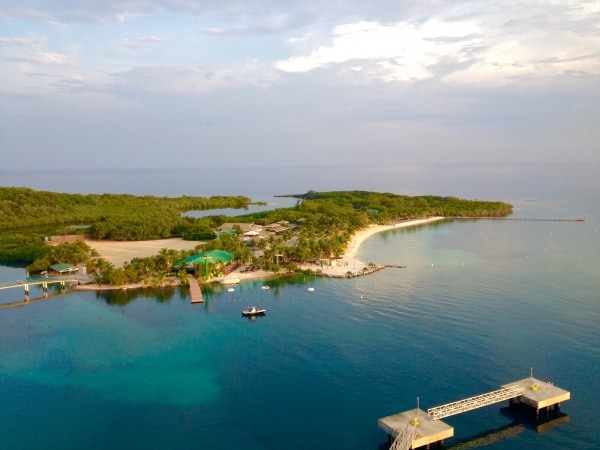 We were just on that beach!!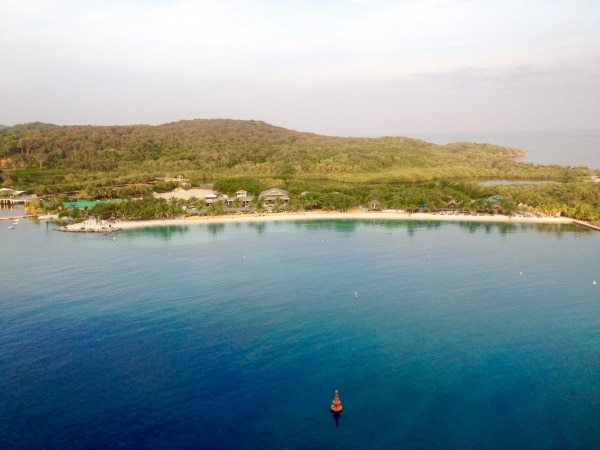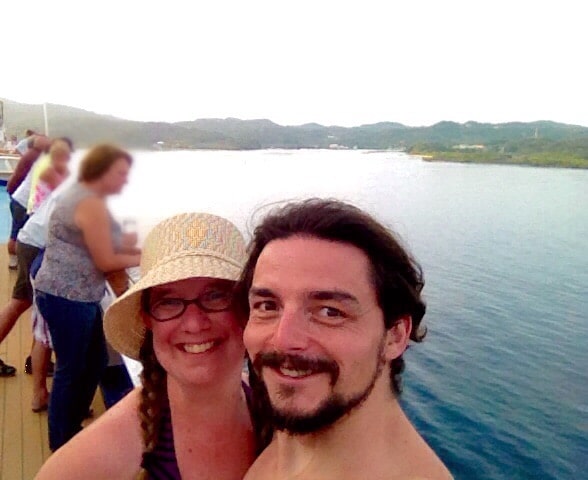 As was the sunset.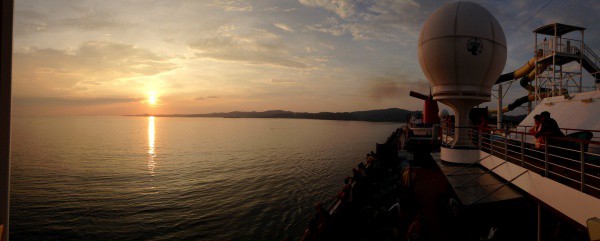 Bon yoyage Carnival Liberty! That's the little black blob in the upper lefthand corner.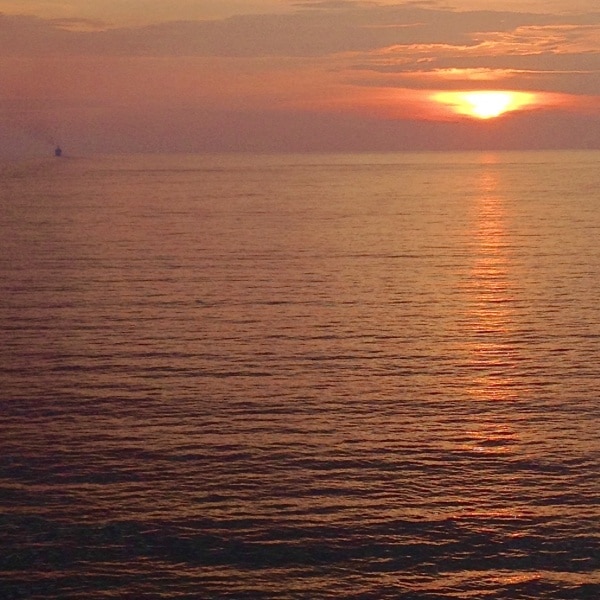 It was a quiet night on the ship. The day ashore had certainly worn people out!! I will wrap my recap of our road cruise next week. Thanks for reading!!