This post may contain some affiliate links for your convenience (which means if you make a purchase after clicking a link I will earn a small commission to help keep my blog up and running, but it won't cost you a penny more). For more information, please read my disclosure policy.
Wondering what to watch on Netflix? Here are 20 tv shows to start with!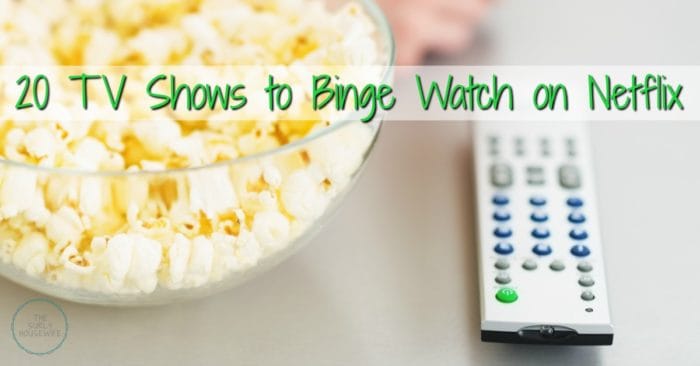 I am self-admitted tv addict, and I think settling down with my favorite tv show is the ultimate in self-care. So for those of you wondering what to watch on Netflix, I am gonna share with you 20 of my favorite shows you can binge watch on Netflix right now! Check out this post if you are wondering what to watch on Amazon Prime and HBO NOW. And all series descriptions are courtesy of Imdb. No sense in trying to reinvent the wheel.
What to Watch on Netflix
Complete Seasons
Check out these shows to see a series from beginning to end.
1. Breaking Bad – "A chemistry teacher diagnosed with a terminal lung cancer, teams up with his former student, Jesse Pinkman, to cook and sell crystal meth."
2. Weeds – "When a suburban mother turns to dealing marijuana in order to maintain her privileged lifestyle after her husband dies, she finds out just how addicted her entire neighborhood already is."
3. Dexter – "A Miami police forensics expert moonlights as a serial killer of criminals whom he believes have escaped justice."
4. The Killing – "A police investigation, the saga of a grieving family, and a Seattle mayoral campaign all interlock after the body of 17-year-old Rosie Larsen is found in the trunk of a submerged car."
5. Nurse Jackie – "A drug-addicted nurse struggles to find a balance between the demands of her frenetic job at a New York City hospital and an array of personal dramas."
BBC
Picks from across the pond.
6. Luther – "A crime drama series starring Idris Elba as a near-genius murder detective whose brilliant mind can't always save him from the dangerous violence of his passions."
7. Sherlock – "A modern update finds the famous sleuth and his doctor partner solving crime in 21st century London."
8. The Fall – "A psychological thriller that examines the lives of two hunters. One is a serial killer who stalks his victims in and around Belfast and the other is a talented Detective Superintendent from the MET who is brought in to catch him."
9. Hinterland – "A noir crime drama set in Aberystwyth, Wales, where the knackered and troubled but intense DCI Tom Mathias in search for redemption, while solving hate crimes."
10. Broadchurch – "The murder of a young boy in a small coastal town brings a media frenzy, which threatens to tear the community apart."
Comedies
Shows that are short, sweet, and will make you laugh.
11. The Office – "The story of an office that faces closure when the company decides to downsize its branches. A documentary film crew follow staff and the manager Brent as they continue their daily lives."
12. Maron – "Marc Maron has been a comedian for 25 years. He's had his problems. He was an angry, drunk, self involved, twice divorced compulsive mess for most of his adult life, but with the popularity of a podcast he does in his garage and a life of sobriety, his life and career are turning around."
13. Parks and Recreation – "The absurd antics of an Indiana town's public officials as they pursue sundry projects to make their city a better place."
14. Archer – "At ISIS, an international spy agency, global crises are merely opportunities for its highly trained employees to confuse, undermine, betray and royally screw each other."
15. It's Always Sunny in Philadelphia – "Four young friends with big egos and slightly arrogant attitudes are the proprietors of an Irish bar in Philadelphia."
Tried and True
You have probably heard of these shows. WATCH.THEM.
16. The Walking Dead – Zombie apocalypse. 'Nuff said.
17. House of Cards (Netflix version) – "A Congressman works with his equally conniving wife to exact revenge on the people who betrayed him."
18. Louie – "The life of Louis CK, a divorced comedian with two kids living in New York."
19. Mad Men – "A drama about one of New York's most prestigious ad agencies at the beginning of the 1960s, focusing on one of the firm's most mysterious but extremely talented ad executives, Donald Draper."
20. Arrested Development – "Level-headed son Michael Bluth takes over family affairs after his father is imprisoned. But the rest of his spoiled, dysfunctional family are making his job unbearable."
There you have it: what to watch on Netflix! What is your favorite binge watching show? Did I forget any?