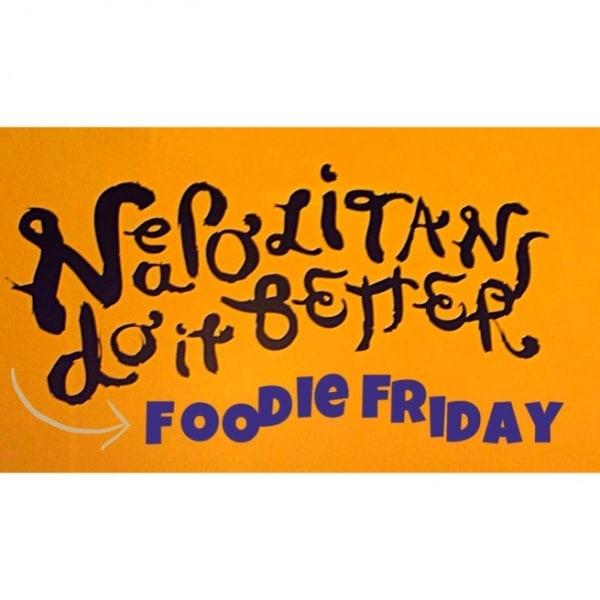 Friday! Friday! Weekend! Busy! Fall in Wisconsin is super busy. So many cool things to do and not enough weekends to do them. Nice weekends. When we get to this point of the year it's like the countdown to snow. Ugh. But I'm not going to be a Debbie Downer. It's going to be a beautiful fall weekend around these parts and my sister is coming to visit! With her baby belly! And I'm assuming a 1000 questions from my girls about when the babies will be here, how they got in there, how they come out, etc, etc. Sigh. Children are exhausting. That being said, parents NEED to get out once in a while to recharge and get away from the little assholes blessings. For this week's Foodie Friday, I am going to share one of my favorite restaurants that my husband and I just LOVE.
Earlier this summer, Jason and I got the chance to go out for a nice, quiet lunch while some friends of ours watched the kids. Woot! They live in Madison so we ditched the kids and headed to Care Porta Alba where they make traditional Neapolitan pizza in a wood burning oven as well as traditional Neapolitan pasta. However, the pizza is "THE" thing to get here. So much pride is taken in the way the pizza is constructed. Only the finest ingredients are used: San Marzano tomatoes, fresh mozzarella made daily, and the dough is made from high quality Italian flour. One of the most important, if not the most important, is the wood stove they use. It was built from lava stone by a third generation master craftsman and imported from Naples. Cafe Porta Alba is officially recognized by the "Verace Pizza Napoletana" Association of Italy, one of only 30 in the United States. We are too damn poor to travel, well pretty much anywhere, so this is our little taste of Italy 🙂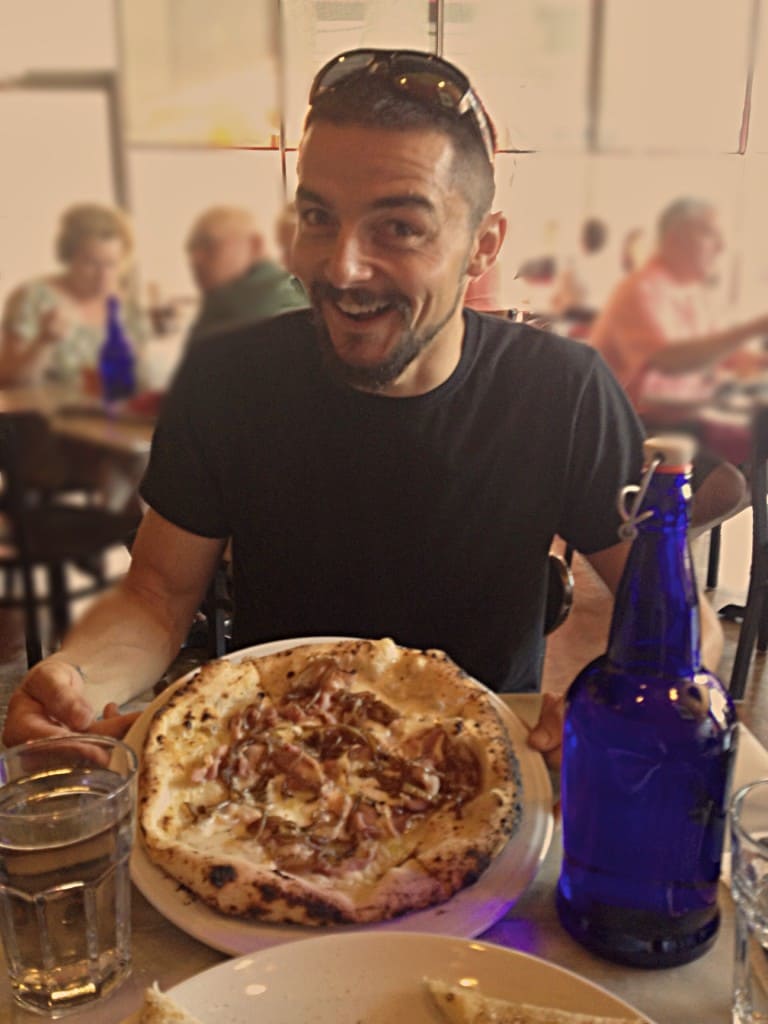 How adorable is my date!! I love the atmosphere at this restaurant. It's quiet but not too quiet. It has cute little booths along one wall and tables throughout the rest of the space. The booths are super cozy for date night and the tables provide enough room for families to dine as well. We have taken the kids with us before, but we try not to 😉 Jason and I were seated at a booth and I LOVE these blue glass bottles they use for water. New from our previous visit! I am easily amused.
We always have a hard time decided what to get. Everything is so damn good! So we decided to get one pizza and one antipasta dish and share. They do offer wine but it was blistering hot day so water was just what we needed. They also serve salads and panini's which we didn't get this time, but we have previously and they were excellent. The names of dishes are in Italian, which can be a little intimidating but they have perfect descriptions for each dish and also point out which pizzas DO NOT have tomato sauce on them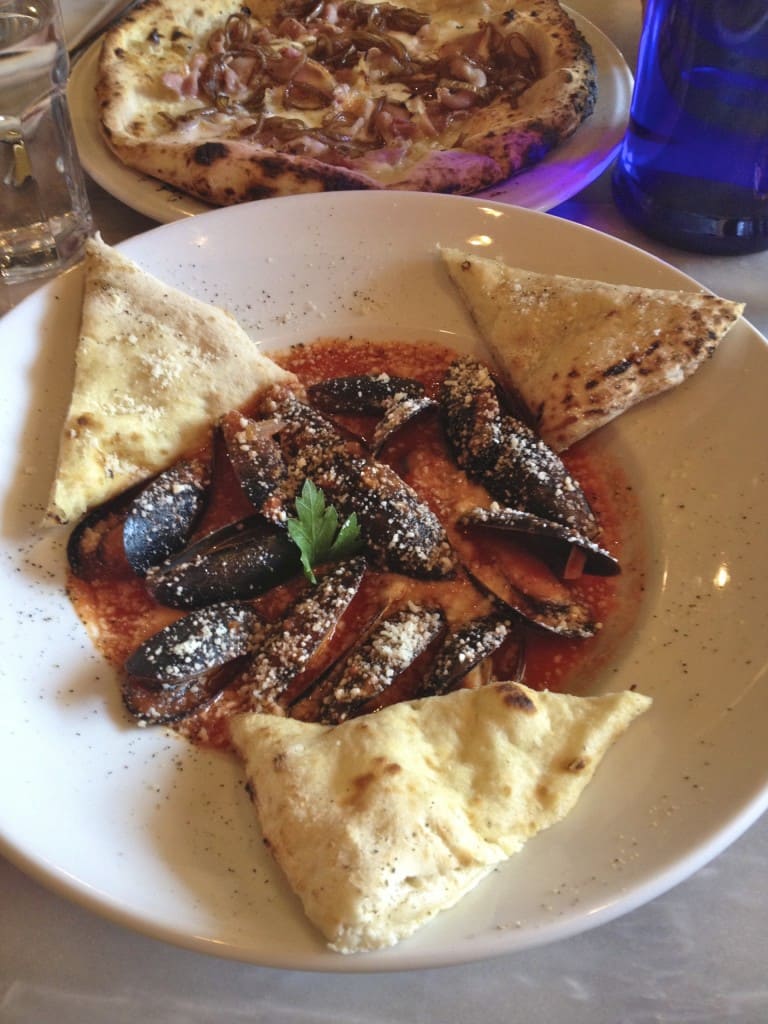 I ordered the impepata di cozze which is "a classic Neapolitan dish: steamed mussels in a tomato and white wine broth with black pepper, onion, garlic, and parsley." I had never had mussels before so I decided to give them a try. I really enjoyed the dish. The mussels were prepared well, but the highlight was the sauce. Just killer! Sweet, well seasoned, and not at all acidic. Since I was forced to share, we also had the Rustica pizza which had "pancetta, balsamic caramelized onions, fresh mozzarella (no tomato sauce)" The pancetta was amazing. It was thick cut like bacon, but doesn't have the abrasive saltiness of bacon. It's paired with the sweet balsamic onions and velvety cheese. So amazing. Dammit now I'm hungry.
One of the best parts about eating at small, local eateries is they serve you the correct portion of food. They don't pile food on so you actually have room for all 3 courses. We forgo an appetizer and decided on dessert.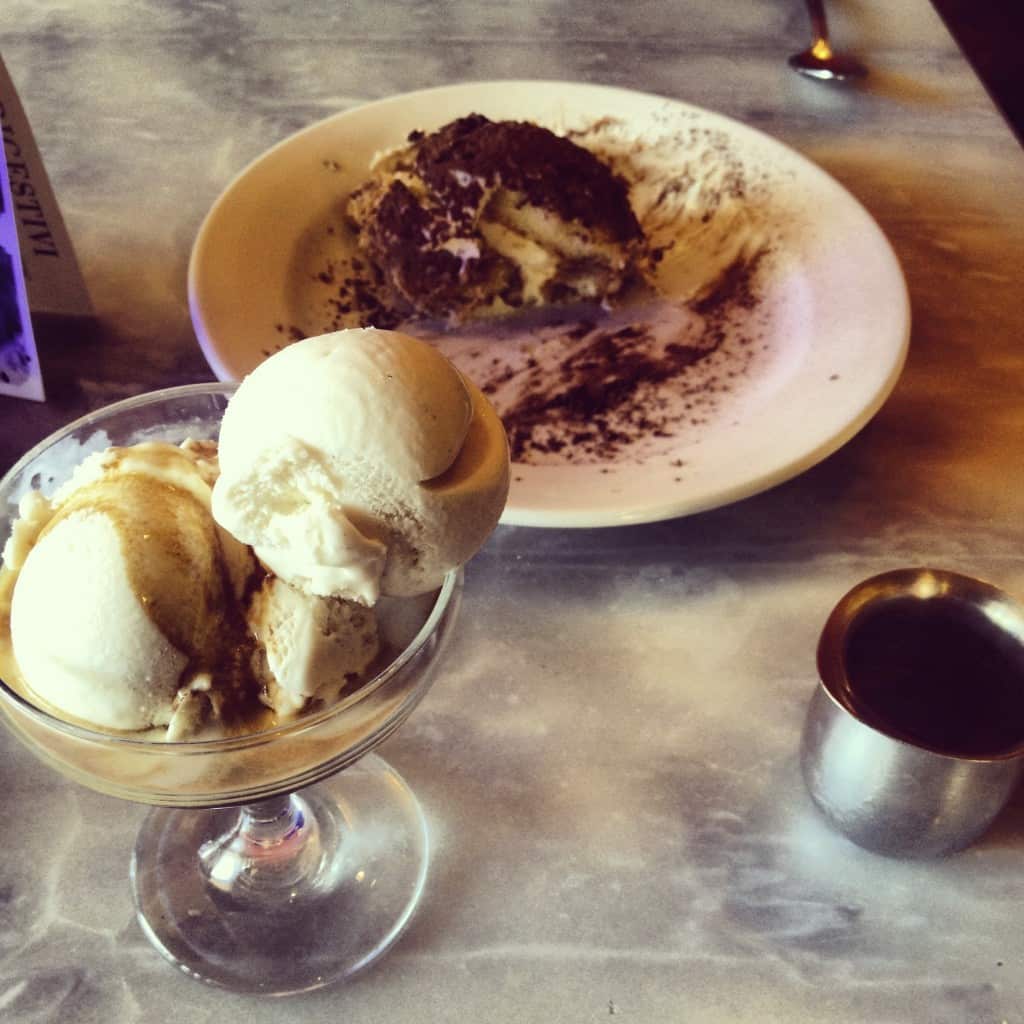 Ooooooooh yeah!! I got the tiramisu and Jason got cinnamon gelato affogato which translates to ice cream drowned in espresso. I thought the cinnamon gelato didn't sound appetizing but it was sooooooo good. The cinnamon flavor didn't linger on the palate and it was so refreshing. Espresso is a bit bitter for me so again I didn't think I would like it, but my husband being the badgering asshole that he is, made me try it and it was surprisingly good. I wouldn't want to eat the whole dish that way, but a couple of bites was divine. As for the tiramisu well . . . . .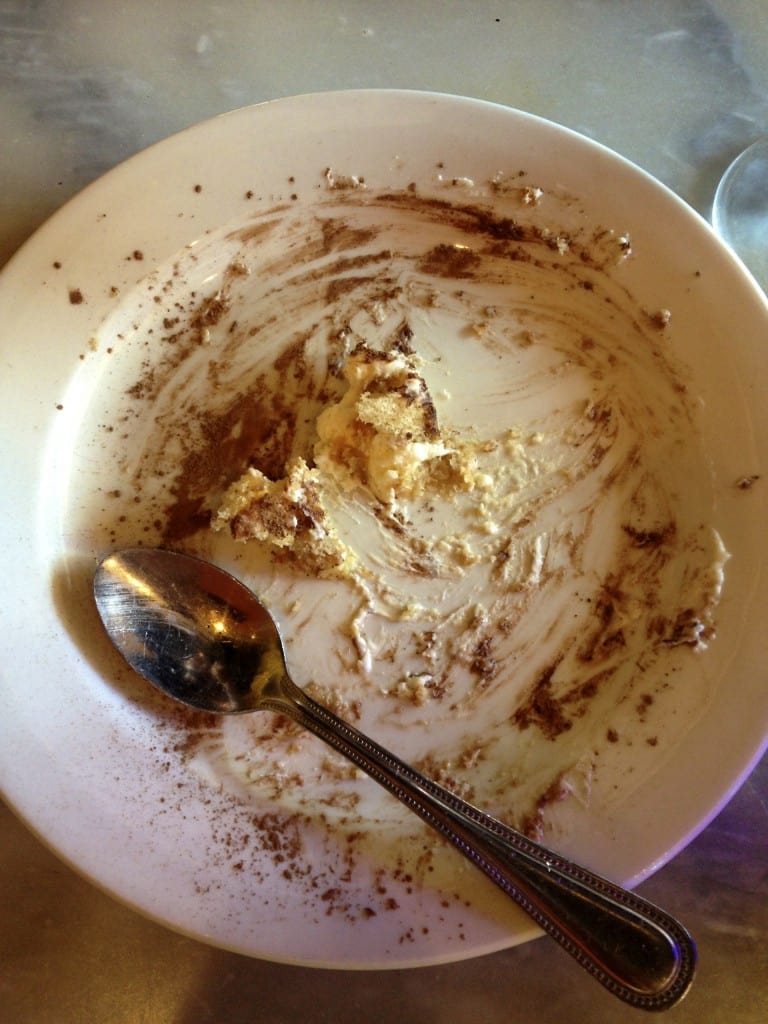 I think the empty plate says it all! Cafe Porta Alba is located at 558 N. Midvale Blvd. Madison, WI in the Hilldale mall across from the Sundance movie theatre. Check out their website at
cafeportaalba.com
and stop by when you are in the area. You won't regret it!
Disclaimer: I was not paid to review the restaurant. Just sharing a great place to eat!!