This chunky granola recipe will have your family clamoring for more!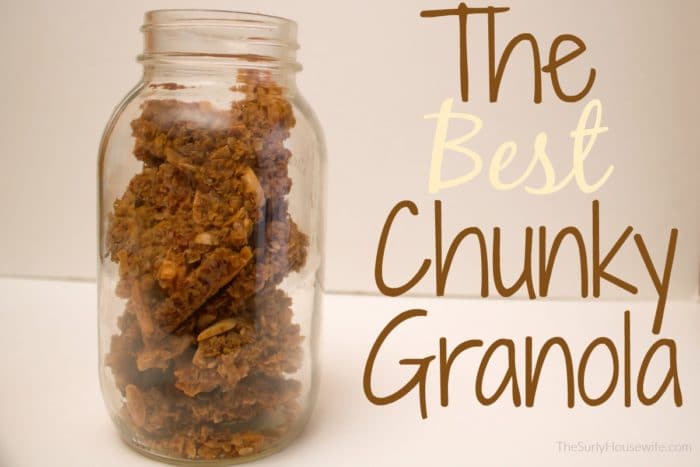 This post contains affiliate links. If you click and make a purchase, we earn a commission at NO extra cost to you. For more information, please read my full disclosure policy.
Oh hi! Sorry. Didn't notice you there. I was too busy scarfing down this granola. Very stealthily, of course, because if my children catch me they will want a piece.
You see, this granola is a hot commodity in this house. Get it while you can because it goes fast!! Not only is this granola super yummy and easy to make, it is a perfect companion to anything that needs a crunchy topping. This recipe makes the BEST chunky granola.
Our family puts this granola on yogurt and oatmeal, as well as having pieces to nosh on. It's basically a granola bar the size of sheet pan. Fine by me! I lived on granola bars growing up and if I bought them as much as I wanted to, today, my grocery budget would explode! It's why I am so glad to have this recipe in my repertoire.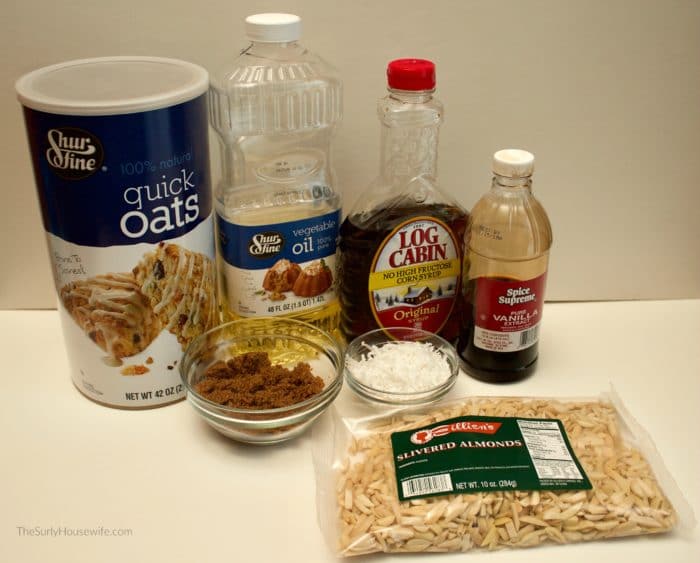 This recipe uses the simplest of ingredients, most you probably have in your cupboard right now. If you are short on vegetable oil, you can use a mixture of coconut oil and vegetable oil. I had to do that once in a pinch, and it was delicious!
In addition to simple ingredients, it is also simple to make. You only need one bowl and one sheet pan. There is no stove top cooking involved. You just whisk the oil, syrup, brown sugar, vanilla and salt together. (Super easy tip! Measure the oil first so the syrup doesn't stick to the measuring cup.) Add in your dry ingredients and bake 30-40 minutes. 30 for lightly golden, 40 for a more well done and nutty flavor.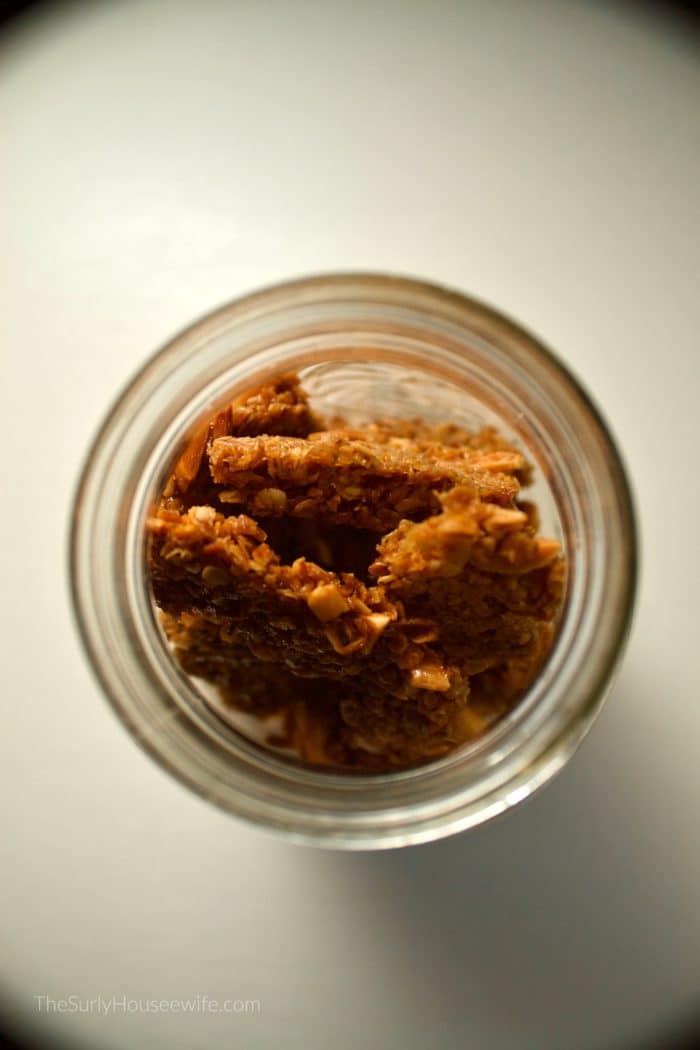 Food and cooking are my love languages, and I love providing my family with this scrumptious topping and treat. The ease of this recipe allows me to whip it up quickly. Quickness is a must because they are patiently waiting for the "best granola ever!!" If an eight year old says it, you gotta believe 'em 🙂
The Best Chunky Granola Recipe inspired from The Frugal Girl
Ingredients
1/2 c vegetable oil
1/3 c maple syrup
1/3 c brown sugar
4 tsp vanilla
1/2 tsp kosher salt
3 c of quick oats
1.5 c slivered almonds
1/3 c shredded coconut.
Directions
1. Heat oven to 325° F.
2. Grease a rimmed half sheet pan (13×18).
3. In a large mixing bowl, whisk together the vegetable oil, maple syrup, brown sugar, vanilla, and salt until combined
4. Add oats, almonds, and coconut and stir
5. Spread the mixture in an even layer onto the greased baking sheet
6. Total bake time is 30-40 minutes until golden brown. Bake for 15 minutes, rotate the baking sheet. Depending on how well done you like your granola, bake for 15-20 additional minutes.
7. Remove from the oven and let cool thoroughly.
8. Remove from oven to cool. The longer it cools, the more it hardens and you have big chunks! Once cooled break granola into pieces.