How to make the best home-brewed coffee using the AeroPress coffee maker!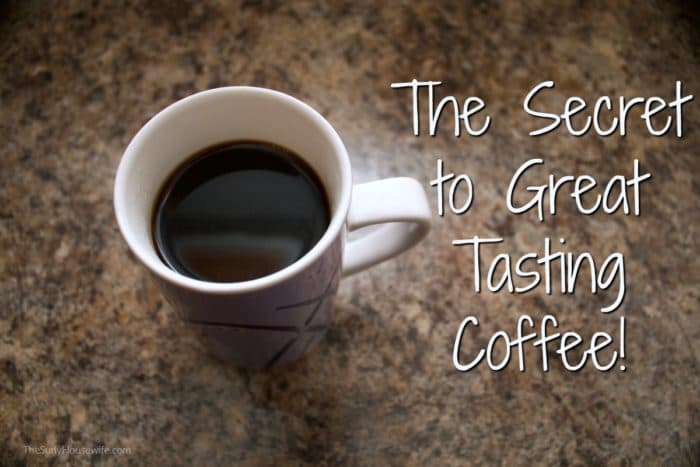 This post contains affiliate links. If you click and make a purchase, we earn a commission at NO extra cost to you. For more information, please read my full disclosure policy.
Raise your hand if you love coffee?! I'm one of those people whose bloodstream is part coffee. I know it's terribly clichéd but I FRIGGIN LOVE COFFEE!! I have a friend who somehow made it through college without coffee. How I will never understand. But anyway, today I am going to talk to you about my favorite way to brew coffee, the AeroPress!
(This is not a sponsored post. AeroPress has no clue who I am. I just LOVE this product)
The AeroPress is a coffee press, sort of like a French Press, that uses an immersion brewing process to make coffee. Don't be turned off by the term "French press." I don't care for French press coffee but I love the AeroPress. Here's why.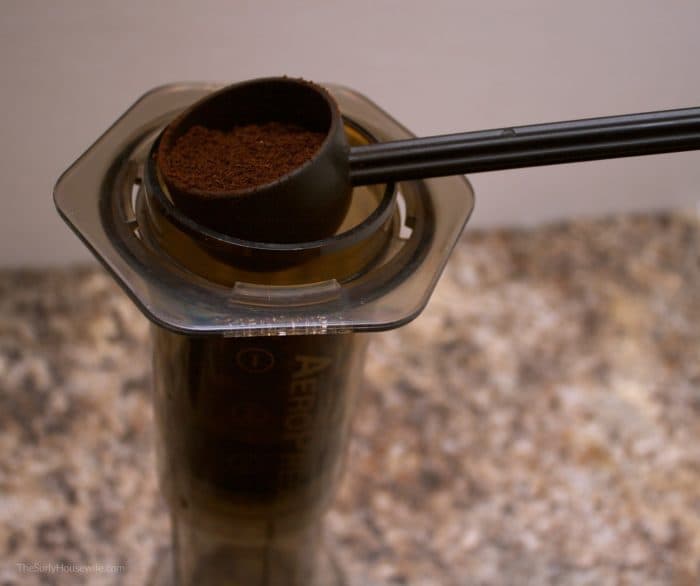 Coffee tastes better!
Because you are using the optimal temperature, ground, and filtering, it extracts the full flavor from the coffee but none of the bitterness. This creates a rich and smooth cup of coffee without the bitterness and with low acidity.
Makes both coffee and espresso.
The AeroPress makes a regular cup of coffee, which is ready in just minutes. It also can be used to brew espresso style coffee for use in lattes or other espresso drinks.
Perfect for travel
It is compact, lightweight, portable, and durable, making it perfect for vacations, camping, or apartment living. All you need is coffee grounds and water! We used ours on our trip to Florida and we had no problems whatsoever.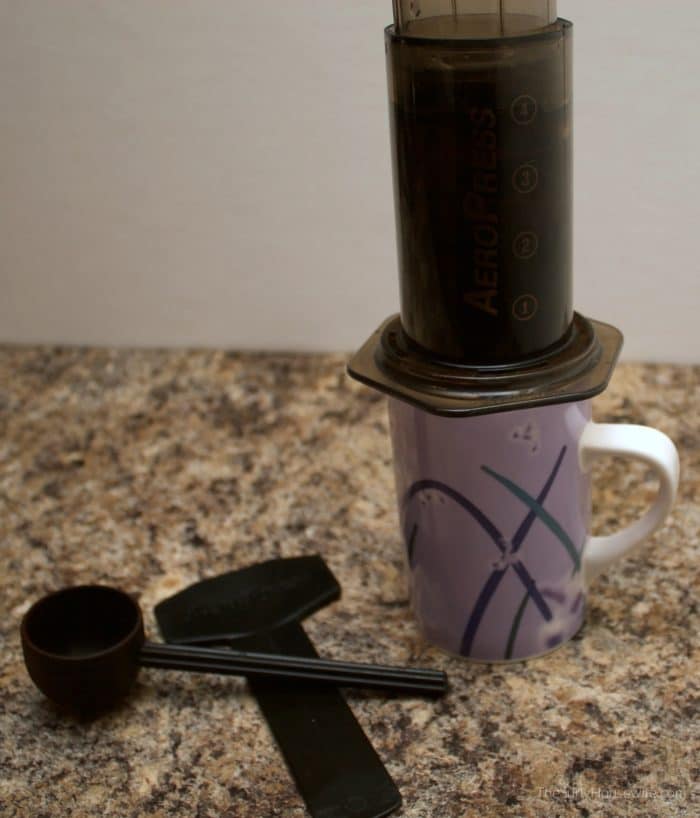 No grit in your coffee
If you have ever used a french press, you know what I am talking about. The AeroPress uses a microfilter so you get NO GROUNDS in your coffee at all!
Saves you money!!
We started using the AeroPress coffee maker because we were looking to save money in our budget. The AeroPress is an efficient way of brewing coffee.Because you are only brewing the coffee you drink, you aren't throwing out any coffee it the bottom of the pot.
Using the AeroPress we saved 25 dollars a month from our coffee budget. That's a saving of 300 bucks a year!!!
The Cons
This wouldn't be a good review if I didn't tell you some of the cons of the AeroPress now would it?!
Hard to make coffee for visitors. It's not impossible, just not as easy as with a regular coffee pot.
Works best with a programmable tea kettle. Using boiling water from your regular tea kettle can leave your coffee tasting bitter. It's best with a temperature slightly below boiling.
You have to actually make your coffee in the morning. There is no hack or evening prep of the coffee pot with the AeroPress. Just good ol' wake and brew.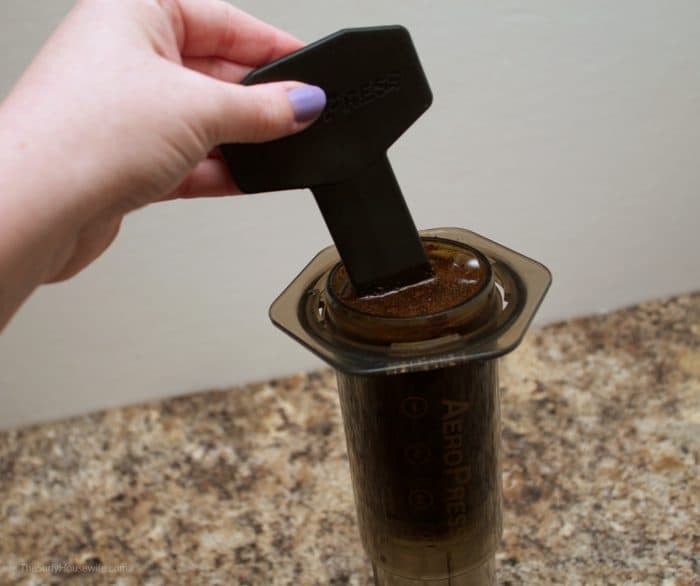 How Does it Work?
Coffee grounds are put in the chamber. The chamber is filled with water. Then a plunger pushes the coffee through a microfilter into your individual cup of coffee! Think of it like individual servings like a Keurig machine.
We use the inverted method, so if you have used the AeroPress before and wonder what the heck I am doing, that's why.
Check out this video from the AeroPress website for a more in-depth demo on using the AeroPress.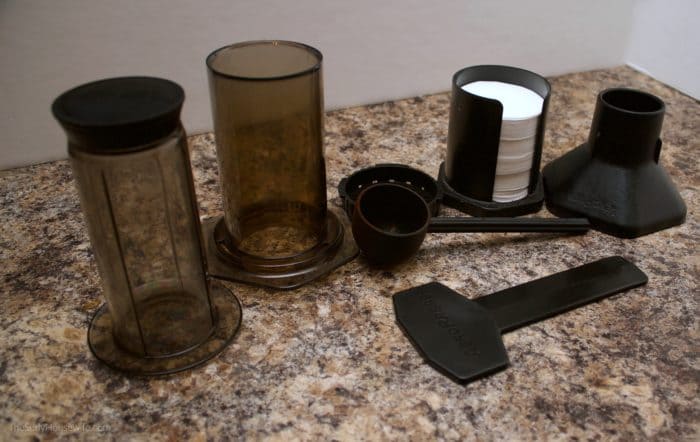 When you purchase the AeroPress, you get the plunger, the chamber, filter cap and filters, funnel, scoop, and a stirrer. And instructions of course. Plus it's less than 40 bucks! We have had ours for going on 2 years now and the coffee tastes as good as the day we bought it!
Accessories
If you are looking to take the plunge and try the AeroPress, I have listed my Amazon affiliate links below to the AeroPress, along with some of my other favorite accessories.
If you love coffee, trying new things, and saving a little of money. I recommend giving the AeroPress a try. You will get an amazing cup of coffee that tastes great and is easily customizable to your taste. The only problem you will have is you will always need a second cup!