Chicken tenders that double as chicken parmesan!!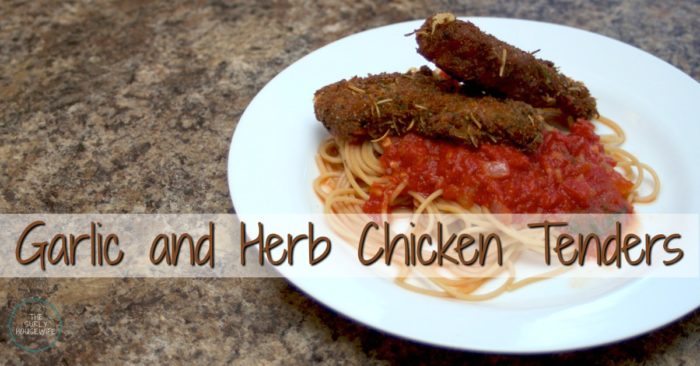 This post contains affiliate links. If you click and make a purchase, we earn a commission at NO extra cost to you. For more information, please read my full disclosure policy.
One of my favorite chicken recipe is pan roasted garlic and herb chicken breasts. I love it because is one recipe I can use for breaking down a bulk pack of chicken breasts into individual recipes. Today I have another chicken: chicken tenders. Again, it's a Rachael Ray recipe and was on of the first ones I learned after we got married.
Rachael Ray orginally had a show on Food Network called 30-Minute Meals, which is where I first saw the recipe. It's a play on chicken parmesan, but one that can be made in 30 minutes. (In all honesty, takes longer than that. Sorry Rachel). That being said it is easier than traditional chicken parm, which is a whole chicken breast served with spaghetti and tomato sauce.
You fry up individual chicken tenders which can then be served hot or cold, with or without the pasta! Such a brilliant idea. And they are unbelievably delicious. One of my favorite, go-to recipes where the leftovers are gone in a flash!
Start with the super, simple tomato sauce, so it can simmer away while you cook up the chicken tenders. The sauce and pasta is totally optional. The tenders lend themselves well to dipping or topping a salad.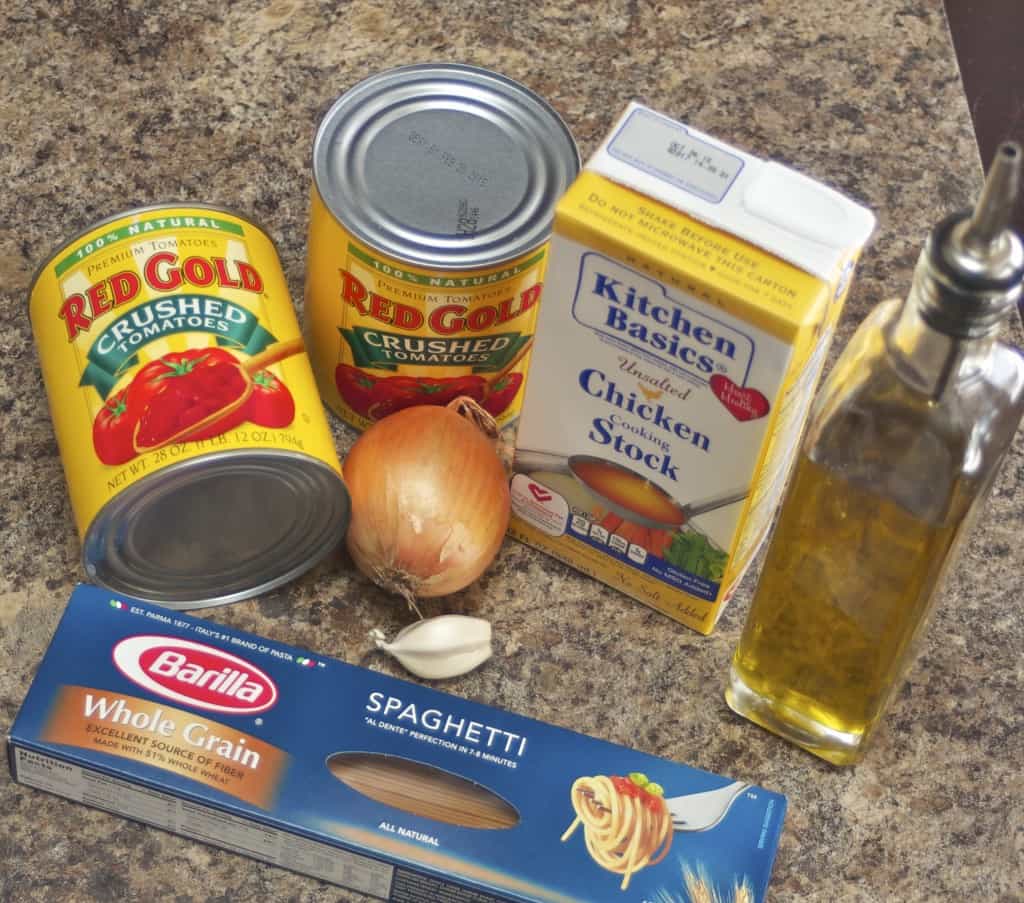 Saute some onions and garlic. Then add some chicken stock and crushed tomatoes and simmer until the chicken is ready! Add some fresh basil once you are closer to serving your meal. You will also want to heat up some water to cook your spaghetti.
Up next, the chicken! You want to get your work area ready for frying before handling the chicken. Heat up some vegetable oil over medium to medium high heat. I usually have the oil gradually heat up while I am prepping. You don't want the oil ready before you are. You will have a smokey, burnt mess.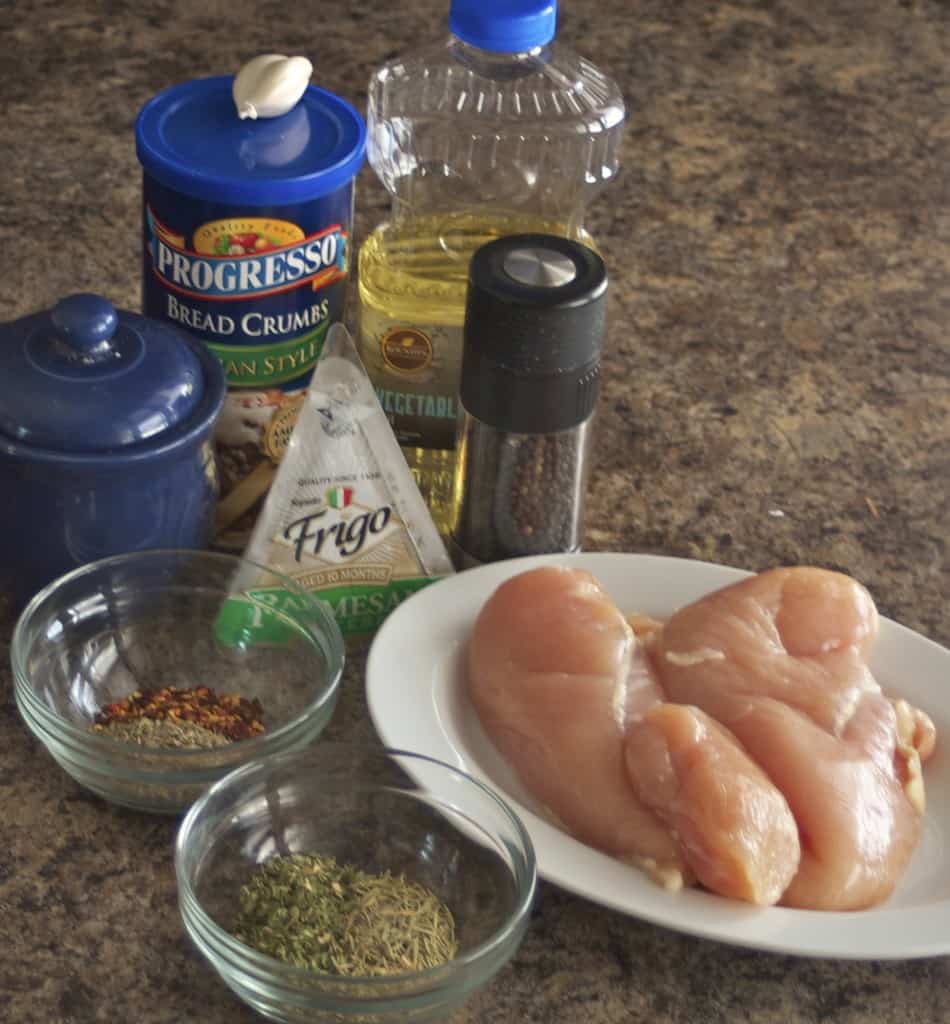 Then get each station ready: your flour for dredging, eggs, and then your parmesan and herb coating for the chicken. This recipe is so simple and everything you need for the breading should already be in your cupboard! Italian breadcrumbs are taken up a level with parmesan cheese, dried herbs, red pepper flakes, and garlic. It provides the perfect crunchy texture for the chicken and locks in all the juiciness of the meat.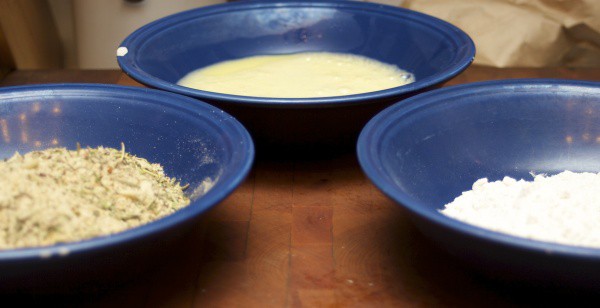 You can either buy prepackaged chicken tenders, or you can break down the whole chicken breast into smaller pieces. Here I opted to cut the bigger chicken breasts down. Salt and pepper each side. Check the temp of your oil by dropping in a little bit of flour. If it bubbles up, you are ready to go!!
Dip the chicken first in the flour, then egg, and then the breadcrumb mixture. Cook them for about 3-4 minutes a side, depending on the thickness of the chicken.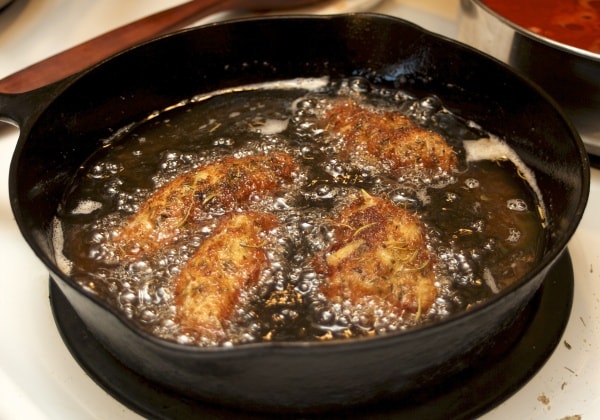 When they are done, take them out and put them on to a wire rack on a baking sheet. Repeat until all the chicken is fried. Once all of it is cooked, put the chicken in the oven for about 5 minutes. It finishes cooking off the chicken and the wire rack gets rid of some of the excess oil so the tenders aren't super greasy.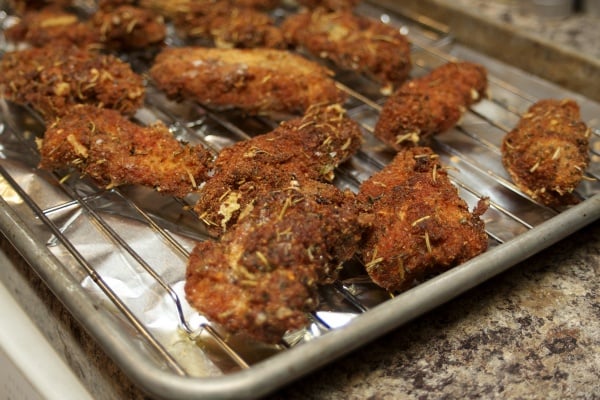 I'm not gonna lie, this is a somewhat complicated recipe and pretty messy but it is so worth it!! This recipe is bassically a three-in-one. With the marinara you can make your basic pasta and red sauce.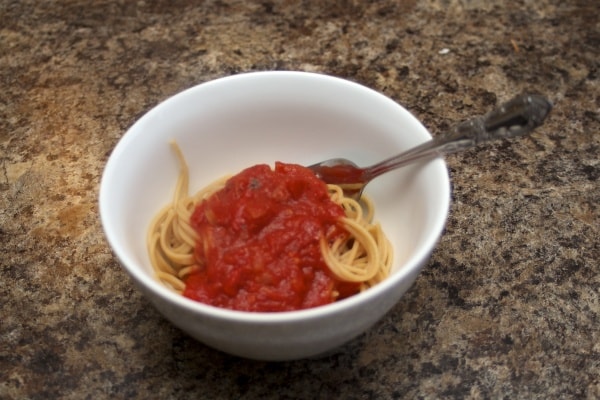 Chicken tenders with dipping sauce.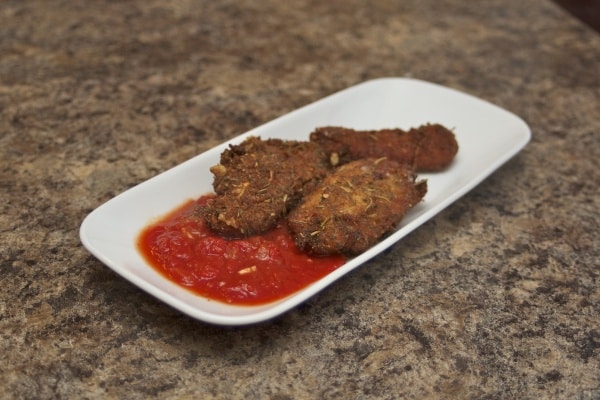 Or top your pasta with the chicken. Totally divine!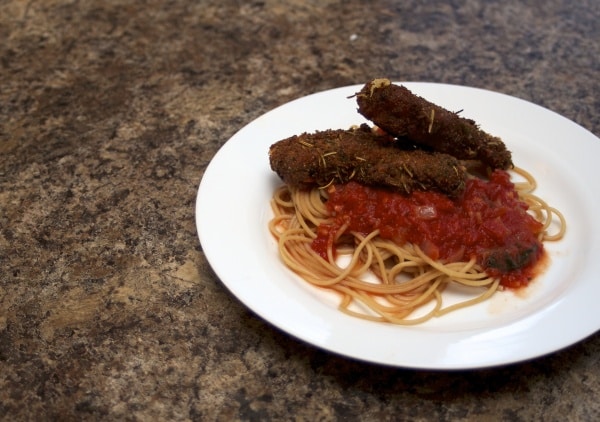 I hope you give this recipe a try. And have a great weekend everyone!!
Parmesan and Herb Chicken Tenders
inspired by Rachael Ray
Ingredients
Simple Tomato Sauce
2 TBSP extra virgin olive oil
1 small white onion, finely chopped
3 cloves garlic, minced
2 – 28 ounce cans crushed tomatoes
1 cup chicken stock
A handful fresh basil leaves, torn into small pieces
1 pound spaghetti
Parmesan and Herb Chicken Tenders
Veg oil, for frying
1 1/2 pounds chicken breast
Salt and pepper
1 cup all-purpose flour
2 large eggs, beaten with 1/4 cup water
Breading
2 cups Italian style bread crumbs
1 cup grated Parmesan
2 TBSP dried thyme leaves
2 TBSP dried rosemary leaves
1 TBSP dried parsley leaves
4 cloves garlic, finely chopped
1 teaspoon crushed red pepper flakes
Directions
Simple Tomato Sauce
1. Set water on to boil for pasta and prepare according to package directions for al dente.
2. Heat oil over medium low heat.
3. Add onions and garlic and cook til softened. About 2-3 minutes.
3. Add both cans of tomatoes and a cup of chicken broth and bring sauce to a bubble.
4. Reduce heat to a simmer until ready to serve. Stir in torn basil and season sauce with salt, to your taste.
Chicken Tenders
1. Preheat oven to 350 degrees F. Line a cookie sheet with a tin foil and top with a cooling rack.
2. Heat 1/2-inch oil in a large skillet or frying pan over medium to medium high heat.
3. In dish one, put one cup of flour.
4. In dish two, beat eggs with water.
5. In dish three, combine the breading ingredients.
6. Cut chicken into tender size if needed.
7. Season chicken tenders with salt and pepper.
8. Coat chicken in flour, then egg, and then breading.
9. Cook chicken until deeply golden on each side, 3 to 4 minutes. Transfer tenders to the cookie sheet until all the chicken is cooked.
10. Cook chicken 5 or 6 tenders at a time in a single layer, adding additional oil if necessary.
11. Cook the finished chicken on the cookie sheet in the oven for 5 additional minutes.
12. Serve chicken hot or cold with dipping sauce or pasta.
13. If serving with pasta, coat the hot, cooked pasta lightly with sauce, add chicken and then serve.