Keep reading for children's books about Booker T. Washington that kids will love!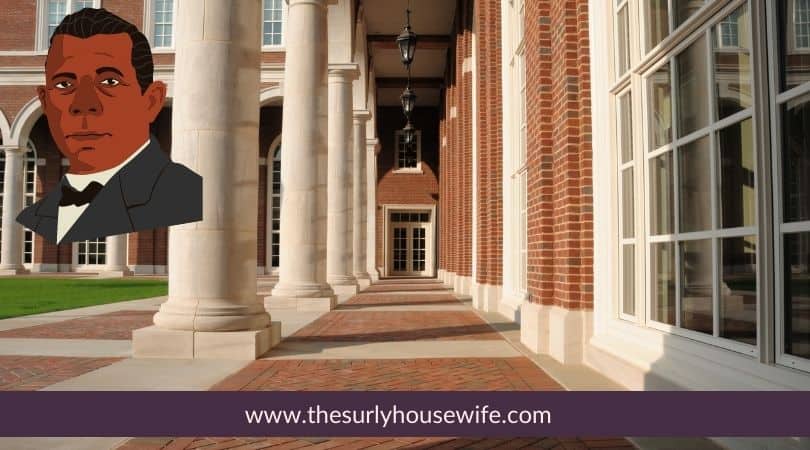 In 1881, Booker T. Washington was named as the first leader of the new Tuskegee Institute in Alabama. He helped build the college from the ground up. In addition to being a champion for education, Washington was an author, orator, and political advisor.
Learning more about Booker T. Washington with these selections of picture books and biographies.
This post contains affiliate links. If you click and make a purchase, we earn a commission at NO extra cost to you. For more information, please read my full disclosure policy.
Descriptions come from Amazon; some are edited for length
Children's Books about Booker T. Washington
Picture Books
With Books and Bricks: How Booker T. Washington Built a School by Suzanne Slade
"Booker T. Washington had an incredible passion for learning. Born a slave, he taught himself to read. When the Civil War ended, Booker finally fulfilled his dream of attending school. After graduation, he was invited to teach in Tuskegee, Alabama. Finding many eager students but no school, Booker set out to build his own school―brick by brick. An afterword gives detailed information on how the school was built."
Fifty Cents and a Dream: Young Booker T. Washington by Jabari Asim
"Born into slavery, young Booker T. Washington could only dream of learning to read and write. After emancipation, Booker began a five-hundred-mile journey, mostly on foot, to Hampton Institute, taking his first of many steps towards a college degree. When he arrived, he had just fifty cents in his pocket and a dream about to come true. The young slave who once waited outside of the schoolhouse would one day become a legendary educator of freedmen."
More Than Anything Else by Marie Bradby
"A fictionalized story about the life of young Booker T. Washington. Living in a West Virginia settlement after emancipation, nine-year-old Booker travels by lantern light to the salt works, where he labors from dawn till dusk. Although his stomach rumbles, his real hunger is his intense desire to learn to read."
Brick by Brick: A Snippet of the Life of Booker T. Washington by Louie T. McClain II
"Booker T. Washington became an influential figure in history through motivation, hard work, and knowledge gained from education. Join young Booker as he embarks on a life defined by self-determination and great achievement. Booker taught us that no dream is too big, nothing is impossible, and that through our collective efforts we can achieve our dreams step by step and brick by brick. Brick by Brick teaches children about leadership, history, and it empowers their will to be all they can be in life."
Booker T. Washington by Thomas Amper
"More than anything, nine-year-old Booker T. Washington longed to go to school, but he had to get a job to earn money for his family. Though the Civil War had freed them from slavery, Booker's family had to work hard to survive. Booker didn't forget his dream. He taught himself the alphabet, studied at night after work, and was able to realize his dream."
Booker T. Washington: Great American Educator by Eric Mark Braun
"A biography telling the life story of Booker T. Washington, along with his accomplishments toward promoting the education of African Americans. Written in graphic-novel format."
Who Was Booker T. Washington? by James Buckley Jr.
"Learn how a slave became one of the leading influential African American intellectuals of the late 19th century. African American educator, author, speaker, and advisor to presidents of the United States, Booker Taliaferro Washington was the leading voice of former slaves and their descendants during the late 1800s. As part of the last generation of leaders born into slavery, Booker believed that blacks could better progress in society through education and entrepreneurship, rather than trying to directly challenge the Jim Crow segregation. After hearing the Emancipation Proclamation and realizing he was free, young Booker decided to make learning his life. He taught himself to read and write, pursued a formal education, and went on to found the Tuskegee Institute, a black school in Alabama, with the goal of building the community's economic strength and pride. The institute still exists and is home to famous alumnae like scientist George Washington Carver.
Searching for more? Check out the lists below!
There you have it! Seven fantastic books about Booker T. Washington.
I hope you found what you are looking for. Thanks for stopping by and happy reading!