Inside: 10 books about the Tuskegee Airmen kids of all ages will enjoy!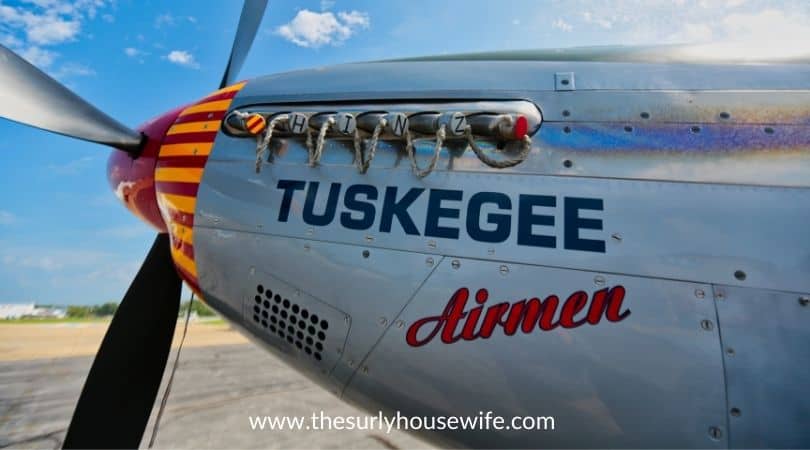 The Tuskegee Airmen were the first African-American military aviators in the United States Armed Forces. I think they are the perfect example of a topic we may have touched upon in school but didn't learn much about.
If you are looking to dig a little deeper and learn more about these brave and incredible men, keep reading for 10 children's books about the Tuskegee Airmen.
This post contains affiliate links. If you click and make a purchase, we earn a commission at NO extra cost to you. For more information, please read my full disclosure policy.
Descriptions come from Amazon; some are edited for length
Children's Books about the Tuskegee Airmen
Picture Books
Flying Above Expectations by Larry Simmons Jr.
"Join Melanin Origins as we tell the fun-filled account of the Tuskegee Airmen and the man who pioneered the skies to make their existence possible, Chief Charles Anderson. Chief Anderson was a forerunner; a flight instructor in the beginning days of the Tuskegee Institute. Author Larry Simmons Jr. penned this story of accomplishments in flight and in moral character with hopes to awaken the determined, persevering, and ambitious nature in every child who reads this book."
When I Grow Up I Want to Be, Like the Brave Men of Tuskegee by LaVon Stennis Williams
"Brandon loves to learn new things. Read along as he shares what he has learned about the Tuskegee Airmen from his papa. Includes amazing facts about the real Tuskegee Airmen and activities."
"With fleeting prose and transcendent imagery, this book reveals how a boy's love of flight takes him on a journey from the dusty dirt roads of Alabama to the war-torn skies of Europe and into the hearts of those who are only now beginning to understand the part these brave souls played in the history of America."
The Tuskegee Airmen Story By Lynn Homan and Thomas Reilly
"After two African American children find their grandfather's World War II uniform and medals, their grandmother encourages them to ask him about the war. He tells them about his experiences in the Tuskegee Airmen fighter group, the difficulties of living in a segregated society, and how the African Americans' contribution helped win the war abroad and the war against segregation at home."
Hey Tuskegee! by Robert Constant
"Follow siblings Robbie and Saniyah as they relive the outstanding accomplishments of iconic African-Americans, including the university's founder, Booker T. Washington. Take in the spirit and pageantry of Homecoming as the Marching Crimson Pipers entertain and lead more than 30,000 fans in singing the university's signature songs. After the game, witness the Black Greek sororities' and fraternities' camaraderie as they passionately sing their traditional songs. Then, share the families' pride when they take a generational picture with their Legacy Brick."
Chapter Books
You Can Fly: The Tuskegee Airmen By Carole Boston Weatherford
"I WANT YOU! says the poster of Uncle Sam. But if you're a young black man in 1940, he doesn't want you in the cockpit of a war plane. Yet you are determined not to let that stop your dream of flying. So when you hear of a civilian pilot training program at Tuskegee Institute, you leap at the chance. Soon you are learning engineering and mechanics, how to communicate in code, how to read a map. At last the day you've longed for is here: you are flying! From training days in Alabama to combat on the front lines in Europe, this is the story of the Tuskegee Airmen, the groundbreaking African-American pilots of World War II. In vibrant second-person poems, Carole Boston Weatherford teams up for the first time with her son, artist Jeffery Weatherford, in a powerful and inspiring book that allows readers to fly, too."
I Wanted to be a Pilot: The Making of a Tuskegee Airman By Franklin J. Macon
"Sometimes history is made by a dyslexic, mischievous boy who hates school, is a descendant of one of Frederick Douglass' half-sisters, and whose Pops was a Buffalo Soldier. One of the less than 100 living Documented Original Tuskegee Airmen, Franklin J. Macon, tells the lively stories of how he overcame life's obstacles to become a Tuskegee Airman. Soar through history with Franklin as he conquers dyslexia, finds mischief, and grows up to change the course of America. Readers laugh at Frank's childhood antics, while being reminded that disabilities like Frank's dyslexia, repeating a grade in school, and other hardships can be overcome. 'I Wanted to be a Pilot' encourages kids to recognize history, reach for their dreams, and even make their own toys as they are reminded of the great strength and determination of the men and women who came before them."
Who Were the Tuskegee Airmen By Sherri L. Smith
"It's up, up, and away with the Tuskegee Airmen, a heroic group of African American military pilots who helped the United States win World War II. During World War II, black Americans were fighting for their country and for freedom in Europe, yet they had to endure a totally segregated military in the United States, where they weren't considered smart enough to become military pilots. After acquiring government funding for aviation training, civil rights activists were able to kickstart the first African American military flight program in the US at Tuskegee University in Alabama. While this book details thrilling flight missions and the grueling training sessions the Tuskegee Airmen underwent, it also shines a light on the lives of these brave men who helped pave the way for the integration of the US armed forces."
The Tuskegee Airmen, An Illustrated History 1939-1949 By Joseph D. Carver and Jerome Ennels
"Many documentaries, articles, museum exhibits, books, and movies have now treated the subject of the Tuskegee Airmen, the only black American military pilots in World War II. Most of these works have focused on their training and their subsequent accomplishments during combat. This publication goes further, using captioned photographs to trace the Airmen through the various stages of training, deployment, and combat in North Africa, Italy, and over occupied Europe. Included for the first time are depictions of the critical support roles of non-flyers: doctors, nurses, mechanics, navigators, weathermen, parachute riggers, and others, all of whom contributed to the Airmen's success. In words and pictures, this volume makes vivid the story of the Tuskegee Airmen and the environments in which they lived, worked, played, fought, and sometimes died."
The Tuskegee Airmen: Freedom Fighters of World War II By Brynn Nicole Baker
"The Tuskegee Airmen were the first African-American military pilots in the United States armed forces. Flying bombers and fighters, they completed over 1500 combat missions in World War II. Infographics, sidebars, and fact boxes bring the experiences of these brave military men to life."
Looking for more books? Check out these awesome selections below!
Thanks for stopping by and happy reading!