Keep reading for 10 kids books about the Navajo that are sure to be their new favorite!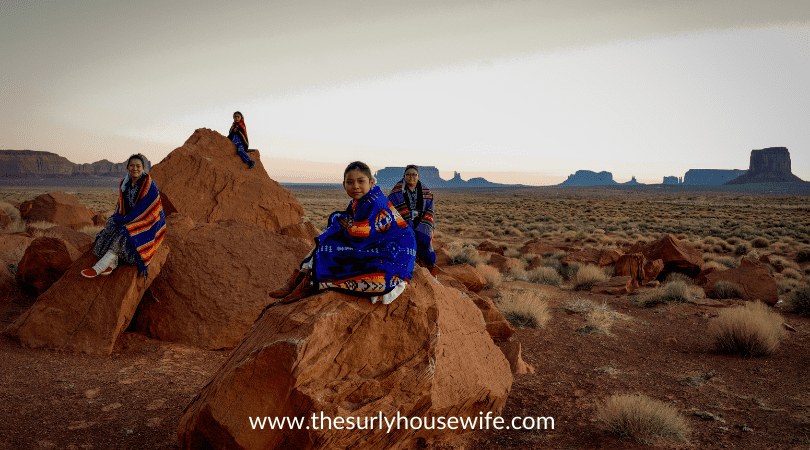 The Navajo are the Native American people of the Southwestern United States living in New Mexico, Arizona, and Utah. As of 2021, the Navajo Nation is the largest federally recognized tribe in the U.S. with around 400,000 recognized members. Their land, the Navajo Nation, extends about 27,000 square miles covering the areas of northern Arizona, northwest New Mexico and southeast Utah.
The Navajo call themselves Dinéh, meaning The People. They are known for their blanket and rug weaving, sand painting as well as silversmithing and sheep herding.
Facts and figures are important when learning about any subject, but I always like to dig a deeper. One way our family does that is with living books
Living books, a term coined by Charlotte Mason, are books that make the subject you are studying come alive and are written by people who love the subject.
I keep this definition in mind as I curate my book lists. These books may feature Navajo characters, folktales and traditions, or things the Navajo are known for like fry bread!
This post contains affiliate links. If you click and make a purchase, we earn a commission at NO extra cost to you. For more information, please read my full disclosure policy.
Descriptions come from Amazon; some are edited for length
Children's Books about the Navajo
Knots on a Counting Rope by Bill Martin Jr.
"By the warmth of a campfire beneath a starry night sky, a Navajo youth named Boy-Strength-of-Blue-Horses listens to the tale of his birth from his grandfather. Although blind, the boy learns that he has the strength to cope with his condition and meet any challenge that comes his way."
Fry Bread: A Native American Family Story by Kevin Noble Maillard
"Told in lively and powerful verse by debut author Kevin Noble Maillard, Fry Bread is an evocative depiction of a modern Native American family, vibrantly illustrated by Juana Martinez-Neal." Navajo are credited for introducing fry bread to the Native community.
Annie and the Old One by Miska Miles
"Annie is a young Navajo girl who refuses to believe that her grandmother, the Old One, will die. Sadly, Annie learns that she cannot change the course of life."
How The Stars Fell Into The Sky: A Navajo Legend Jerrie Oughton
"This retelling of a Navajo folktale explains how First Woman tried to write the laws of the land using stars in the sky, only to be thwarted by the trickster Coyote."
The Goat in the Rug by Charles L. Blood
"Geraldine is a goat, and Glenmae, a Navajo weaver. One day, Glenmae decides to weave Geraldine into a rug. First Geraldine is clipped. Then her wool is spun into fine, strong yarn. Finally, Glenmae weaves the wool on her loom. They reader learns, along with Geraldine, about the care and pride involved in the weaving of a Navajo rug and about cooperation between friends."
The Water Lady: How Darlene Arviso Helps a Thirsty Navajo Nation by Alice B. McGinty
"This inspiring picture book tells the true story of a woman who brings desperately needed water to families on the Navajo reservation every day. Underneath the New Mexico sky, a Navajo boy named Cody finds that his family's barrels of water are empty. He checks the chicken coop, nothing. He walks down the road to the horses' watering hole. Dry. Meanwhile, a few miles away, Darlene Arviso drives a school bus and picks up students for school. After dropping them off, she heads to another job: she drives her big yellow tanker truck to the water tower, fills it with three thousand gallons of water, and returns to the reservation, bringing water to Cody's family, and many, many others. Here is the incredible and inspiring true story of a Native American woman who continuously gives back to her community and celebrates her people."
First Laugh–Welcome, Baby! by Rose Ann Tahe
"In Navajo families, the first person to make a new baby laugh hosts the child's First Laugh Ceremony. Who will earn the honor in this story? The First Laugh Ceremony is a celebration held to welcome a new member of the community. As everyone, from Baby's nima (mom) to nadi (big sister) to cheii (grandfather), tries to elicit the joyous sound from Baby, readers are introduced to details about Navajo life and the Navajo names for family members."
Navajo Coyote Tales by Hildegard Thompson
"Coyote encounters Rabbit, Fawn's Stars, Crow, Snake, Skunk Woman, and Horned Toad in these 6 delightful, English-language adaptations of traditional Navajo Coyote stories collected by anthropologist William Morgan and translated by him and linguist Robert W. Young."
The Hero Twins: A Navajo-English Story of the Monster Slayers by Jim Kristofic
"The Hero Twins tells the story of two brothers born to Changing Woman and trained by the Holy People to save their people from the naayéé', a race of monsters. But the naayéé' can't be beaten alone. Family and friends and wise mentors must lead any warrior down the good path toward victory. Colorful illustrations show the action as the twins seek out their father to receive the weapons they need to face the greatest monster of them all: Yé'iitsoh."
Navajo Life: A Bilingual Children's Picture Book by Hildegard Thompson
"This book tells the story of a Navajo girl named Bah and her brother Kee, beautifully illustrated by Navajo artist Andrew Tsihnijinnie. First published in 1946, it was used in schools and to teach literacy to adult Navajos. It is dedicated to all children, Navajo and non–Navajo alike. The bold and graphic illustrations by Andrew Tsinajinnie reflect Navajo Life of that era."
From fry bread to coyote tales, I hope this book list helped you find some awesome books about the Navajo!
Don't miss this book list about the Navajo Code Talkers!