Keep reading for 10 parent-approve children's books about cactuses!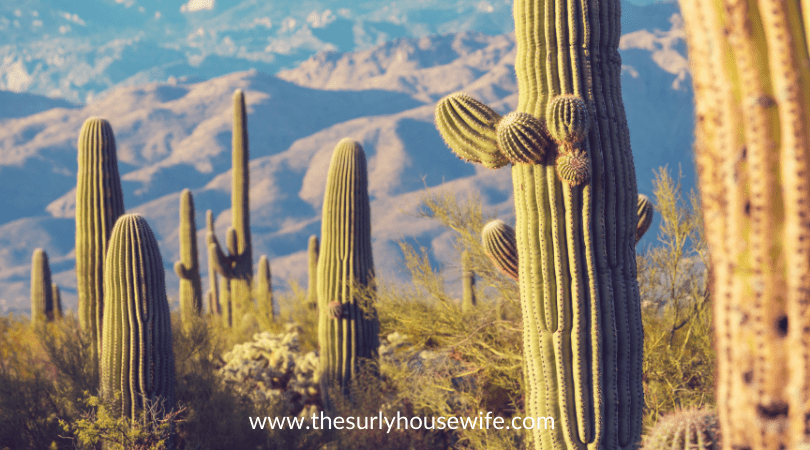 Anyone who has taken a trip with kids knows to expect the unexpected. When my kids started going across the country with their dad in a semi, I never would have predicted that one of their favorite things would a cactus! My oldest loves the barrel cactus and I am a huge fan of saguaros! It just goes to show you never know where the road will lead you.
Like, I never thought there would be so many songs about rainbows, I mean so many books about cacti! FYI: cactus can be pluralized in the following ways: cacti, cactuses, and cactus. For all my grammar loving readers out there!
So keep scrolling for 10 adorable books about cactus. It's divided into the amazing giant saguaro and a few cactus-themed stories. Enjoy!
This post contains affiliate links. If you click and make a purchase, we earn a commission at NO extra cost to you. For more information, please read my full disclosure policy.
Descriptions come from Amazon; some are edited for length
Picture Books about Saguaro Cactus
Cactus and Flower: A Book About Life Cycles by Sarah Williamson
This bright, gentle, thoughtful picture book explores friendship and natural life cycles for readers young and old Cactus and Flower spend their days in the desert, side by side. They watch the sun come up; they watch the sun go down. They play with their animal friends. And they grow, slowly but surely. Then one day, Flower loses a petal. Cactus and Flower know what this means. But they know, too, that this is the way life goes: Slowly but surely, petals will fall, and new buds will bloom."
The Night Flower by Lara Hawthorne
"As the summer sun sets over the Sonoran desert in Arizona, wildlife gathers to witness a very special annual event. The night flower is about to bloom. For a few short hours, the desert is transformed into a riot of color and sound as mammals and insects congregate for this miracle of nature. Explore the fascinating desert ecosystem, from pollinating fruit bats to howling mice and reptilian monsters, in this beautiful nonfiction picture book."
Cactus Hotel by Brenda Z. Guiberson
"It is another hot day in the desert. Birds and other animals scurry about looking for food. When they get tired they stop to rest at a giant cactus. It is their hotel in the desert! Many different animals live in the cactus hotel. It protects them; and they protect it, by eating the pests that could harm the cactus. The cactus grows larger and larger and will live for about two hundred years. When one animal moves out, another moves in. There is never a vacancy in the cactus hotel. This story about a desert, a giant cactus, and the animals who live in it is one that even the youngest child will understand and enjoy."
Cactus Cafe: A Story of the Sonoran Desert by Kathleen Weidner Zoehfeld
"Describes the activities of various animals living in the Sonoran Desert and their dependence on the saguaro cactus for sustenance."
Desert Giant: The World of the Saguaro Cactus by Barbara Bash
"A venerable saguaro cactus stands like a statue in the hot desert landscape, its armlike branches reaching fifty feet into the air. From a distance it appears to be completely still and solitary, but appearances can be deceptive. In fact, this giant tree of the desert is alive with activity. Its spiny trunk and branches are home to a surprising number of animals, and its flowers and fruit feed many desert dwellers. Gila woodpeckers and miniature elf owls make their homes inside the saguaro's trunk. Long-nosed bats and fluttering white doves drink the nectar from its showy white flowers. People also play a role in the saguaro's story: each year the Tohono O'odham Indians gather its sweet fruit in a centuries-old harvest ritual. In a simple, easy-to-read text and appealing drawings document the life cycle of this amazing cactus tree and the creatures it helps to support."
The Seed & the Giant Saguaro by Jennifer Ward
"It all begins with the tiniest of seeds. Here you will discover how a pack rat, a rattlesnake, a roadrunner, a coyote, and even the clouds above all play a role in helping a small seed grow into a giant saguaro. This wonderful read-aloud brings the wild desert to life and will spark a child's interest in the fascinating creatures that live there."
"Celebrating a birthday is always a happy occasion but never more so in this desert community then when it's a centenary for a grand Saguaro cactus! For one hundred years, the majestic cactus has anchored this vibrant neighborhood, providing food, shelter, and shade to the local wildlife inhabitants. In beautiful rhyming text, the creatures that depend on Saguaro's gifts come to pay homage, including the tiny bat that sips nectar from the plant's flower, the finches looking for a place to build their nest, and the grateful tortoise that enjoys its fruit. Magnificent artwork brings the desert landscape and creatures to life, showing the interdependence between plants and animals."
Cactus Picture Books
Nobody Hugs a Cactus by Carter Goodrich
"Hank is the prickliest cactus in the entire world. He sits in a pot in a window that faces the empty desert, which is just how he likes it. So, when all manner of creatures, from tumbleweed to lizard to owl, come to disturb his peace, Hank is annoyed. He doesn't like noise, he doesn't like rowdiness, and definitely does not like hugs. But the thing is, no one is offering one. Who would want to hug a plant so mean? Hank is beginning to discover that being alone can be, well, lonely. So he comes up with a plan to get the one thing he thought he would never need: a hug from a friend."
The Giving Tree of the Desert: The tale of a saguaro cactus and its nurse tree by Danielle Fradette
"A southwest twist on The Giving Tree, based on the real life relationship between young saguaro cacti and the nurse trees they depend on for survival as they grow. A lonely palo verde becomes the nurse tree for a tiny black saguaro seed. It protects the baby saguaro from animals, heat, monsoon storms, and many other dangers in the desert. What will happen to the nurse tree as the saguaro grows big and tall?This is a science-meets-storytelling tale from nature itself on how we all rely on the support of others for us to thrive."
"The Spanish edition of our Mexican-flavored Stone Soup story, Cactus Soup. When a group of hungry soldiers ride into San Miguel, the townspeople don't want to share their food. They hide their tortillas, tamales, beans, and flour and put on torn clothes to look poor. But the Capitán is not fooled. He asks for a cactus thorn to make some cactus soup, and before long he has tricked the townspeople into giving him salt and chilies, vegetables, and a chicken as well! Whimsical watercolors by Phil Huling add to the humor in this southwestern twist on the classic Stone Soup tale."
I can't get over how adorable some of these books are! The Night Flower seriously has some of the most beautiful illustrations I have ever seen. I hope you enjoy this book list as much as I did creating it. Happy reading!
Check out these other desert-themed books!