Get ready to be inspired by these incredible stories about the Iditarod!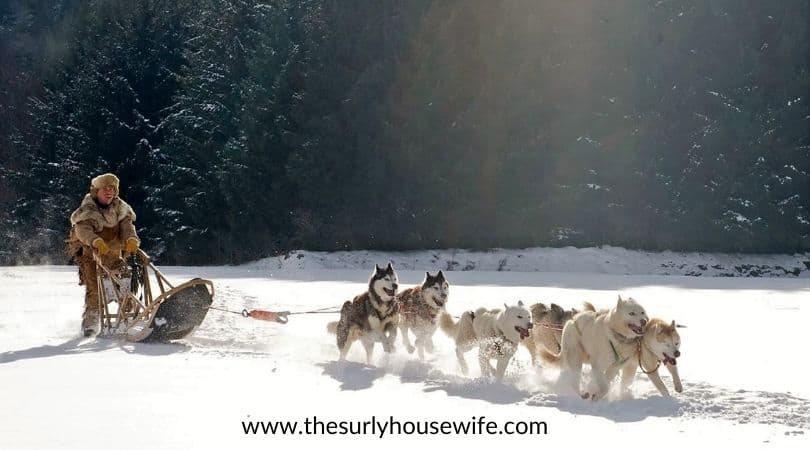 The 1100 mile Iditarod Sled Dog Race is run each March between the Alaskan cities of Anchorage and Nome. If you are looking to learn more about this historic race and some of the dogs (and trainers) that participated, then keep reading! You are sure to be inspired by these hardworking and hardy racers!
This post contains affiliate links. If you click and make a purchase, we earn a commission at NO extra cost to you. For more information, please read my full disclosure policy.
Descriptions come from Amazon; some are edited for length
Chapter Books about the Original Iditarod
The Adventures of Balto: The Untold Story of Alaska's Famous Iditarod Sled Dog by Pat Chargot
"Balto, the great Alaska sled dog, has been dead since 1933. But he still stands larger-than-life on Dogdom's Mount Olympus, where the world's great canines are immortalized. Yet few people know Balto's true story. Balto was only three years old when he helped carry serum across Alaska from Nenana to Nome to save the town's children from diphtheria. As leader of the last dog team in the life-saving relay race, he became an overnight sensation, a BONEa fide international celebrity. But much more happened after that. Balto lived for eight more years. His days unfolded like a sled expedition to the North Pole, carrying him in an exhilarating rush over smooth snow one minute, an icy hummock the next. And how does the new story end? With a heart-thumping surprise that you can't imagine. Hook up your harness, step into Balto's booties, and mush off to Balto's true story."
Dog Diaries #4: Togo by Kate Klimo
"When a diphtheria epidemic breaks out in isolated Nome, Alaska, in January 1925, the only way to get life-saving serum to the town is by using dog sled relay teams. Twenty teams participate, and the dog who inevitably gets credit for saving the town is Balto, lead dog on the final team which delivered the serum. But few people have ever heard of 12-year-old Togo and his musher Leonard Seppala, who carried the serum for almost double the length of any other team, and twice violated warnings to avoid perilous Norton Sound and instead ran straight over the frozen ice! With realistic black-and-white illustrations by Tim Jessell, plus an appendix with information about Siberian huskies, sled dogs, mushers, and more, Togo's tale is perfect for middle-grade readers who love a spunky underdog!"
Balto of the Blue Dawn by Mary Pope Osborne
"The magic tree house has returned and it's taking Jack and Annie back in time to Alaska, 1925. There they meet Balto, a jet-black Siberian husky destined to save victims of the diphtheria epidemic. But the trail isn't easy, and Balto is going to need Jack and Annie's help!"
The Cruelest Miles: The Heroic Story of Dogs and Men in a Race Against an Epidemic by Gay Salisbury
"When a deadly diphtheria epidemic swept through Nome, Alaska, in 1925, the local doctor knew that without a fresh batch of antitoxin, his patients would die. The lifesaving serum was a thousand miles away, the port was icebound, and planes couldn't fly in blizzard conditions. Only the dogs could make it. The heroic dash of dog teams across the Alaskan wilderness to Nome inspired the annual Iditarod Trail Sled Dog Race and immortalized Balto, the lead dog of the last team whose bronze statue still stands in New York City's Central Park. This is the greatest dog story, never fully told until now."
Chapter Books about the Iditarod
Bright Star, Bright Dawn by Scott O'Dell
"Bright Dawn was a teenaged Eskimo girl. Black Star was her part-husky, mostly wolf, pet. Together they were about to begin the famous Iditarod dogsled race through the bitter cold of Alaska. Bright Dawn knew they would win, but she didn't count on the cold, blinding whiteout, the belligerent bull moose, or ice that could crack and splinter at any time. And she soon realized that she was not only depending on Black Star for the race, but for her life."
"Gary Paulsen is no stranger to adventure. He has flown off the back of a dogsled and down a frozen waterfall to near disaster and waited for a giant bear to seal his fate with one slap of a claw. He has led a team of sled dogs toward the Alaskan Mountain Range in an Iditarod, the grueling, 1,180-mile dogsled race, hallucinating from lack of sleep but determined to finish. Discover the true stories behind his thrilling books in this incredible book."
Winterdance: The Fine Madness of Running the Iditarod by Gary Paulsen
"Paulsen and his team of dogs endured snowstorms, frostbite, dogfights, moose attacks, sleeplessness, and hallucinations in the relentless push to go on."
Dogsledding Chapter Books
The following books don't feature the Iditarod exclusively, but they are wonderful books that include dogsledding.
Skinny Leg by Suzette Bruggeman
"Even if Nico-the-Mosquito didn't remind Spencer every day at school that he's a big, fat loser, there's no way Spencer could forget. For starters, there's the big game he blew for the whole team last Saturday. Darn his stupid leg that can't grow muscle! It's hard to make even the easiest tackle on the planet when you run like a three-legged dog. He'll never be a football star like his big brother, Chase. Not in a million years. His skinny leg has seen to that. Then Spencer reads Jack London's The Call of the Wild and intrigued by the story of sled dogs during the Yukon gold rush, wonders if mushing is a sport he can do. His parents, eager to boost their son's self-confidence, agree to let him get some dogs. In an extraordinary journey of self-discovery, perseverance, and love, Spencer and his misfit dogs learn to be a team. When they miss a turn in a blizzard during their first 100-mile race through some of the wildest backcountry on Earth, they each must contribute a unique skill to make their way out alive."
Ice Dogs by Terry Lynn Johnson
"Victoria Secord, a 14-year-old Alaskan dogsled racer, loses her way on a routine outing with her dogs. With food gone and temperatures dropping, her survival and that of her dogs and the mysterious boy she meets in the woods is entirely up to her. The author Terry Lynn Johnson is a musher herself, and her crackling writing puts listeners at the reins as Victoria and Chris experience setbacks, mistakes, and small triumphs in their wilderness adventure."
Dog Driven by Terry Lynn Johnson
"McKenna Barney is trying to hide her worsening eyesight and has been isolating herself for the last year. But at the request of her little sister, she signs up for a commemorative mail run race in the Canadian wilderness, a race she doesn't know if she can even see to run. Winning would mean getting her disease, and her sister's, national media coverage, but it would also pit McKenna and her team of eight sled dogs against racers from across the globe for three days of shifting lake ice, sudden owl attacks, snow squalls, and bitterly cold nights. A page-turning adventure about living with disability and surviving the wilderness, Dog Driven is the story of one girl's self-determination and the courage it takes to trust in others."
From the original race to today's racers and mushers, I hope this list was helpful. If you are looking to learn more about the Iditarod or Alaska, check out the posts below!