Keep reading for 20 awesome books about the state of Alaska!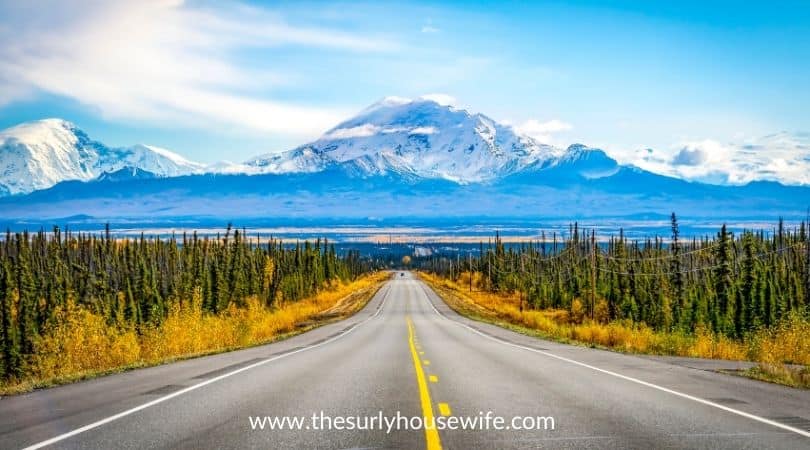 Oh my word, Alaska! The last frontier. Home to vast open spaces and more wildlife than any other place on earth or it seems like it anyway!
John Muir said, "To the lover of wilderness, Alaska is one of the most wonderful countries in the world." It has everything from bears to whales, and from salmon to moose.
It can actually be a little hard to narrow down what you want to learn about Alaska during a 50 states study which is why I prefer to use living books when studying the states rather than bland non-fiction books.
Living books, a term coined by Charlotte Mason, are books that make the subject you are studying come alive and are written by people who love the subject.
While this book list DOES have a few nonfiction books about Alaska, a majority of the books are set in Alaska or stories about Alaskan origins. All of them DO make the state come alive to the reader. Let's get started!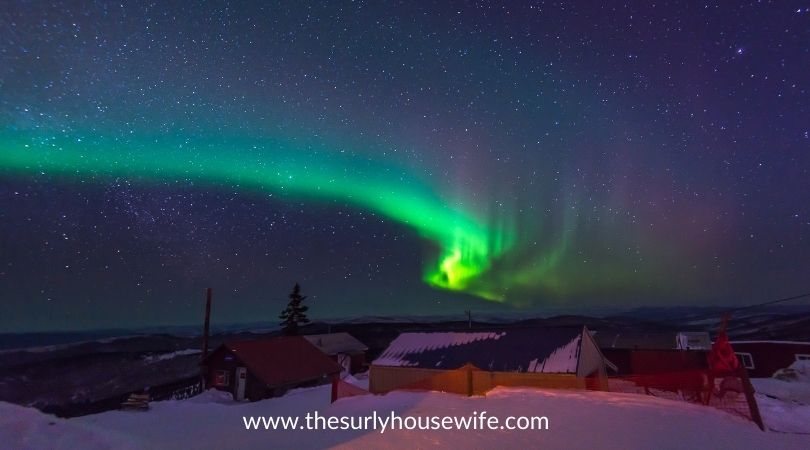 ICYMI, click HERE for all the other state book lists!
Alaska History and Facts
Alaska is nicknamed the Last Frontier.
Motto – North to the future
Alaska entered the Union on January 3, 1959. It was the 49th state.
Alaska comes from the Inuit word meaning "Mainland."
Juneau is the capital of Alaska.
This post contains affiliate links. If you click and make a purchase, we earn a commission at NO extra cost to you. For more information, please read my full disclosure policy.
Descriptions come from Amazon; some are edited for length
Living Books about Alaska
Picture Books about Alaska
L is for Last Frontier: An Alaska Alphabet by Carol Crane
"Unrivaled by any other state for sheer size, Alaska is a land of mystery and wonder to many Americans. Bordered by water on three sides, it remains a remote and last frontier. L is for Last Frontier: an alphabet book written by Carol Crane, takes readers on an informative adventure through the 'land of the midnight sun.'"
This series of books called Discover America State By State are some of my favorites for introducing a state to kids. Each letter states a fact or a thing about that state. For example, for Alaska letter A is for Alaskan Natives and letter B is for Bears, and so on. Each letter comes with a four line rhyme about that respective letter's fact or subject. What I love most is on the side of the page it gives more in-depth description about each subject. It's a great jumping off point for what sparks an interest in your child!
My Wilderness: An Alaskan Adventure by Claudia McGehee
"McGehee's lyrical nonfiction story recounts the 1918–1919 winter spent on Alaska's Fox Island from the point of view of nine-year-old Rocky, son of the painter Rockwell Kent. Vivid scratchboard-style illustrations echo the rugged subject matter with enchantment as Rocky explores the wilderness and becomes accustomed to island life. This engaging book shows Alaska from a young boy's appreciative and imaginative point of view."
Arctic Lights, Arctic Nights by Debbie S. Miller
"Imagine a land where the sun rises at 1:58 a.m. in the summer and shines for less than four hours on a winter's day. The animals in the wilderness near Fairbanks, Alaska, witness some of the world's greatest temperature extremes and light variations ever year. At an average low of -16 degrees Fahrenheit, the winters may be unpleasantly frigid, but the light shows are always glorious! Acclaimed Alaskan duo Debbie S. Miller and Jon Van Zyle bring the beautiful and mysterious arctic lands to life in this smart, stunning picture book."
Children's Books Set in Alaska
Aurora: A Tale of the Northern Lights by Mindy Dwyer
"Early one morning in a long ago northern land, a baby girl was born. Her mother named her Aurora, which means the 'rosy light of dawn.' Mindy Dwyer shares a magical tale about a young girl whose dreams lead her to a great discovery, her own courage and the spectacular northern lights. Through her bright, luminous illustrations and text, this origin story about the glorious northern lights is magically portrayed to young readers and makes the perfect bedtime story."
How Raven Got His Crooked Nose: An Alaskan Dena'ina Fable by Barbara J. Atwater and Ethan J. Atwater
"Chulyen the trickster raven loses his nose one day, but he vows to get it back. Luckily he has some special powers to help him! How Raven Got His Crooked Nose is a modern retelling of a traditional Native American fable. Part picture book and part graphic novel, this beautifully illustrated story teaches an important lesson to children through Dena'ina mythology and includes a glossary of Dena'ina words to learn."
"Togo wasn't meant to be a sled dog. He was too feisty and independent to make a good team member, let alone a leader. But Togo is determined, and when his trainer, Leonhard Seppala, gives him a chance, he soon becomes one of the fastest sled dogs in history! His skills are put to the ultimate test, though, when Seppala and his team are called on to make the now-famous run across the frozen Arctic to deliver the serum that will save Alaska from a life-threatening outbreak of diphtheria. Robert J. Blake's detailed, carefully researched oil paintings complete the story of the adventure that inspired the internationally famous Iditarod race."
Under Alaska's Midnight Sun by Deb Vanasse
"In the far northern parts of the world, near and above the Arctic Circle, summer days are very long. In Barrow, Alaska, for example, the sun rises in May and sets 83 days later, in early August. During this time, the sun shines all through the night. People call it the midnight sun. When the midnight sun is shining, people and animals stay active even at night. This sweet poetic narrative, showcases the many pleasures of this unique time as a little girl dances, fishes, plays games, watches moose and fox, and communes with family and nature."
Whale Snow by Debby Dahl Edwardson
"Amiqqaq is excited when his family catches a bowhead whale. As his family prepares to celebrate the traditional Iñupiaq whaling feast, Amiqqaq learns about the spirit-of-the-whale."
Salmon Stream by Carol Reed-Jones
"Follow the life cycle of salmon in cumulative verse. Against staggering odds the eggs hatch and grow, travel to the ocean, and eventually struggle upstream to their birthplace again, to spawn a new generation."
Alaska's Three Bears by Shelley Gill
"One of the most beloved Alaskan children's picture books of all time, 'Alaska's Three Bears' is a classic retelling of the three bears fairy tale, Alaska-style. Readers young and old will meet Alaska's three bears in this one-of-a-kind adventure. Join the polar, grizzly, and black bears as they travel across Alaska's vast wilderness."
"Long ago, the only berries on the tundra were hard, tasteless, little crowberries. As Anana watches the ladies complain bitterly while picking berries for the Fall Festival, she decides to use her magic to help. Anana sings under the full moon turning four dolls into little girls that run and tumble over the tundra creating patches of fat, juicy berries: blueberries, cranberries, salmonberries, and raspberries. The next morning Anana and the ladies fill basket after basket with berries for the Fall Festival. Thanks to Anana, there are plenty of tasty berries for the agutak (Eskimo tee cream) at the festival and forevermore."
The Salmon Princess: An Alaska Cinderella Story by Mindy Dwyer
"One of the most popular children's books about Alaska, The Salmon Princess retells the classic Cinderella story through an Alaskan lens. In this adaptation of the well-loved fairy tale, the father still has his head in the clouds and the stepmother is as mean as ever. But this story is set in the Last Frontier, and its details and imagery reflect Alaska's landscape and sensibility: the fairy godmother becomes an eagle spirit, the glass slipper a fisherwoman's boot. Evocative writing and colorful artwork distinguish this playful retelling of the classic. Here children learn about cultures and ways of life but happy endings are still the rule."
Benny's Flag by Phyllis Krasilovsky 
"Based on a true story, Benny was an Aleut Indian boy living in an Alaskan mission home many years before Alaska became a state. One day his teacher told the class about a contest to make a flag for Alaska. That night the boys and girls of the mission house made many designs for the flag. Benny knew what he wanted his flag to be like: the blue field for the Alaska sky and the forget-me-not flower; the North Star for the future State of Alaska, the most northerly state in the Union; and the dipper for the Great Bear—symbolizing strength. A month later the teacher announced: 'Children, the flag contest is over. From all over Alaska children sent in designs for the flag. And Benny's design has won the contest!'"
---
Photo Books Set in Alaska
The Impossible Rescue by Martin W. Sandler
"In 1897, whaling in the Arctic waters off Alaska's coast was as dangerous as it was lucrative. And in that particular year, winter blasted in early, bringing storms and ice packs that caught eight American whale ships and three hundred sailors off guard. Their ships locked in ice, with no means of escape, the whalers had limited provisions on board, and little hope of surviving until warmer temperatures arrived many months later. Here is the incredible story of three men sent by President McKinley to rescue them."
Chapter Books Set in the Alaska
Julie of the Wolves by Jean Craighead George
"Finding herself caught between the traditional Eskimo ways and the modern ways of the whites. Miyax, or Julie as her pen pal Amy calls her, sets out alone to visit Amy in San Francisco, a world far away from Eskimo culture and the frozen land of Alaska. During her long and arduous journey, Miyax comes to appreciate the value of her Eskimo heritage, learns about herself, and wins the friendship of a pack of wolves. After learning the language of the wolves and slowly earning their trust, Julie becomes a member of the pack."
"The Alaskan wilderness is a lonely place for Mark Andersen, especially after the death of his brother. But Mark finds a friend named Ben, who happens to be an Alaskan brown bear. Ben and Mark form a special bond, but the townspeople are determined to destroy it. It is only through the strength of an enduring friendship that Ben (and Mark) have a chance of being saved."
Ghosts in the Fog: The Untold Story of Alaska's WWII Invasion by Samantha Seiple
"Ghosts in the Fog is the first narrative nonfiction book for young adults to tell the riveting story of how the Japanese invaded and occupied the Aleutian Islands in Alaska during World War II. This fascinating little-known piece of American history is told from the point of view of the American civilians who were captured and taken prisoner, along with the American and Japanese soldiers who fought in one of the bloodiest battles of hand-to-hand combat during the war. Complete with more than 80 photographs and first person accounts of this extraordinary event, Ghosts in the Fog is sure to become a must-read for anyone interested in World War II."
The Year of Miss Agnes by Kirkpatrick Hill
"Ten-year-old Frederika (Fred for short) doesn't have much faith that the new teacher in town will last very long. After all, they never do. Most teachers who come to their one-room schoolhouse in remote, Alaska leave at the first smell of fish, claiming that life there is just too hard.
But Miss Agnes is different. She doesn't get frustrated with her students, and she throws away old textbooks and reads Robin Hood instead! For the first time, Fred and her classmates begin to enjoy their lessons and learn to read and write. But will Miss Agnes be like all the rest and leave as quickly as she came?"
Kavik the Wolf Dog by Walt Morey
"When Andy Evans stumbles upon the snow-covered wreckage of a small plane, he's shocked to find a survivor. Should he put the gravely injured dog out of his misery? The look in the animal's eyes says he's not ready to die. It turns out that Kävik's a champion sled dog, and soon he makes a full recovery. When his rightful owner finds out Kävik is alive, he wants the dog back. But Kävik has other ideas."
My Name Is Not Easy by Debby Dahl Edwardson
"Luke knows his Iñupiaq name is full of sounds white people can't say. So he leaves it behind when he and his brothers are sent to boarding school hundreds of miles away from their Arctic village. At Sacred Heart School, students (Eskimo, Indian, White) line up on different sides of the cafeteria like there's some kind of war going on. Here, speaking Iñupiaq, or any native language, is forbidden. And Father Mullen, whose fury is like a force of nature, is ready to slap down those who disobey. Luke struggles to survive at Sacred Heart. But he's not the only one. They each have their own story to tell. But once their separate stories come together, things at Sacred Heart School, and the wider world, will never be the same."
Books Set in Alaska (for Mom!)
I love to read, and I love a good theme or challenge for a reading list. So my final two books on this book list are one adult fiction and one adult non-fiction.
Fiction Book Set in Alaska
"In April 1992 a young man from a well-to-do family hitchhiked to Alaska and walked alone into the wilderness north of Mt. McKinley. He had given $25,000 in savings to charity, abandoned his car and most of his possessions, burned all the cash in his wallet, and invented a new life for himself. Four months later, his decomposed body was found by a moose hunter. How Christopher Johnson McCandless came to die is the unforgettable story of Into the Wild."
Non-fiction Book Set In Alaska
A Wolf Called Romeo by Nick Jans
"A Wolf Called Romeo is the true story of the exceptional black wolf who spent seven years interacting with the people and dogs of Juneau, Alaska, living on the edges of their community, engaging in an improbable, awe-inspiring interspecies dance, and bringing the wild into sharp focus. When Romeo first appeared, author Nick Jans and the other citizens of Juneau were wary, but as Romeo began to tag along with cross-country skiers on their daily jaunts, play fetch alongside local dogs, or simply lie near Nick and nap under the sun on a quiet afternoon, Nick and the rest of Juneau came to accept Romeo, and he them. Part memoir, part moving animal narrative, part foray into the mystique, lore, science, and history of the wolf, A Wolf Called Romeo is a book no animal lover should miss."
And there you have it! 20 living books about Alaska. It is my hope that this book list provides you with JUST ONE book to share with your kids.
Don't forget to check out the other state book lists below!
---