15 songs to relieve stress and cure any bad mood!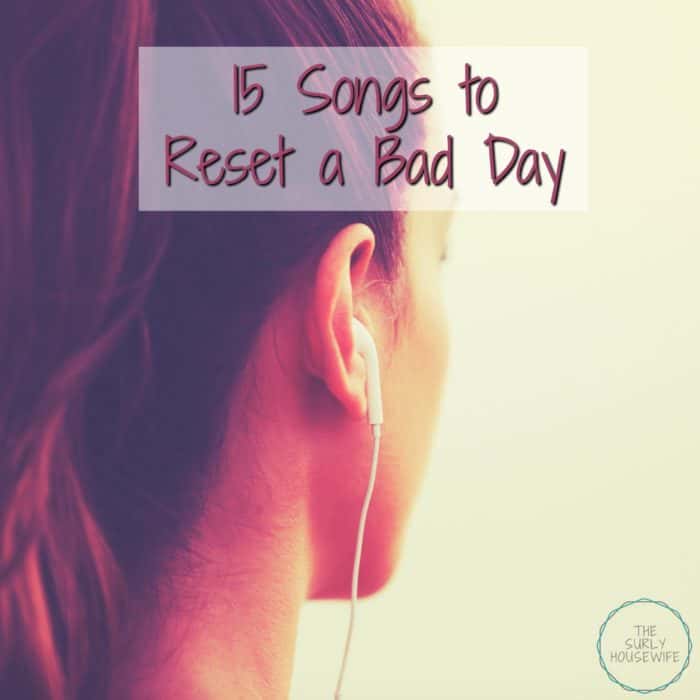 Self-care as a mom and a homeschooler involves mental heath as much as physical health. Being around children 24/7 can be extremely draining. So what do parents do to handle this? Besides force them outside/in the other room? For me, it's music. Or podcasts. But music is the main way I can reset my pissy bad mood and face the day in a much happier place.
Some days it is happy music to cheer me up. Some days it is loud music to scream for me. Some days it is something to dance to. Each song has a different reason and helps in their own way.
This post contains affiliate links. If you click and make a purchase, we earn a commission at NO extra cost to you. For more information, please read my full disclosure policy.
Songs to Relieve Stress
1. Heard it Through the Grapevine by Marvin Gaye This song instantly makes me feel better. When I used to work in a warehouse, if this song came on, it always brought a smile to my face.
2. Just the Way you Are by Bruno Mars If Bill Burr approves of Bruno Mars, then so do I. My husband may be the only one who gets that reference.
3. Higher Ground by Stevie Wonder or Red Hot Chili Peppers I got back and forth on which I love more. Stevie. No RHCP. No Stevie! GAH! I can't decide!
4. All I want for Christmas by Mariah Carey and The Roots This song I have to pull up youtube for but I love it! It may seem silly to listen to a Christmas song in the middle of July, but I don't care. It makes me happy.
5. Into the Ocean by Blue October This song will always have a special place in my heart. This song would always make Harley fall asleep when she was a baby. This song brings me back to that time of innocence and helps me remember Harley is still just a little girl, even though she may be challenging some days.
6. 10,000 Days (Wings for Marie part 2) by Tool Those days I want to scream out loud but can't, I let Maynard do the screaming for me.
7. Weeds or Wildflowers by Parsonfield I'm not sure if it's because this song was on The Walking Dead. But I LOOOOVE this song.
8. Come With Me Now by KONGOS Check out this song if you haven't heard it before!
9. Pumped up Kicks by Foster the Parents My neighbor across the street has been blasting this song all summer, and I don't even care.
10. St. Elmo's Fire by John Parr '80s music cures everything 😉
11. Set Fire to the Rain by Adele Adele makes me happy. That is all.
12. Catch my Breath by Kelly Clarkson
13. Shut up and Dance by Walk the Moon Honestly. It's an excuse to sing "Shut up!"
14. No one Knows by Queens of the Stone Age A great rock song with an amazing drum line. Let the beat of the drum get out your aggression.
15. Immortals by Fall Out Boy The real star of Big Hero 6.
What's on your playlist? How do you get your day back on track?