This post may contain some affiliate links for your convenience (which means if you make a purchase after clicking a link I will earn a small commission to help keep my blog up and running, but it won't cost you a penny more). For more information, please read my disclosure policy.
One thing I love about homeschooling is exposing my kids to all sorts of different things. I grew up loving the Olympics. Competition. Patriotism. The underdogs. The champions. I love it all. In 2012, I was super excited to get the girls involved in watching and cheering on team USA. We made torches, painted American flags, and made an Olympic cake.
In 2014, it was time for the winter Olympics. The Winter Olympics have so many sports that my kids don't normally have a chance to see so it was awesome to expose them to new things. Fofo loved the figure skating and the biathlon. Both girls were constantly on the lookout for the American flag, a tradition carried over from the Summer Olympics in London.
Another tradition we carried over was making the Olympic cake.  I mean, c'mon, who doesn't want to have cake?!  This cake is super simple and a fun cooking activity to do with your kids
This red, white, and blue cake topped with Olympic rings is so simple to put together with the help of icing gels and some M&Ms for the rings. I used a basic boxed cake mix since I don't really have a go-to cake recipe. Plus it's much quicker and time is of the essence when baking with children.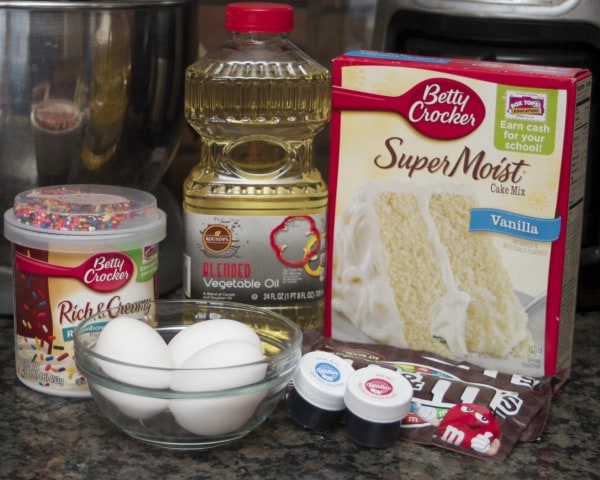 Simply mix up the cake according to the directions. Kids can help you add in the wet ingredients or crack the eggs like Fofo. She has been cracking eggs since around the age of 5. Just make sure to give them a separate bowl so if any shells make it into the bowl you can easily fish them out.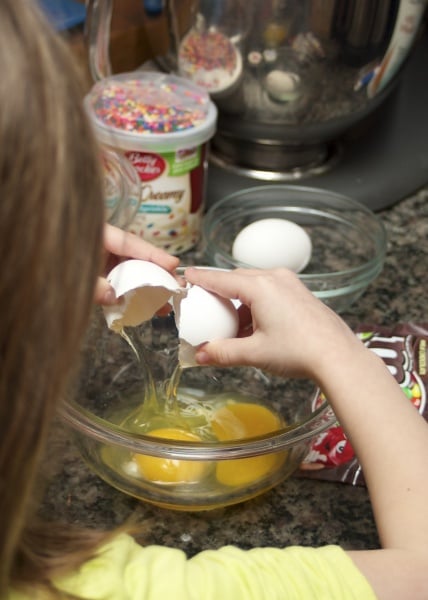 Once the batter is mixed, set a portion of it aside so you can mix in your food gels. I discovered food gels for Fofo's 4th birthday when she wanted pink and purple cake. After some internet research, I found out that icing gels are a much better use to color your cake batter than food coloring. This brand is Wilton, and I picked it up at Walmart. It's a concentrated gel that comes 8 colors to a box. No more guessing with a ton of food coloring to get the exact shade you want. I highly recommend you give them a try. Especially if you have girls and will be making a lot of pink and purple cakes or frosting in your future.
After I separated some batter for the blue, I poured the white portion of the cake into the greased cake pan. The remaining batter would be red. To add the coloring to the cake, get some of the gel on a toothpick. Add to the cake batter and stir. The simple task of stirring is a great way to help kids feel involved.
After The Bear mixed up the blue, it was Fofo's turn to mix up the red.
Fofo wanted to make the cake portion look like the American flag, so we did our best to drizzle the blue and red cake batter into something that resembled the stars and stripes. I made WAY to much red batter so it was a little difficult, but the cake was just for our family to enjoy so no need for it to be perfect.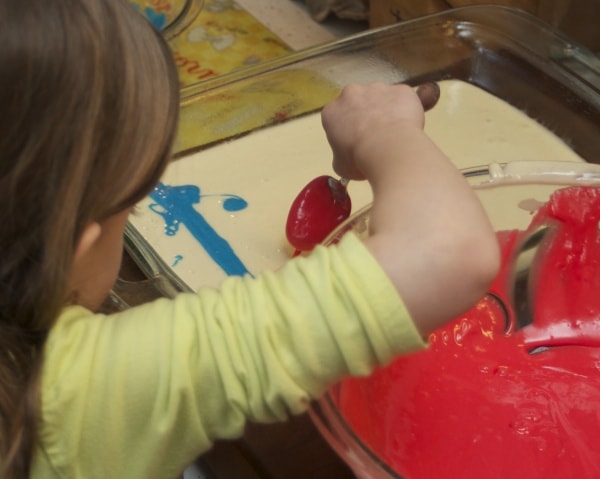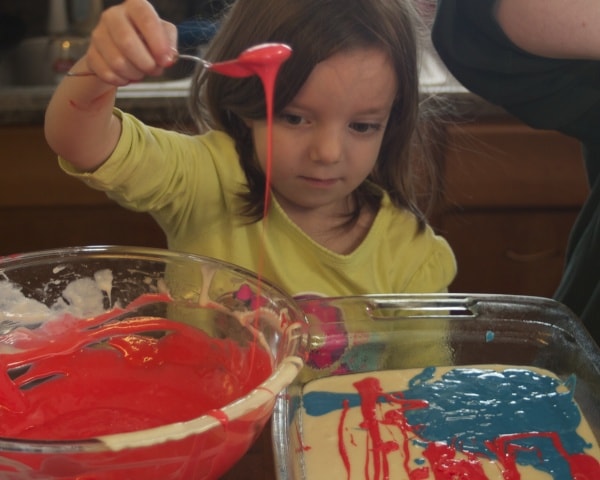 Once the cake was baked and cooled, it was time to frost! Again, this was just store bought icing.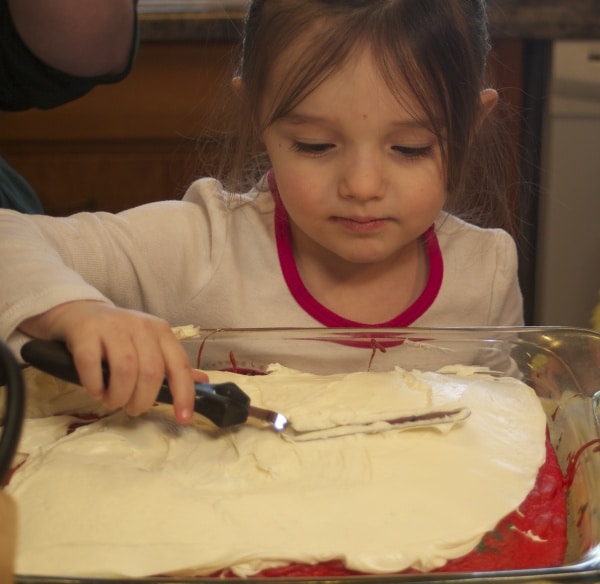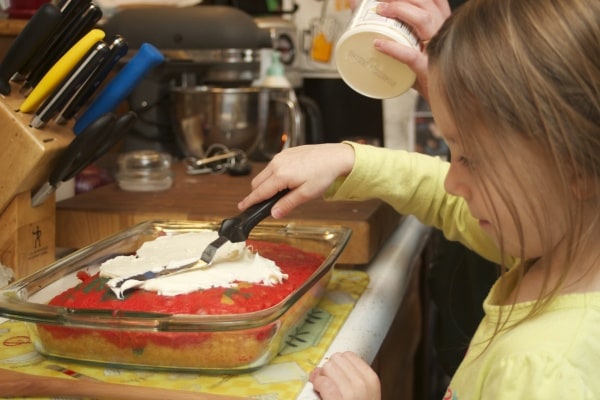 Then Olympic ring time! My girls are major M&M addicts so we used those to make each of the rings. The Bear didn't have the patience for this part so Fofo was on her own (with a little help from Papa).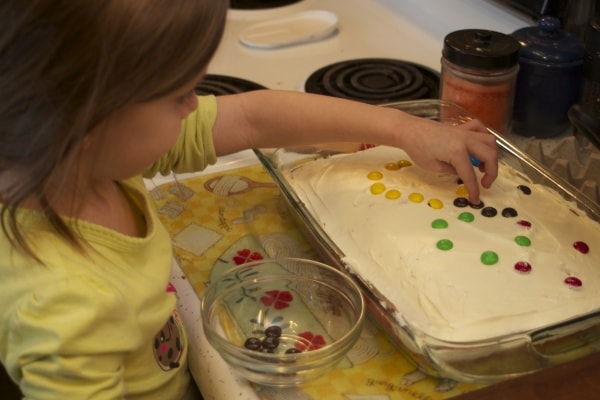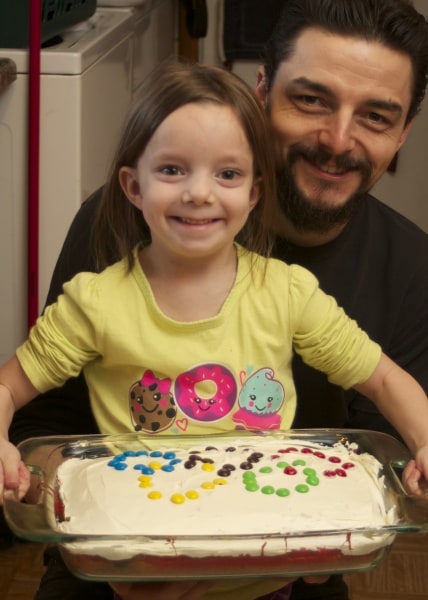 And there ya have it! A simple, fun, and delicious Olympic activity the whole family will enjoy. Who wants cake?!