If you have a lot of scrapbook paper, this American flag craft is for you!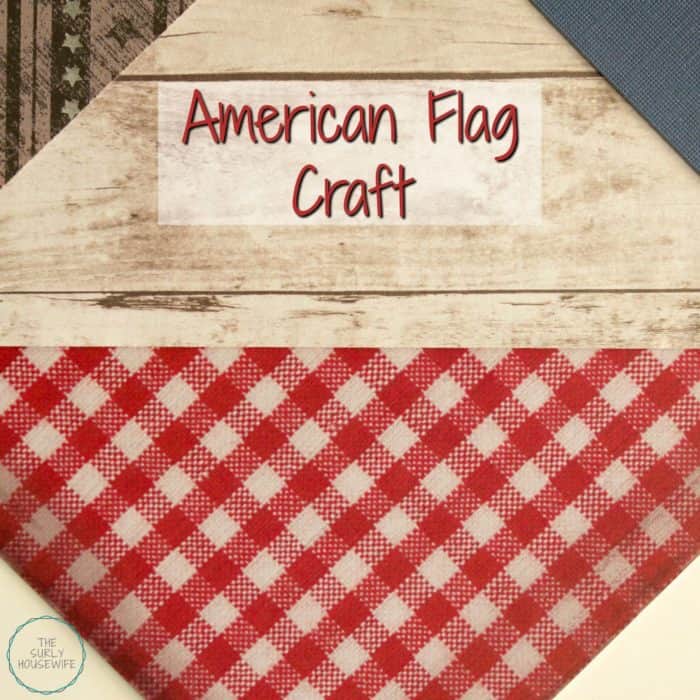 This post contains affiliate links. If you click and make a purchase, we earn a commission at NO extra cost to you. For more information, please read my full disclosure policy.
Did you know the current version of the U.S. flag is the longest-used version and has been in use for over 56 years? The 50 star flag was officially adopted in July of 1960 after Hawaii received statehood in 1959. The American flag has undergone 28 various designs since 1775 with official design regulations starting in 1777.
Why do I know all this American flag trivia? Because my kids love the American flag! They have small flags in their room, they draw pictures of the flag, and they always want to buy them when we see them in the stores around national holidays. Their love of the American flag was my inspiration for this American flag craft.
If you aren't super crafty like me, but you have a ton of old scrapbook paper to use, this American flag craft is for you!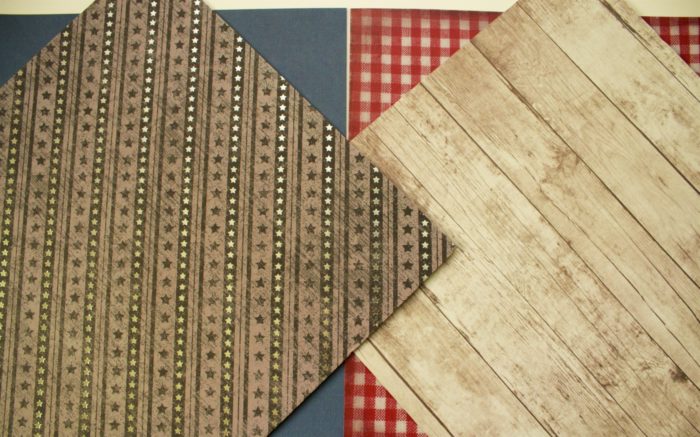 Using the colors of Old Glory as inspiration, I rummaged through my paper supply and found some fun patterns to use as the stars and stripes.
I picked a fun red gingham and a whitewashed wood for the stripes. I actually had a whole page of stars from a "Rock Star" pack of scrapbooking paper. Score!! If you can't find star paper, don't fret. You can use star stickers or just draw some stars with a marker. For the blue backing, I used a sturdier piece of card stock since my kids tend to overdo it on the glue 😉
Next, I trimmed all the paper down to size. The blue to 10.5 by 12. The stripes into a width of 1.5 inches. The short stripes are 7.5 inches long and the longer stripes are 12 inches long. I trimmed my stars into 10 star strips. My plan was to have them put 5 strips of 10 in for the 50 states, but the kids had different ideas so I let them have free rein with that 😉
Then it was time to assemble!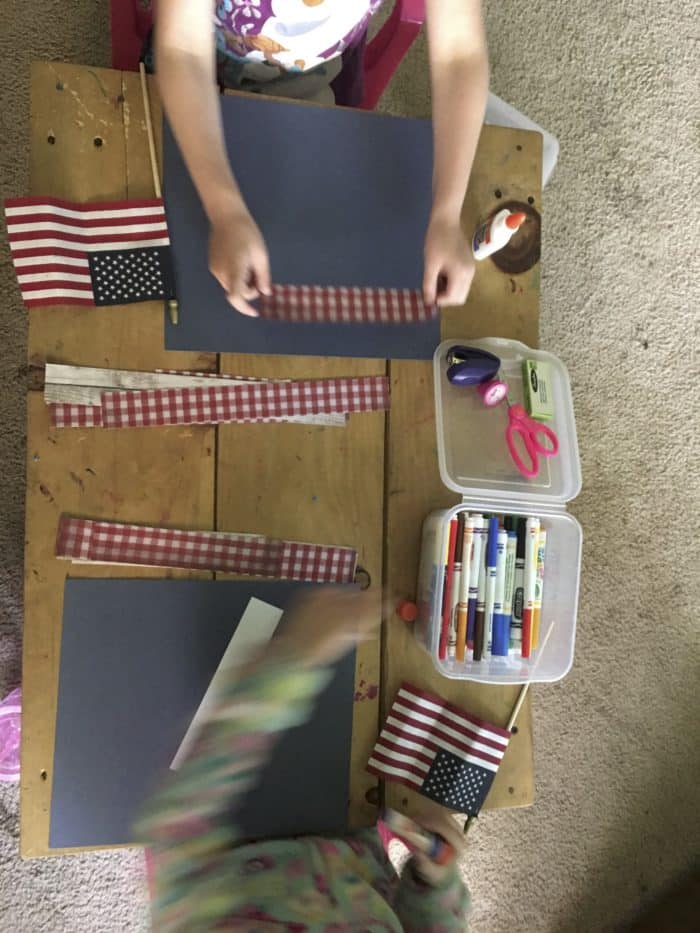 My kids know their American flag so they didn't need much instruction. They knew where the long stripes went, where the short stripes went, and where the stars needed to be placed.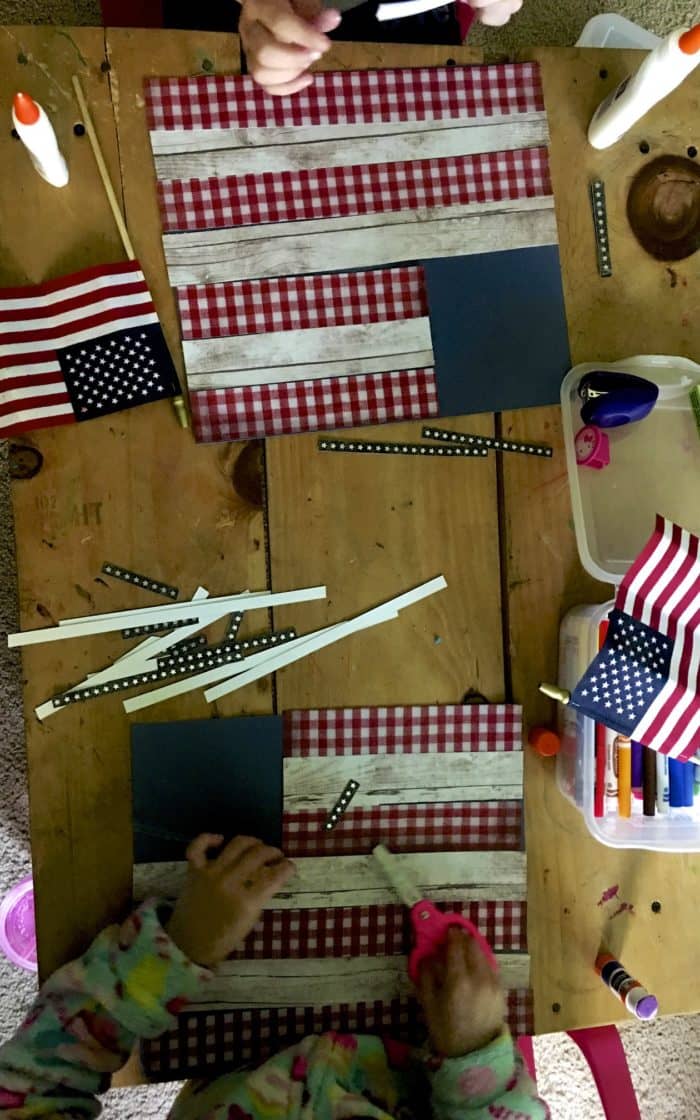 The youngest opted for filling the blue square with stars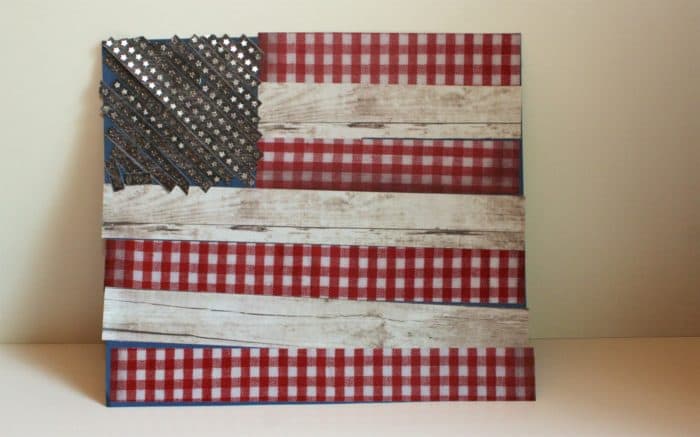 Harley (my super literal child) wanted to do just 50 stars like the American flag, but she liked the way Bear's looked better so she changed it up. Sisters.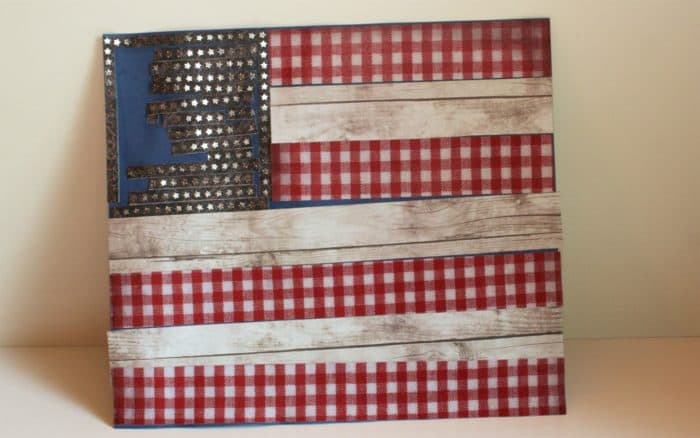 And that is all there is to it! We made our flags in celebration of the Summer Olympics but this craft can be done year round! The girls hung them up in their room, but this would be a fun and easy project for a homeschool co-op, story time at the library, or a regular preschool. And if you are anything like me, you have PLENTY of scrapbook paper left for kids to use 😉
American Flag Craft
Materials
3 sheets of 12×12 scrapbook paper – One solid blue, one solid or patterned red, and one solid or patterned white.
1 sheet of star paper or star stickers or markers to draw stars.
Dimensions (roughly)
Blue paper – 10.5 w x 12 L
Short stripes – 1.5 w by 7.5 L
Long stripes – 1.5 w by 12 L
The blue square is approximately 4 x 4.5
The stripes: 4 red and 3 white
Whether you are celebrating Flag Day, Veteran's Day, Patriot Day, or just Proud-to-be-an-American Day, you and your kids will love this simple American flag craft. Remember, your craft doesn't need to look exactly like this. It's about being creative and spending time with your kids!