Olympic rings cupcakes, an easy and festive way to celebrate the Olympics!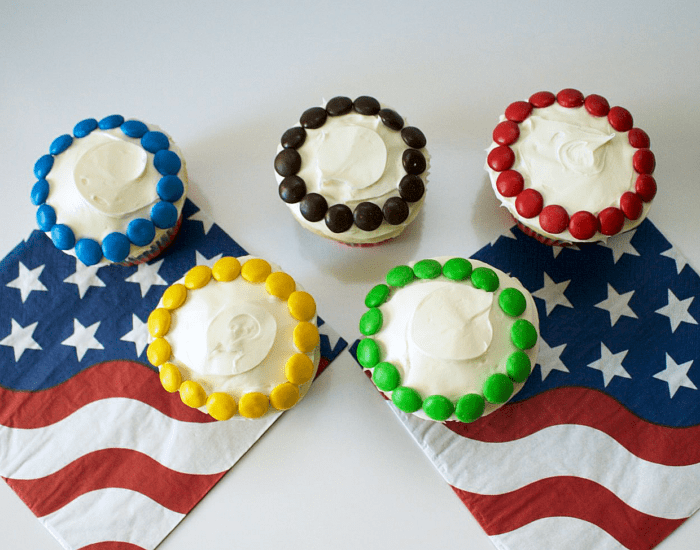 This post contains affiliate links. If you click and make a purchase, we earn a commission at NO extra cost to you. For more information, please read my full disclosure policy.
Did you know the 2018 Winter Olympics held in Pyeongchang, South Korea, was the first time South Korea hosted the Winter Olympics? It was the first of 3 consecutive Olympic games to be held in East Asian followed by the 2020 Summer Games in Tokyo, Japan and the 2022 Winter Games in Beijing, China. I am filled with Olympic trivia. Well, all trivia. They don't call me the 2006 Nasco Biology Trivia Champ for nothing! I can also name the summer host cities going back to 1960 in Rome, but enough about me and knowledge of useless trivia. Today we are talking about cupcakes!
My kids associate the Olympics with cake. Not entirely odd when you consider we have baked a cake for the two previous Olympiads. And they are kids. If cake is involved they remember the cake, not necessarily the occasion.
This year I decided to make our Olympic cake a little bit different after seeing these super cute cookies on Pinterest. Individual cupcakes for each individual ring. Brilliant. And fun. And possibly the most delicious cupcakes ever.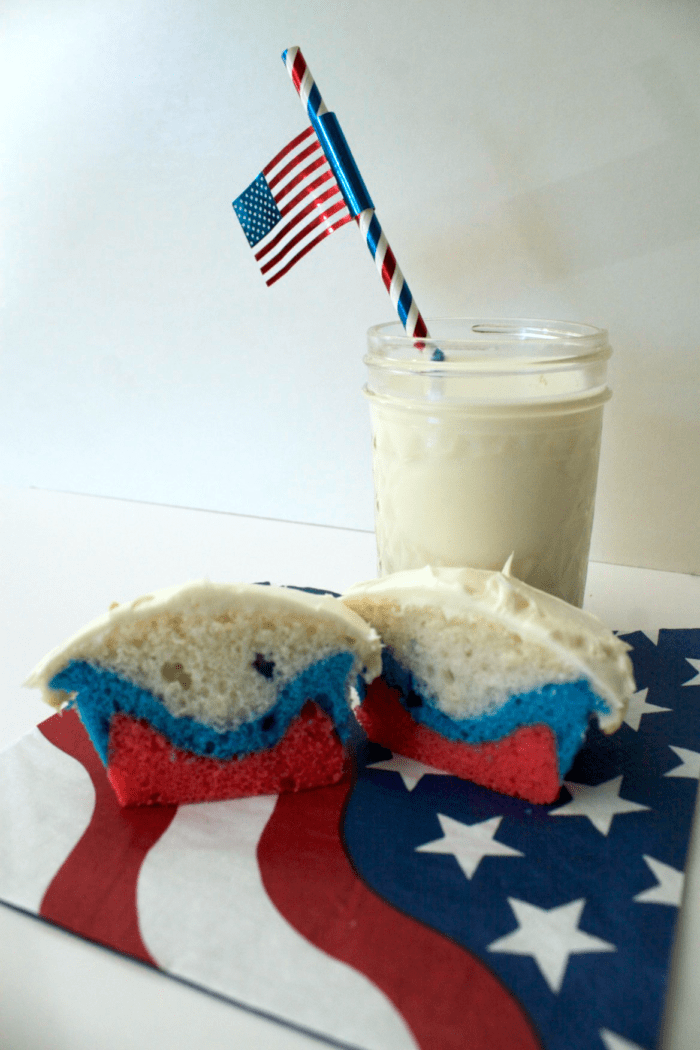 And because America rules (sorry Canada) we HAD to make the cupcakes red, white, and blue. I use basic white cake mix for this reason. First, I prepare the batter according the package directions. Then, depending on how many colors I am making, I separate the batter: one bowl for each color. Then, lastly, I dye the batter using food coloring. (I use Wilton icing gels.) To the lined cupcake pan, I put a blue layer, then red, and then white. The girls loved this part!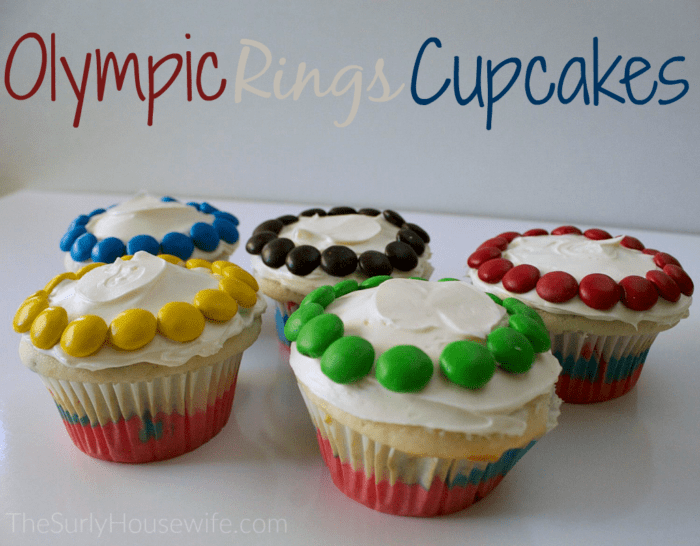 I used white frosting, obviously so you could see the Olympic rings, but also because the Olympic rings always must be on a white background. You learn all sorts of things when you homeschool your kids and need to find the meaning of every tiny detail because anything a child can ask, they will ask. Especially a homeschooled child.
Bonus tidbit: Harley baked these all by herself!!
So roll up your sleeves and get baking with the kids. They can help you measure, mix, sort, frost, decorate, and most importantly, eat. Thanks for reading, and I hope you get into the Olympic spirit this year!
Olympic Rings Cupcakes
Ingredients
Boxed white cake mix
Your favorite frosting (again we used premade)
M&Ms – sorted by color
Food coloring or gels
Directions
1. Mix cake batter according to the directions.
2. If making colored batter, separate and dye your respective colors.
3. Bake according to package directions.
4. Cool completely.
5. Frost cupcakes.
6. Line each cupcake with M&Ms: blue, yellow, black, green, and red.
Note: The M&Ms will get stale if not eaten within the first day. In case you wanted to know which cupcakes to eat first 😉