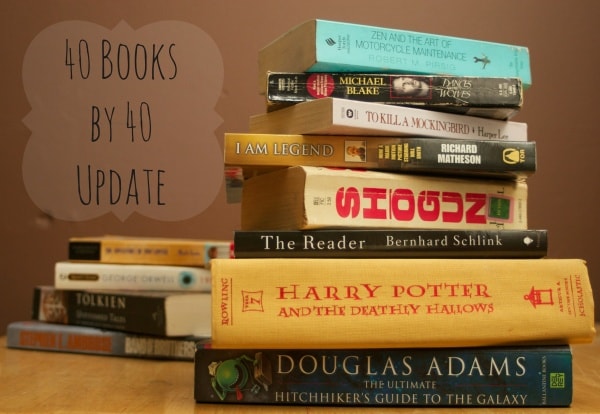 I have become a lazy reader in recent years. In order to get back into a reading routine and make myself more accountable, I challenged myself to read 40 books by the time I am 40. I am, ahem, 33 years old which only means about 5 books a year so it will probably be more, but 40 by 40 has a nice ring to it so I'm leaving it 🙂
I'm back people!! My husband and I returned from our cruise last week (I will fill you in on it in the coming weeks) and I am finally back in the groove of things after laundry, shopping, and sick little girl. We had an unbelievably relaxing time, and I actually got some reading done. I kept waiting to be interrupted every few pages but wasn't. It was a tad unreal. I was able to finish the 15th book in my reading goal, "Bonk: The Curious Coupling of Science and Sex" by Mary Roach.
I have been a fan of Mary Roach since reading her book "Stiff: The Curious Lives of Human Cadavers." Mary is witty, smart, curious, and has the type of sense of humor I can relate to. Instead of a Foreword to "Bonk," she has a Foreplay chapter. Love that! "Bonk" explores the history of sex research as well as the results and findings of said research.
Sexual research began long before Kinsey and partners Masters and Johnson. Robert Dickinson, John B. Watson, Ernst Boas and Ernst Goldschmidt were all predecessors to the most well-known sex researcher: Alfred Kinsey. Due to Kinsey's practices, much of his research is discredited (depending on who you talk to). William Masters and Virginia Johnson began their research into sexual physiology in the 1950s. Not an easy time to be a sex research. Masters and Johnson were relentless and dedicated researchers, as is brilliantly portrayed in the tv series "Masters of Sex."
Roach was hoping to see the phallus that Masters and Johnson developed to view female orgasm from inside the female body. I felt so bad that it is shown on the tv show, and she went to great lengths to find it but was unsuccessful. She even talked to Virginia Johnson's son. Mary was never able to see it. Masters had the device dismantled. But through the magic of television we can see it today.
The rest of the book discusses the results of past and present sexual research in the medical community as well as some on the outskirts: vaginal orgasms, sex machines, sexual imaging (in which Roach participated), history of treatment of sexual dysfunctions in men and women, and much more. A chapter was dedicated to orgasm: what it is, where people feel it, can dead people have them? Another chapter highlighted the role of hormones in sex.
The last chapter was dedicated to Mary's surprise at the research. Most of the research was NOT about the having the best or most mind-blowing sex, but rather physical response and technical analysis. So where was the research on having better sex? Roach believes the best research came from Masters and Johnson in 1979 "Persons Studied in Pairs." During the study of homosexual couples, they found they had the best sex because as a committed couple they were found to take their time, mastered the art of teasing, and had gender empathy (as a woman or man they would know what felt good to their partner).
I enjoyed this book. It was funny, educating, and engaging. Although it was a bit awkward caring this book around a cruise ship. BONK in giant letters isn't the most subtle of book titles. I highly recommend this book, along with any of Mary's work. She is an amazingly talented writer and dedicated researcher. She approaches science from a layman's view and is able to add humor to make you learn and laugh throughout the book. I hope you give one of her books a read!
What have you read lately? What is your favorite vacation read?