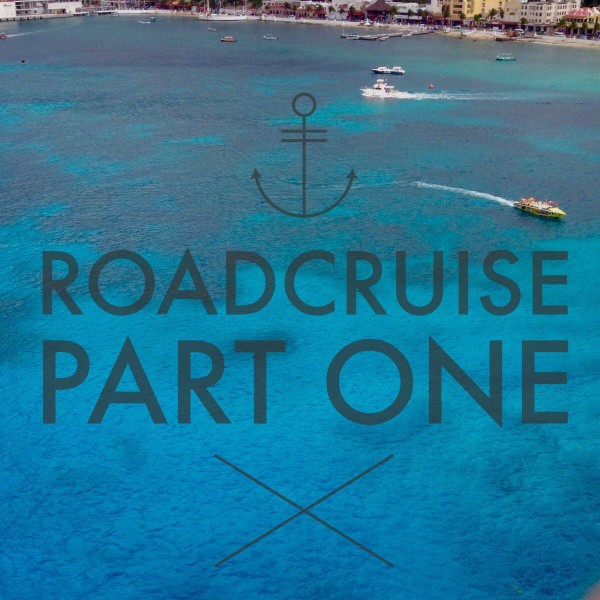 For those of you that don't know, my husband and I went on a Caribbean cruise 2 weeks ago for our 12th wedding anniversary. My mom actually won the cruise from CruiseOne on Facebook back in June and was generous enough to give it to us. The full post on winning the cruise, is here 🙂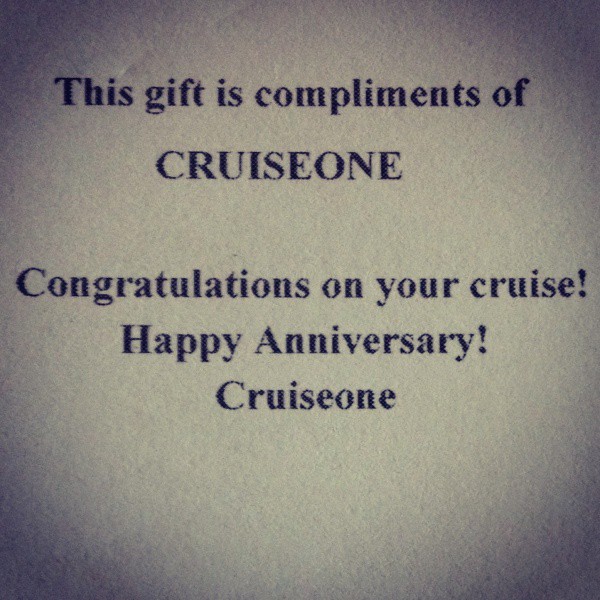 We needed to decide on an up to 7 day Carnival cruise before the end of November. We chose a western Caribbean cruise aboard the Carnival Dream, which sails out of the Port of New Orleans. After we crunched the numbers we realized it would be less expensive to drive. ROAD TRIP!!!! It was a long few months of waiting, but it was FINALLY time to go!
DAY ONE
We left bright and early on Saturday the 18th. 5:30 am and we are ready to go!!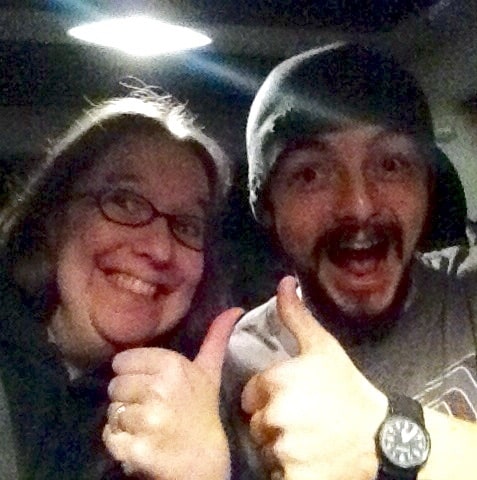 Ya gotta stop for Krispy Kreme 🙂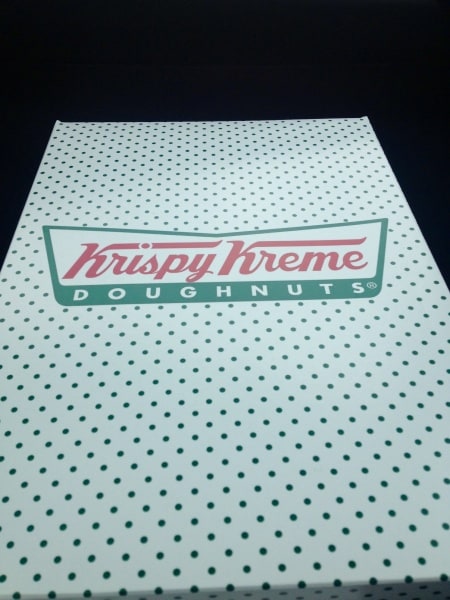 We got a nice and long view of the Arch in St. Louis, MO while we were stuck in traffic.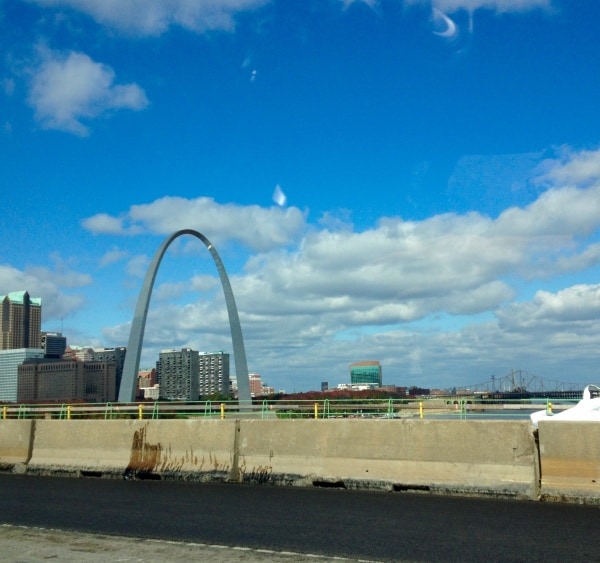 We stopped for lunch and fuel and came to the realization "Holy crap we have no children!!"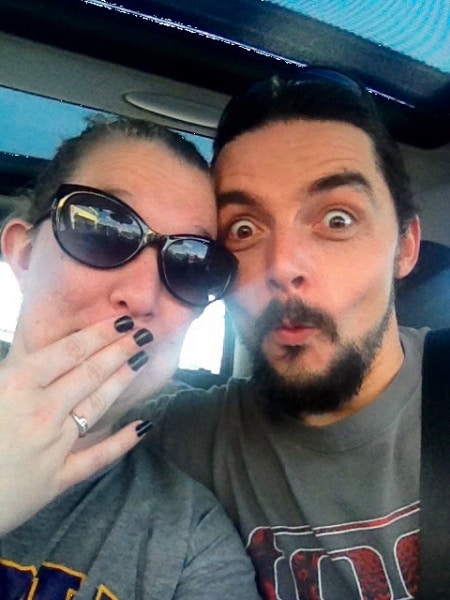 A lot of the time the first day was figuring out if I needed a new phone. (Long story) but my phone ended up being fine. It was a bit of an annoyance, but at least the researching made the time go by fast.
Yep. This is Arkansas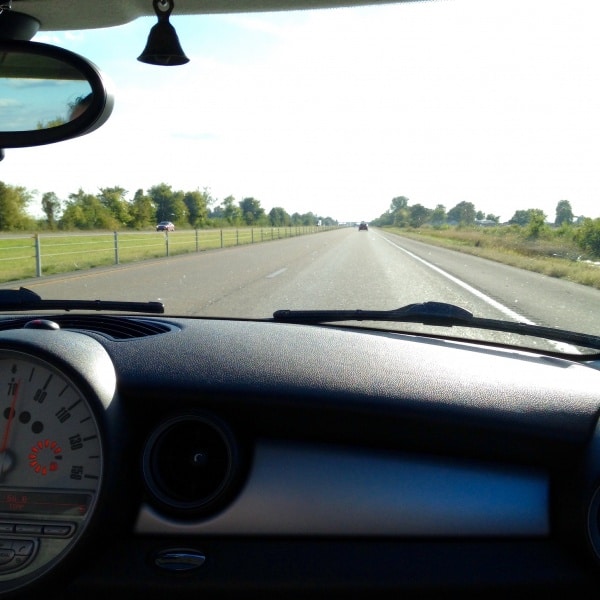 Driving shenanigans. It was 1100 miles! We had to pass the time some how 😉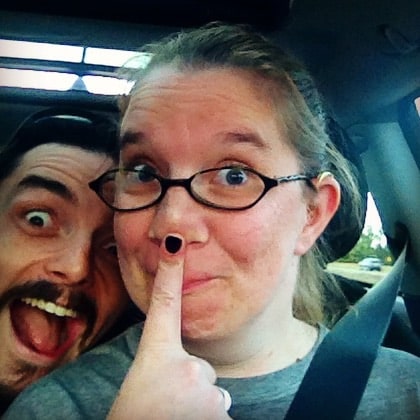 We made it to Mississippi at dusk. Fofo loves to collect acorns so we made sure to bring her home some different tree seeds, a magnolia tree seed cone from Mississippi and a cyprus seed pod from Missouri.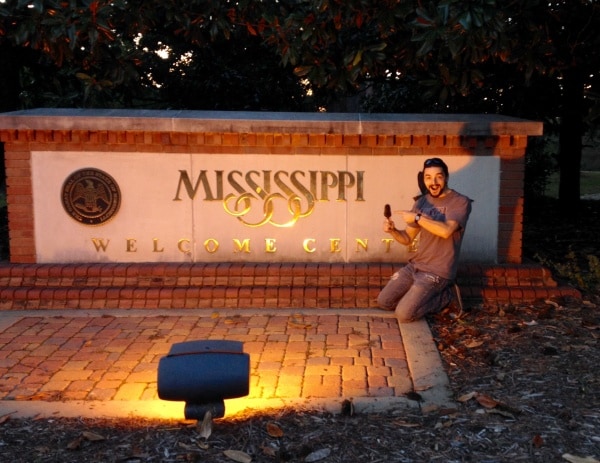 We didn't stop in Memphis but we did see Elvis. The Elvis Presley Collection that is. (Made in China)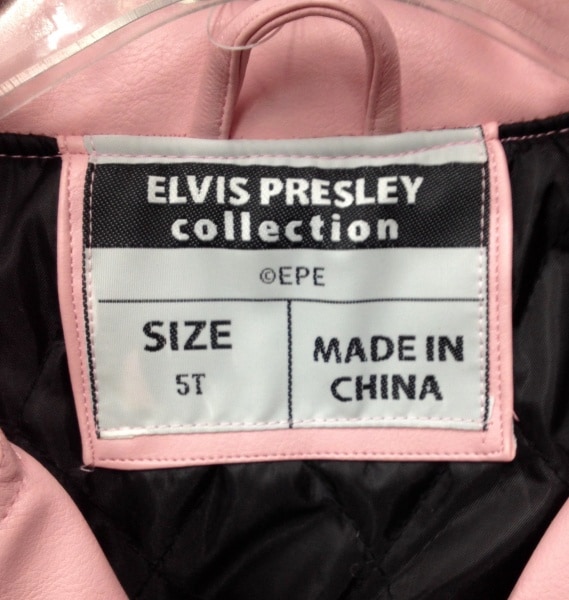 We stopped in Louisiana for the night. We just pulled into a rest area and slept for a few hours before getting up the next morning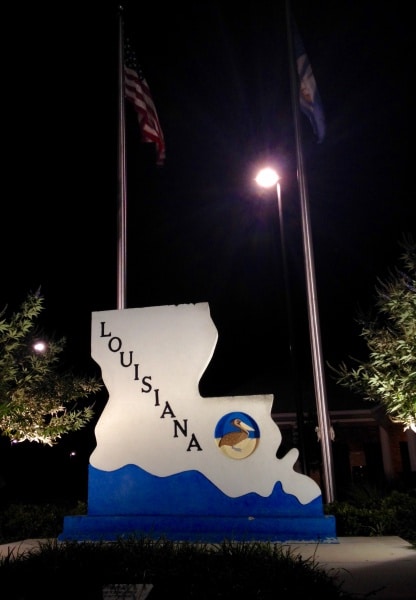 DAY TWO
We made our final trek into New Orleans. I have never been this far south into Louisiana and it was gorgeous scenery as we drove over the wetlands alongside Lake Pontchartrain. The wetlands and Spanish moss were beautiful. Everything was too far away to get a picture from our speedy, little car.
As foodie wannabes we had to stop for beignets at Cafe du Monde!! They were amazing. A perfect nosh before we got on the ship.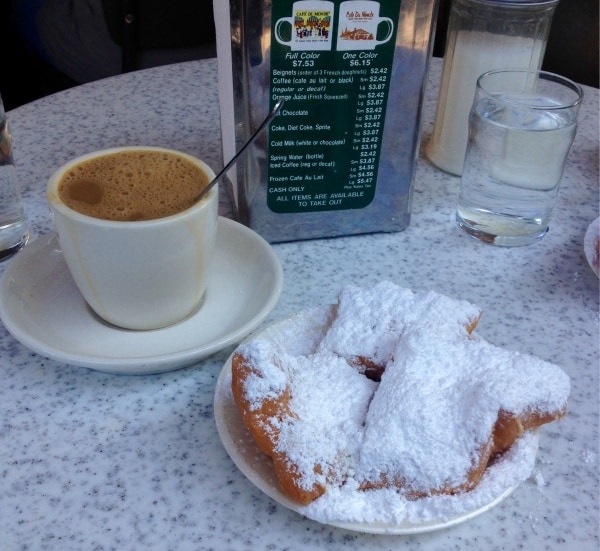 We walked around Decatur Street and the French Quarter before heading to the cruise terminal to check in. I wish we had the time and funds to see more of the city. The architecture and colors around the French Quarter were amazing.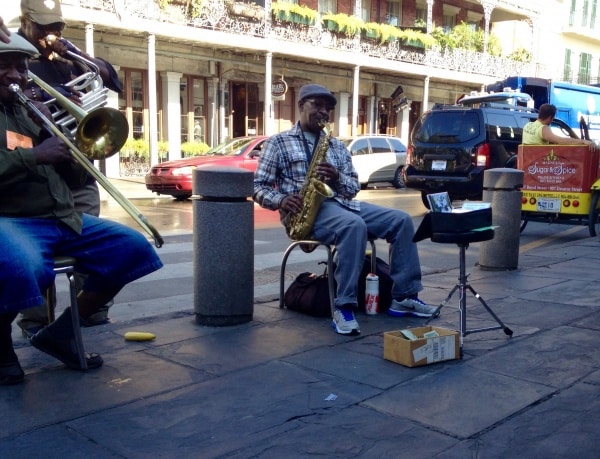 Our first glimpses of the ship as we entered the parking garage! EEE!!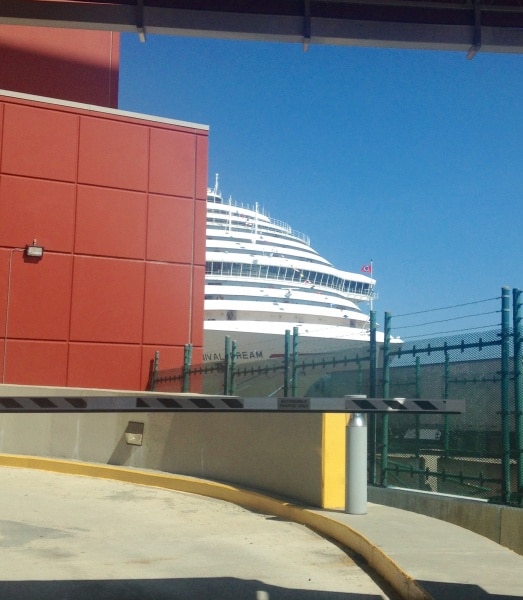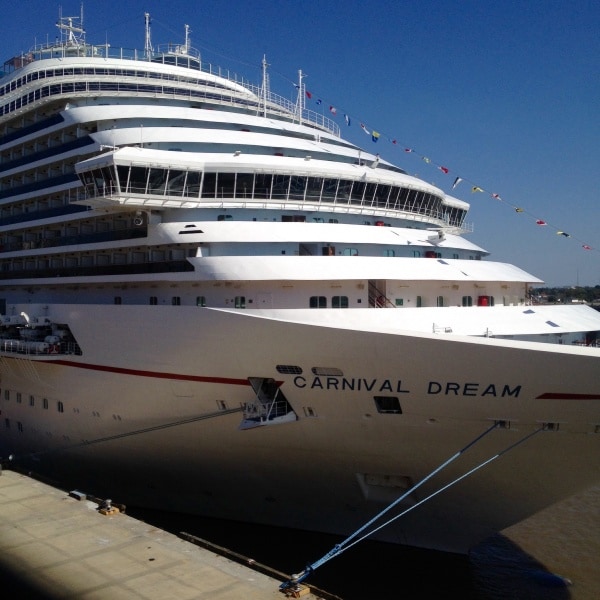 We made it!! From the moment we won the cruise, we were in shock. We didn't believe it until we were actually ON the ship.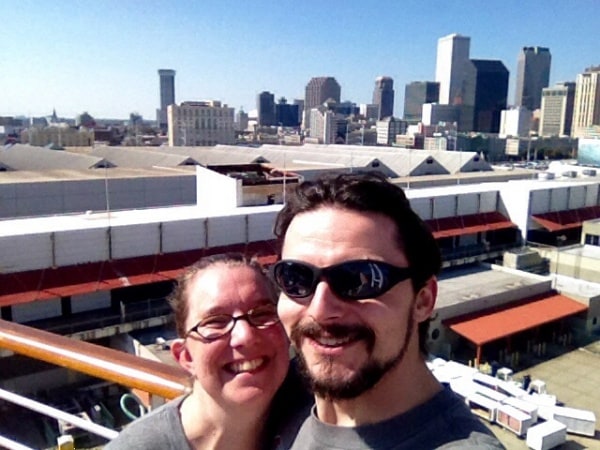 After we found our room and had a bite to eat, we made a dash for the Serenity deck. The no-one-under-21 portion of the ship. It was a perfect preview of our week.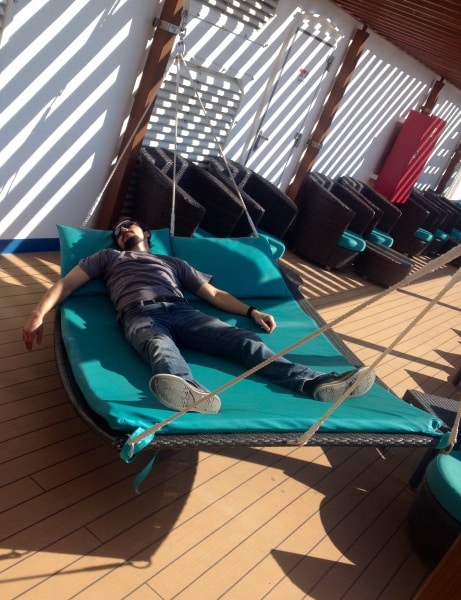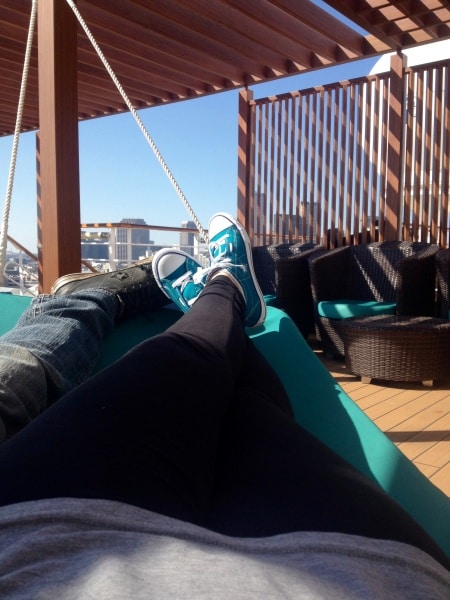 There is no better time to people watch than at the send off party!! Bon Voyage!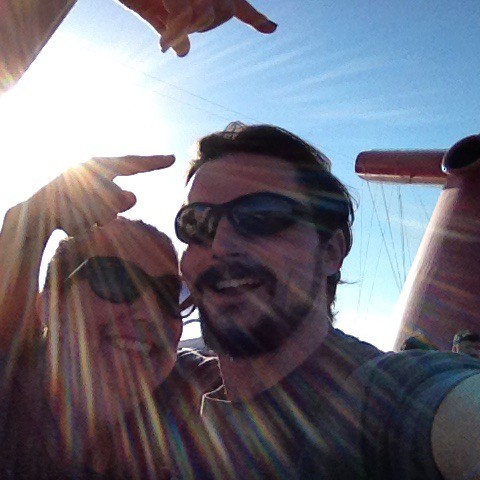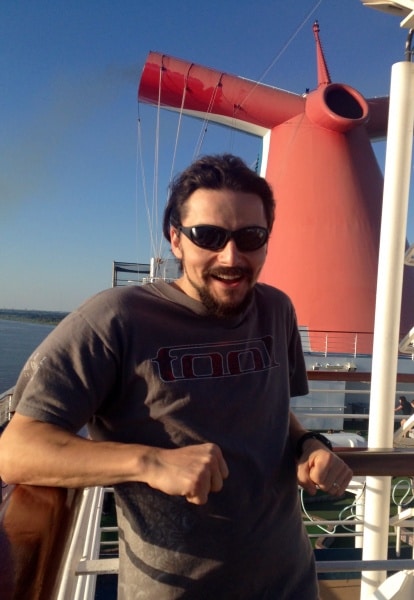 To leave from the port of New Orleans, you have to travel down the Mississippi for several hours. It was nice to have a final check-in with civilization before we left and see more of the bayou from the mighty Mississippi. So long New Orleans.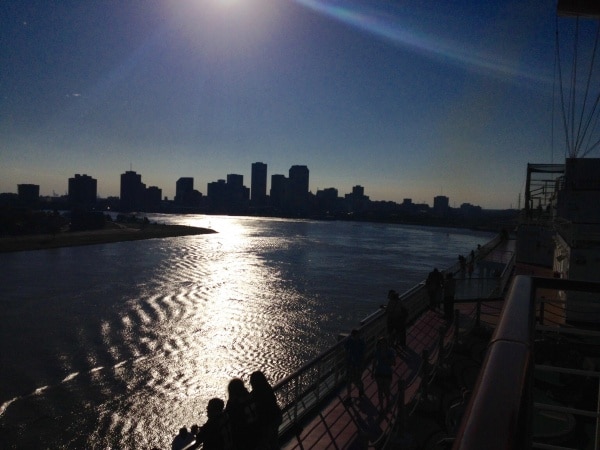 We enjoyed a nice dinner for 2. Thank you so much to the Maitre'd Csaba (Pronounced Chubby. I swear that's his name) that adjusted our dining for us. A week of dining alone was just what we needed 🙂
So long Mississippi River.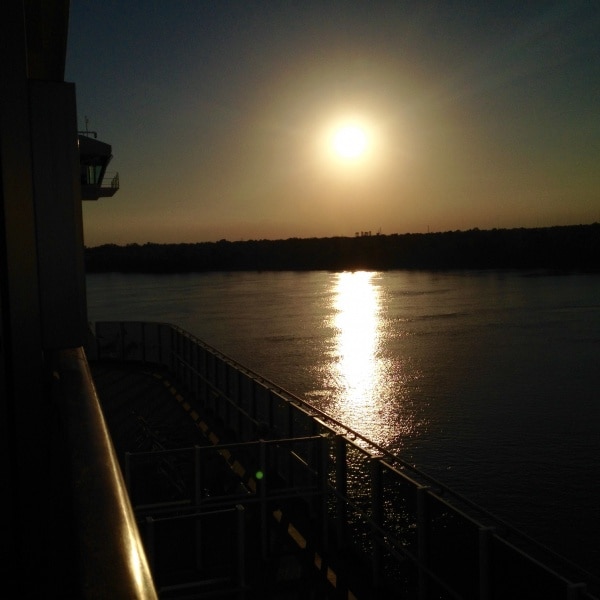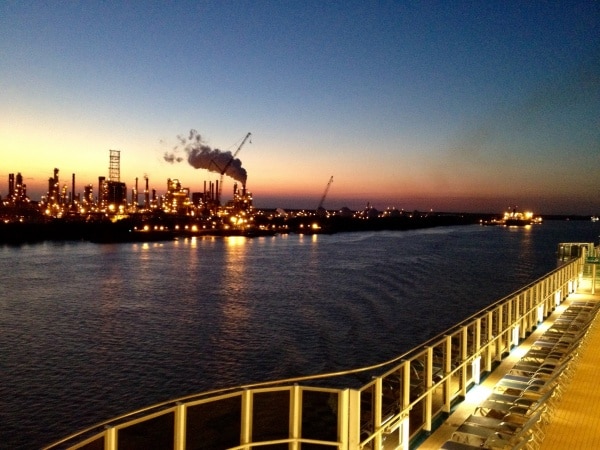 Day two was a long day, but an amazing one. After an after dinner drink and unpacking, we passed out from our long journey that was just beginning.