5 tips to help you keep your house clean!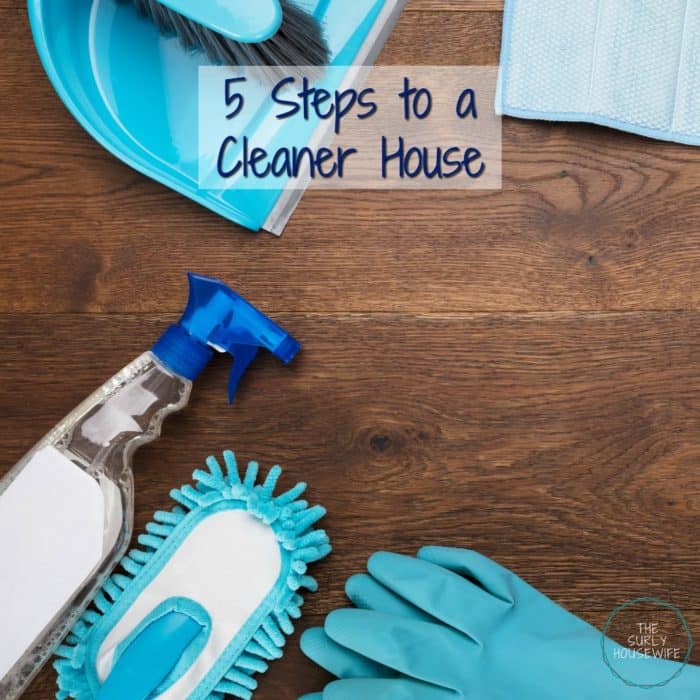 This post contains affiliate links. If you click and make a purchase, we earn a commission at NO extra cost to you. For more information, please read my full disclosure policy.
Keeping up with housework is a never ending task. People are so busy these days and the home can end up a dumping ground for papers, clothes, and dust bunnies. You don't need a perfectly clean house to be happy, but a neat home can cut down on stress, hurried mornings, and lost items. I put together my list of 5 cleaning tips and tricks that help me keep our home clean and organized.
5 Tips to a Clean House
1. Define your priorities
Picture a perfectly clean house? Looks immaculate huh? Well, that isn't gonna happen. Now picture reality. Sad huh. Now find a happy medium. What things do you need clean in your house to keep your sanity? What things can you let slide?
For me, laundry and dishes are top priority. We have small house so laundry and dishes can quickly overwhelm us. On the other hand, we possibly have the dirtiest windows on the block. I don't take pride in the fact that they are dirty, but I also can live with it and dedicate my time somewhere else. I also don't clean the counters every night. I do, however, give them a thorough cleaning once a week.
2. Make a list of your top priorities
Remember, this is just cleaning. Not the 7000 other things you have going on. Keep your focus narrow and specific. On my list I have laundry (including sheets and towels), dishes, animals, floors, bathroom, and counters.
3. Assign frequency to each chore
Break it down into daily, weekly, monthly, and as needed. For example, laundry, dishes, and animal care are daily chores. The bathroom, sweeping, counters, and sheets are a weekly chore. The vacuuming is done as needed as is towel cleaning. With 2 kids, 2 adults, and 2 cats we accumulate enough clothes to do laundry everyday so throwing in the towels with the daily laundry load is easy enough.
4. Delegate
I'll say that again DELEGATE! Even the kids can help! I hate sweeping so I automatically assign that to my husband. The kids help me with the dishwasher when they can. (Sometimes they are out playing or asleep when it's done running) My husband and daughter take care of the animals. The kids feed the cats, and Harley scoops the kitty litter. My husband takes care of the yard work. I put clean sheets on the kids beds, but they strip the beds.
5. Create a schedule
A cleaning schedule is a must that should include date and time. The girls have half an hour of reading time before bed, so I use that time to get chores done: clean the bathroom, put away laundry, or do dishes. I don't have to rush to do those things during the day because I have an assigned time to do them. I also assign dates to certain chores. Monday I change the sheets on our bed. Tuesday I clean the bathroom. Wednesday is wiping down the counters and stove. Thursday I change the sheets on the kids beds. And Friday is sweeping day. I am not a big schedule person, but I love having my cleaning organized so I don't forget the last time I cleaned the bathroom, and I don't feel overwhelmed. It is broken down into daily, weekly, and as needed tasks to keep things running smooth and the house clean (ish).
Here are my 5 tips for a clean house. What is your best cleaning tip? What is your trick to keeping an orderly home?