Brunch will never be the same in your house when you master these buttermilk pancakes!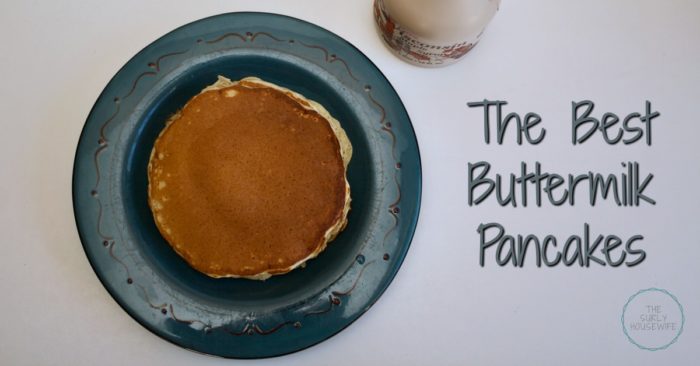 This post contains affiliate links. If you click and make a purchase, we earn a commission at NO extra cost to you. For more information, please read my full disclosure policy.
I love getting a behind the scenes look into people's lives. On social media, for example, you can "follow" your favorite chefs and get a behind the scenes look into their world. You can see what they are eating, where they are eating, and what they feed their family. Tyler Florence shared on Instagram the pancakes he makes for his family. BOOM! Life changing moment: the world's best buttermilk pancakes!
I have been making the world's best pancakes (from scratch!) for about a year now, and today I am going to share the recipe with you. This recipe makes the most moist and delicious pancakes. They take a few extra minutes to prepare compared to the boxed stuff, BUT once you have these amazing buttermilk pancakes you won't look back. You probably have all the ingredients you need in your fridge and pantry so this meal is economical, quick, and satisfying. You will probably even have a few leftover!
The recipe is so simple. Whisk together the dry ingredients of flour, sugar, salt, baking soda, and baking power. Mix together your wet ingredients: buttermilk, eggs, and vanilla and pour into the dry ingredients. Once combined add a half a stick of melted butter. Let it rest for five minutes, and viola! You are ready to make pancakes. I'm telling you, you won't regret making these pancakes from scratch!! Life changing people. Life.changing.
This is an awesome frugal addition to your meal plan. They fill you up and keep you full. Make sure to add side of oven baked scrambled eggs and bacon, and you have a full meal. After all who doesn't love brinner? Or blunch as my husband INSISTS on calling it. These pancakes are also delicious enough for guests and special occasions. After all, who doesn't love pancakes!
Whether you are making these for breakfast, lunch, or dinner, your family will adore and crave these buttermilk pancakes. Quick, economical, and satisfying are the name of the game when it comes to these fluffy pancakes. I hope you enjoy!
Buttermilk Pancakes
Inspired by Tyler Florence
Makes about 2 dozen pancakes
Ingredients
2 cups all-purpose flour
1/2 tsp salt
1 tsp baking powder
1/2 tsp baking soda
1/3 cup sugar
2 cups buttermilk
3 eggs
1 TBS vanilla
4 TBS butter, melted
Directions
1. Whisk together flour, salt, baking powder, baking soda, and sugar in a large mixing bowl.
2. Measure out 2 cups of buttermilk into a large liquid measuring cup
3. Add eggs and vanilla to buttermilk and whisk to combine.
4. Pour buttermilk and egg mixture into dry ingredients and mix until (mostly) lump free
5. Melt butter, add to pancake mixture, and stir
6. Let rest for 5 minutes. (This is when I turn our cast iron skillet on to medium heat on the stove top. An electric griddle would need to be set at 400.)
7. Getting cooking! Grease cooking surface, and add about a 1/3 cup of batter. Flip when bubbles have popped. Keep warm in the oven until ready to serve!