How to watch TV without cable, a TV addict's guide for cutting cable.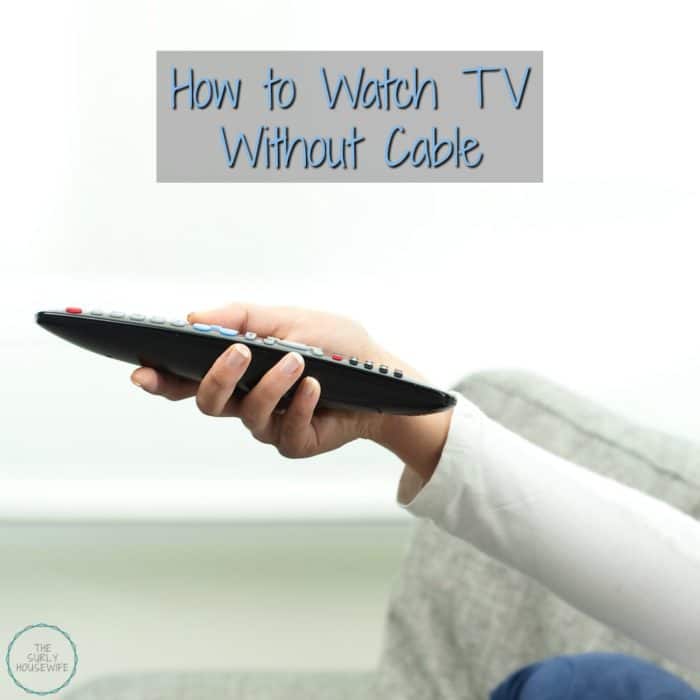 This post contains affiliate links. If you click and make a purchase, we earn a commission at NO extra cost to you. For more information, please read my full disclosure policy.
I am a self proclaimed tv addict! From Game of Thrones to the Real Housewives, I love it all!! There is no shame in my game. One thing I don't like about tv, is the price. Cable and satellite tv can seriously cut into a family's budget, which is why this family does not have a tv provider.
I love living in 2010s because you don't need cable to see all your favorite shows. Streaming has changed the name of the game. If you are looking to save money on your television bill, I have 5 tips on how to cut cable and still watch your favorite shows. Even if you are a tv addict!! Don't be scared, you can do this.
How to Watch TV Without Cable
Be honest with yourself
If you think tv is garbage and don't want it in your home, get rid of it! You don't answer to anyone. On the other hand, don't be afraid to admit you love tv. I assume you are reading this article because you want to save on your tv expenses. However, if you can afford your cable package, don't sweat it. Don't feel like you have to be the family without a tv. I think sometimes Keeping up with the Frugals can be much like Keeping up with the Joneses. If you can't do without your morning news and Today show, don't feel you have to cancel it just to prove a point. Now, if you love tv, but it is taking way to much from your budget and you would like to save the money, I can help. My family hated paying for all those channels we didn't use.
Evaluate what you watch
Make a list of your favorite tv shows, like favorite, I-have-to-watch-them-no-matter-what, tv shows. Then find out which of those (if any) are streaming. And I'm talking about the grown ups here. All kids have favorite shows, but don't base this decision on kids shows. Kids will find something to watch. Trust me. I use it as a babysitter on a daily basis 😉 Before we cut the cord, there were plenty of shows that I watched, but couldn't continue once we were without Dish, but guess what. I didn't miss them! If the show is that important to you, you will find a way to watch it. Which leads us to my next tip.
Prioritize your shows
It seems like a silly and vain thing to say, but it works. My husband works 50-60 hours a week. He doesn't have time to watch tv but he still has a few favorite shows (The Walking Dead, Game of Thrones, Louie) The shows aren't available on streaming, we buy on iTunes or Amazon.
Research your options
This is where it can get a bit overwhelming. You have Netflix for past seasons, Hulu for current and past shows plus premium add-ons, Amazon Video, Sling TV, digital antennae for local channels, iTunes for purchasing season passes, stand alone sports packages, and HBO and Showtime both offer streaming services for a monthly fee. Whew. See what I mean, and those are just some of the options that provide tv services.
Once you have selected the streaming services you want to go with, you have to figure out how to get them on your tv!! Again, this can get a little overwhelming. You have Roku, Amazon Fire TV Stick, Xbox 360, Apple TV, Playstation, and smart tvs and so on and so on and so on. Chances are, you have something already! If you don't, make a choice based on your families needs. Maybe you don't have a gaming system, but you were thinking of getting one for Christmas. Or a new tv with your tax refund. This is actually a fun financial decision to make 😉
Price it out
Add up the costs of all the streaming services and see if it less than your cable bill. If so, take the plunge and cut the cable!! Be prepared for a sales pitch when you call to cancel. They will more than likely pressure you to continue as a customer. Stay strong!! Remember your price point and how much you are saving by cancelling.
On the other hand, if the price is comparable, you may consider staying with your tv provider. Is 5 dollars really worth having your tv service all scrambled rather than in one place. Would you rather keep your dvr and not have to worry about shows expiring on certain apps or tv services? remember, being honest with yourself is the best way to make the cable cutting decision.
Bonus!
To give you an idea about what a cable-less family who still watches tv looks like, I will do a quick description of our family's setup. We have a Roku 2, PlayStation 3, a smart TV, a digital antenna, and iOS devices. All of these are multipurpose so don't get all minimalist on me 😉 We got the Roku 2 for free when we signed up for Sling TV. My husband and kids both play video game on the PS3 which also is our dvd/audiobook player in addition to streaming. We purchased the antenna for watching the Rio olympics. It was a one time purchase and now we have tv channels if the wi-fi goes out in an emergency. We also have my computer for watching our iTunes purchases which we connect to the tv with a HDMI cord. We have our iPhones for streaming as well.
The streaming services we use year round are Netflix, Hulu with a Showtime add-on, and Amazon Video, which is included in Amazon Prime. We subscribe to SlingTv and HBONOW during part of the year. Both of which you can cancel at anytime. Perfect for when your favorite show is over. And we also purchase shows from iTunes: The Walking Dead, Fear the Walking Dead, and Better Call Saul. All of these combine to make our total tv budget around 30 dollars when we just have the basics. If it a month with extras, it could closer to 75.
TV service is a luxury item that we tend to view as a necessity. However, you can watch tv without a cable package! If you take a look at what you and your family watches, you can slash your tv budget but still enjoy your favorite tv shows and movies for a fraction of the price.