Keep reading for 10 children's books about Helen Keller to share with your kids!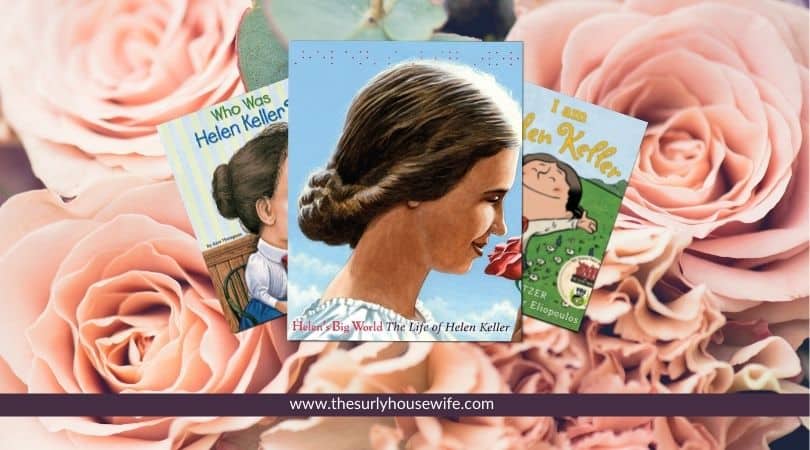 Did you know that Helen Keller was a radical socialist? Her commitment to the cause originated from her experience as a disabled person as well as her sympathy for others who were disabled.
Whether you agree with her personal politics, I certainly do not, the fact that you probably didn't know this shows that we don't always learn everything about historical figures, a thesis James Loewen goes into deeply in his book Lies my Teacher Told Me.
All this to say, picture books are a wonderful way to learn about people and places and Helen Keller is no exception. Check out the selections below which include a mix of picture books as well as chapter books.
This post contains affiliate links. If you click and make a purchase, we earn a commission at NO extra cost to you. For more information, please read my full disclosure policy.
Descriptions come from Amazon; some are edited for length
Children's Books about Helen Keller
Picture Books
Helen's Big World: The Life of Helen Keller by Doreen Rappaport and Matt Tavares
"This picture book biography is an excellent and accessible introduction for young readers to learn about one of the world's most influential luminaries. With her signature style of prose laced with stirring quotes, Doreen Rappaport brings to life Helen Keller's poignant narrative. Acclaimed illustrator Matt Tavares beautifully captures the dynamism and verve of Helen Keller's life and legacy, making Helen's Big World an unforgettable portrait of a woman whose vision for innovation and progress changed America, and the world, forever."
I am Helen Keller by Brad Meltzer
"When Helen Keller was very young, she got a rare disease that made her deaf and blind. Suddenly, she couldn't see or hear at all, and it was hard for her to communicate with anyone. But when she was six years old, she met someone who change her life forever: her teacher, Annie Sullivan. With Miss Sullivan's help, Helen learned how to speak sign language and read Braille. Armed with the ability to express herself, Helen grew up to become a social activist, leading the fight for disabled people and so many other causes."
A Picture Book of Helen Keller by David A. Adler
"Helen Keller was born in Tuscumbia, Alabama on June 27, 1880. When she was just a year and a half old, she was left blind and deaf from an illness. In a very simple text, the author covers the important facts of Helen Keller's life. Besides her extraordinary work with teacher Anne Mansfield Sullivan, she published several books and was awarded the Presidential Medal of Freedom in 1964."
The Story of Helen Keller: A Biography Book for New Readers by Christine Platt
"Helen Keller became a celebrated author, educator, and activist who believed in equality for people with disabilities. Before she made history as the first deaf and blind person to graduate from college, Helen was a smart kid who loved learning. She overcame many challenges to learn how to read, write, and talk. She spoke up for other people with disabilities so they could get equal rights. Explore how Helen Keller went from being a young girl in Alabama to the world-famous First Lady of Courage."
Helen Keller: Courage In The Dark by Johanna Hurwitz
"When a childhood illness leaves her blind and deaf, Helen Keller's life seems hopeless indeed. But her indomitable will and the help of a devoted teacher empower Helen to triumph over incredible adversity. This amazing true story is finally brought to the beginner reader level."
National Geographic Readers: Helen Keller by Kitson Jazynka
"Readers will be inspired by the amazing story of Helen Keller in this informative biography. They will learn all about her life, her achievements, and the challenges she faced along the way. The Level 2 text provides accessible, yet wide-ranging, information for independent readers."
Chapter Books
Helen Keller by Margaret Davidson
"The bestselling biography of Helen Keller and how, with the commitment and lifelong friendship of Anne Sullivan, she learned to talk, read, and eventually graduate from college with honors."
Miss Spitfire: Reaching Helen Keller by Sarah Miller
"Annie Sullivan was little more than a half-blind orphan with a fiery tongue when she arrived at Ivy Green in 1887. Desperate for work, she'd taken on a seemingly impossible job: teaching a child who was deaf, blind, and as ferocious as any wild animal. But if anyone was a match for Helen Keller, it was the girl who'd been nicknamed Miss Spitfire. In her efforts to reach Helen's mind, Annie lost teeth to the girl's raging blows, but she never lost faith in her ability to triumph. Told in first person, Annie Sullivan's past, her brazen determination, and her connection to the girl who would call her Teacher are vividly depicted in this powerful novel."
Who Was Helen Keller? by Gare Thompson
"At age two, Helen Keller became deaf and blind. She lived in a world of silence and darkness and she spent the rest of her life struggling to break through it. But with the help of teacher Annie Sullivan, Helen learned to read, write, and do many amazing things. This inspiring illustrated biography is perfect for young middle-grade readers. Black-and-white line drawings throughout, sidebars on related topics such as Louis Braille, a timeline, and a bibliography enhance readers' understanding of the subject."
A Girl Named Helen: The True Story of Helen Keller By Bonnie Bader
"After an illness that made her blind and deaf at a very young age, Helen Keller's world suddenly became dark and quiet. Then Helen's parents hired a teacher named Anne Sullivan. Anne connected with Helen and helped her understand the amazing world around them. Helen eventually became an activist for Americans with disabilities. Helen's inspiring story proves that anyone can defy expectations and make a difference. The A Girl Named series tells the stories of how ordinary American girls grew up to be extraordinary American women."
Want to check out some more books about famous Alabamians?
Thanks for reading!