Inside: 10 books about Rosa Parks that your kids won't be able to put down!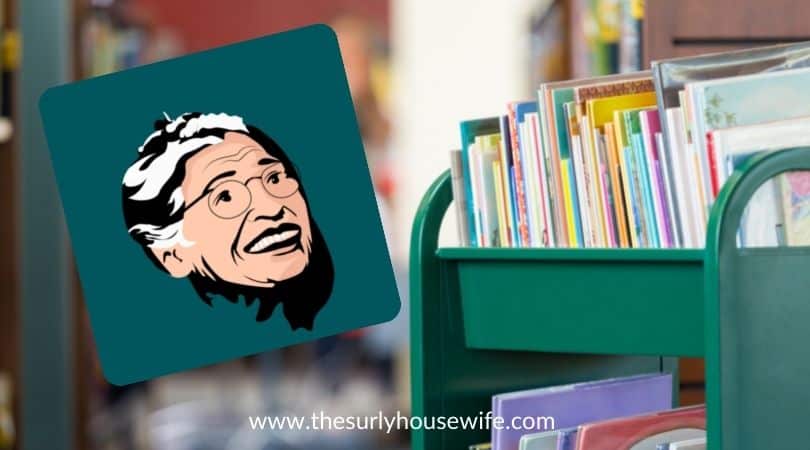 Rosa Parks was born on February 4, 1973 in Tuskegee, Alabama, home of the famed Tuskegee Institute which was founded by Booker T. Washington. As a child, she moved to Pine Level, Alabama where she grew up in the segregated south. As adult she lived in Montgomery, Alabama and worked as a seamstress. And the rest, as they say, is history.
If you are looking to teach your children more about the heroic historical figure Rosa Parks, then I have the book list for you! 10 picture and chapter books about the captivating Rosa Parks.
Let's get started!
This post contains affiliate links. If you click and make a purchase, we earn a commission at NO extra cost to you. For more information, please read my full disclosure policy.
Descriptions come from Amazon; some are edited for length
Children's Books about Rosa Parks
Picture Books
"Fifty years after her refusal to give up her seat on a Montgomery, Alabama, city bus, Mrs. Rosa Parks is still one of the most important figures in the American civil rights movement. This tribute to Mrs. Parks is a celebration of her courageous action and the events that followed."
Rosa's Bus: The Ride to Civil Rights by Jo S. Kittinger
"Like all buses in Montgomery, Alabama in the 1950's, Bus #2857 was segregated: white passengers sat in the front and black passengers sat in the back, until Rosa Parks refused to give up her seat to a white passenger. Her arrest sparked the Montgomery Bus Boycott, a major event in the Civil Rights movement led by a young minister, Dr. Martin Luther King, Jr. For 382 days, black passengers chose to walk rather than ride the buses in Montgomery."
I Am Rosa Parks by Brad Meltzer
"Rosa Parks dared to stand up for herself and other African Americans by staying seated and organizing the Montgomery Bus Boycott. As a result, she helped end public bus segregation and launch the country's Civil Rights Movement."
A Picture Book of Rosa Parks by David A. Adler
"Called 'The Mother of the Civil Rights Movement,' Rosa Parks refused to give up her bus seat to a white passenger. When she was arrested in December 1955, her act of civil disobedience sparked the year-long Montgomery bus boycott. From Rosa Parks' early life through her activism and eventual honors, this fully-illustrated biography helps children understand the background and context that led Rosa Parks to fight for civil rights."
If A Bus Could Talk: The Story of Rosa Parks by Faith Ringgold
"A young girl named Marcie has a magical bus ride where the bus itself tells her the story of the mother of the Civil Rights Movement, Rosa Parks. Because she was black, Rosa had to walk miles to a one-room schoolhouse while white children could take the bus, and as an adult, Rosa could only sit in the back. But when the day came that Rosa refused to give up her seat, she helped set the wheels in motion for black people to sit where they wanted. Marcie learns all this and more then gets a special surprise at the end of her trip!"
National Geographic Readers: Rosa Parks by Kitson Jazynka
"Find out about the life of Rosa Parks and how her actions in Montgomery, Alabama, in 1955 helped end racial segregation in America. This book follows the same standards as other National Geographic Readers with the same careful text, brilliant photographs, and fun approach that kids love. The life story of Rosa Parks has enduring lessons to teach us and this biography should appeal to kids, parents, and teachers."
"When Rosa Parks refused to give up her seat on a bus to a white man on December 1, 1955, she made history. Her brave act sparked the Montgomery, Alabama bus boycott and brought the civil rights movement to national attention. In simple, lively language, Rosa Parks describes her life from childhood to the present and recounts the events that shook the nation. Her story is powerful, inspiring and unforgettable."
Chapter Books
Rosa Parks: My Story by Rosa Parks
"Rosa Parks is best known for the day she refused to give up her seat on a segregated bus, sparking the Montgomery, Alabama, bus boycott. Yet there is much more to her story than this one act of defiance. In this straightforward, compelling autobiography, Rosa Parks talks candidly about the civil rights movement and her active role in it. Her dedication is inspiring; her story is unforgettable."
Who Was Rosa Parks? By Yona Zeldis McDonough
"In 1955, Rosa Parks refused to give her bus seat to a white passenger in Montgomery, Alabama. This seemingly small act triggered civil rights protests across America and earned Rosa Parks the title 'Mother of the Civil Rights Movement.' This biography has black-and-white illustrations throughout."
A Girl Named Rosa: The True Story of Rosa Parks By Denise Lewis Patrick
"The A Girl Named series tells the stories of how ordinary American girls grew up to be extraordinary American women. Rosa Parks refused to give up her bus seat to a white passenger in 1955, but how did she come to be so brave? A Girl Named Rosa describes the defining moments that made up her childhood and adolescence with full-color illustrations throughout. In addition to stories and facts about Rosa's upbringing and accomplishments, the book includes a timeline and a glossary, plus a profile of a noteworthy and contemporary American girl following in Rosa's monumental footsteps to stand up for equal rights, even in the face of adversity."
So Other People Would Be Also Free: The Real Story of Rosa Parks for Kids by Tonya Leslie
"Here's the whole, true story of Rosa Parks' life, and the spark of change she helped light for the civil rights movement. So Other People Would Be Also Free reveals how Rosa's lifetime of experiences inspired her famous choice. Take a walk through her childhood and hear about her struggles as a black woman in midcentury America. Going beyond other Rosa Parks books for kids, this complete story shows how her strong values and bravery as a lifelong activist makes her a role model for fighting injustice."
Searching for more books about civil rights activists? Check out the lists below!
Known as the Mother of the civil rights movement, Rosa Parks was a pivotal figure in American history. I hope this book list does her justice.
Thank you for reading!