Introduce your kids to John Lewis with these 10 terrific children's books!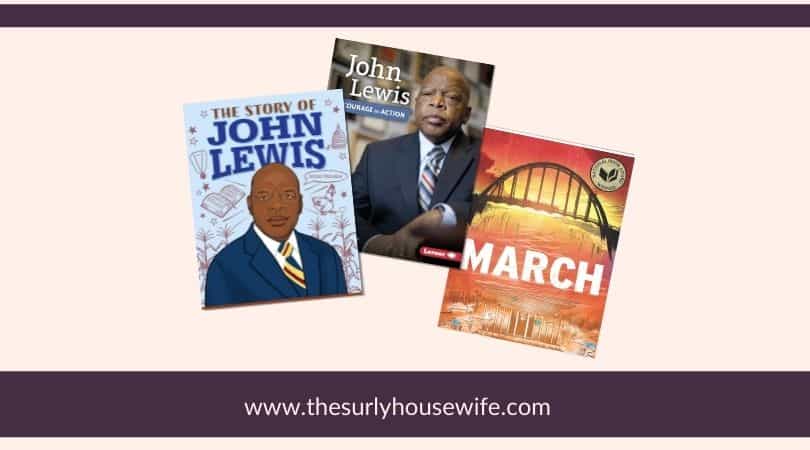 John Lewis once said, "Too many of us still believe our differences define us instead of the divine spark that runs through all of human creation." He made these remarks during his speech at the 50th Anniversary of the March on Washington.
He went on to say "Sometimes I hear people saying nothing has changed, but for someone to grow up the way I grew up in the cotton fields of Alabama to now be serving in the United States Congress makes we want to tell them come and walk in my shoes. Come walk in the shoes of those who were attacked by police dogs, fire hoses and nightsticks, arrested and taken to jail."
John Lewis lived an inspiring life and I hope the books I have chosen are a good reflection of that. From his boyhood in rural Alabama to being one of the Big Six to his role in the United States Congress, check out these 10 books about John Lewis for kids.
This post contains affiliate links. If you click and make a purchase, we earn a commission at NO extra cost to you. For more information, please read my full disclosure policy.
Descriptions come from Amazon; some are edited for length
Children's Books about John Lewis
Picture Books
Preaching to the Chickens by Jabari Asim
"John wants to be a preacher when he grows up: a leader whose words stir hearts to change, minds to think, and bodies to take action. But why wait? When John is put in charge of the family farm's flock of chickens, he discovers that they make a wonderful congregation! So he preaches to his flock, and they listen, content under his watchful care, riveted by the rhythm of his voice. Celebrating ingenuity and dreaming big, this inspirational story, includes an author's note about John Lewis, who grew up to be a member of the Freedom Riders, chairman of the Student Nonviolent Coordinating Committee, and demonstrator on the Edmund Pettus Bridge in Selma, Alabama."
Because of You, John Lewis by Andrea Davis Pinkney
"Ten-year-old Tybre Faw is obsessed with history and the civil rights movement, and he devours every book he can find on the subject. When he learns of Congressman John Lewis's harrowing and heroic march across the Edmund Pettus Bridge in the fight for the right to vote, Tybre is determined to meet him. Tybre's two grandmothers take him on the seven-hour drive to Selma. And as the two meet and become fast friends, Tybre joins Lewis for the annual walk across the Edmund Pettus Bridge! When John Lewis is laid to rest, Tybre is invited to read Lewis's favorite poem, 'Invictus,' at the funeral service. Pinkney weaves this story of a boy with a dream with the story of a true-life hero (who himself was inspired by Martin Luther King when he was a boy)."
John Lewis in the Lead: A Story of the Civil Rights Movement by James Haskins
"A biography of John Lewis, one of the Big Six civil rights leaders of the 1960s, focusing on his involvement in Freedom Rides, the March on Washington, and the march across the Edmund Pettus Bridge from Selma to Montgomery, Alabama."
Biography
John Lewis: Courage in Action by Matt Doeden
"John Lewis was known as one of the most courageous leaders of the civil rights movement of the 1950s and 1960s. Inspired as a boy by the words of Martin Luther King, Jr., Lewis would go on to spend more than fifty years fighting for equal rights. Lewis used nonviolent protest methods, participated in sit-ins, helped organize the March on Washington, and led a march from Selma to Montgomery, Alabama. In 1986 Lewis won a seat in US Congress, which he occupied for three decades. Walk with Lewis from a tenant farm in Alabama, across the segregated southern United States, and into Washington, DC, where he worked for equality for all Americans."
The Story of Civil Rights Hero John Lewis by James Haskins and by Kathleen Benson
"The Story of Civil Rights Hero John Lewis celebrates the life of a living legend of American history. The son of an Alabama sharecropper, John Lewis experienced the injustice of segregation early in life. Inspired by the words of Dr. Martin Luther King, Jr., Lewis joined with civil rights leaders who believed in fighting segregation peacefully. In the face of physical attacks, he persevered with dignity and a devotion to nonviolence, standing in the forefront of major civil rights protests and helping southern black people gain the right to vote. In 1986 Lewis was elected to represent Georgia in the United States Congress, where he continued to serve until his death. Lewis's passionate belief in justice is a beacon for all who wish to make our country a better place."
The Story of John Lewis: A Biography Book for Young Readers by Tonya Leslie
"John Lewis was a civil rights leader and United States congressman who never stopped speaking up for justice, equality, and peace. Before he marched with Martin Luther King Jr. during the civil rights movement, John was a thoughtful kid who loved learning but wasn't able to go to a good school because of segregation. He wanted to make a difference in his community, so he organized peaceful protests to end segregation and fight for equal rights for Black Americans. Explore how John went from being a young farm boy to a famous activist, politician, and leader."
Freedom Riders: John Lewis and Jim Zwerg on the Front Lines of the Civil Rights Movement
By Ann Bausum
"Freedom Riders compares and contrasts the childhoods of John Lewis and James Zwerg in a way that helps young readers understand the segregated experience of our nation's past. It shows how a common interest in justice created the convergent path that enabled these young men to meet as Freedom Riders on a bus journey south. No other book on the Freedom Riders has used such a personal perspective. These two young men, empowered by their successes in the Nashville student movement, were among those who volunteered to continue the Freedom Rides after violence in Anniston, Alabama, left the original bus in flames with the riders injured and in retreat. Lewis and Zwerg joined the cause knowing their own fate could be equally harsh, if not worse. The journey they shared as freedom riders through the Deep South changed not only their own lives but our nation's history."
Graphic Novels
March by John Lewis and Andrew Aydin
"Discover the inside story of the Civil Rights Movement through the eyes of one of its most iconic figures, Congressman John Lewis. March is the award-winning, #1 bestselling graphic novel trilogy recounting his life in the movement, co-written with Andrew Aydin and drawn by Nate Powell. This commemorative set contains all three volumes of March in a beautiful slipcase."
Run: Book One by John Lewis and Andrew Aydin
"First you march, then you run. From the #1 bestselling, award–winning team behind March comes the first book in their new, groundbreaking graphic novel series, Run: Book One. The continuation of the life story of John Lewis and the struggles seen across the United States after the Selma voting rights campaign. To John Lewis, the civil rights movement came to an end with the signing of the Voting Rights Act in 1965. But that was after more than five years as one of the preeminent figures of the movement, leading sit–in protests and fighting segregation on interstate busways as an original Freedom Rider. It was after becoming chairman of SNCC (the Student Nonviolent Coordinating Committee) and being the youngest speaker at the March on Washington. It was after helping organize the Mississippi Freedom Summer and the ensuing delegate challenge at the 1964 Democratic National Convention. And after co-leading the march from Selma to Montgomery on what became known as 'Bloody Sunday.' All too often, the depiction of history ends with a great victory. But John Lewis knew that victories are just the beginning. In Run: Book One, John Lewis and longtime collaborator Andrew Aydin reteam with Nate Powell to tell this often overlooked chapter of civil rights history."
Chapter Book
Carry On: Reflections for a New Generation by John Lewis
"A brilliant and empowering collection of final reflections and words of wisdom from venerable civil rights champion, the late Congressman John Lewis at the end of his remarkable life. Congressman John Lewis was a paragon of the Civil Rights Movement and political leadership for decades. Lewis was a beacon of hope and a model of humility whose invocation to 'good trouble' continues to inspire millions across our nation. In his last months on earth, even while battling cancer, he dedicated time to share his memories, beliefs, and advice as a message to the generations to come. Carry On collects the late Congressman's thoughts for readers to draw on whenever they are in need of guidance. With this book, he performs that crucial passing of the baton, empowering us to live up to the legacy he has left us with his perseverance, dedication, profound insight, and unwavering ability to see the good in life."
Looking for more books? Check out some of my other lists below!
There you have it, 10 children's books about civil rights leader and politician John Lewis. I hope you have found some new books to add to your collection. Thanks for reading!