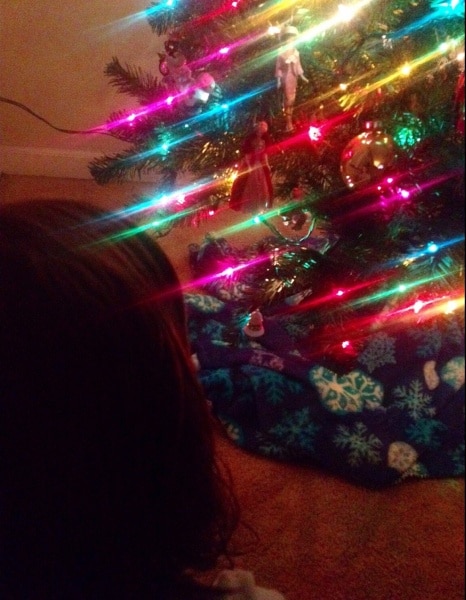 Christmas is a stressful time of year for parents: gifts, family get-togethers, baking, parties, concerts, and more gifts. Now that our girls are a little older, they can verbalize what it is they want for Christmas (naturally), but also their favorite things about the season.
As parents, we may notice our children's greedy behavior during this time of endless toy commercials and Christmas ads. But if you look a little deeper, you will see your child's desire for something different during Christmas: family traditions. When Fofo talks about Christmas she says, "I love decorating the tree!" "I love looking at the Christmas tree!" "I can't wait for Mama's peppermint cookies!" Bear freaked out at the first sign of Christmas lights. "Mama! Christmas lights!!"
Don't get me wrong, they have their moments of shouting "Puss in Boots for Christmas!!" And picking out toys during each commercial, "I'm gonna get the blue one and Lilly is gonna get the red one." At first I was super annoyed at the latter behavior. Then I remembered when I was a kid, I would look through catalogs and daydream about the items I would like. I wasn't being greedy. I didn't expect my parents to buy me things. I was just being a kid and living in a fantasy world of shoes and bedspreads. I was a strange child.
Of course we don't indulge their needy behavior, we leave the spoiling for Grandma 🙂 It's such a blessing to have grandparents that spoil the kids so much. It's less pressure on us to get the kids oodles of presents. In fact, the first couple of years, we didn't get the girls much of anything. Gasp. I know. Horrible parents right here. We didn't want to start of giving them a crap ton of presents right away, and be expected to keep it up year after year. So we keep it manageable. We use the mantra "Something they want, something they need, something to wear, and something to read." 4 meaningful gifts. Although, we always have almost 75 books checked out from the library so we get them something to watch.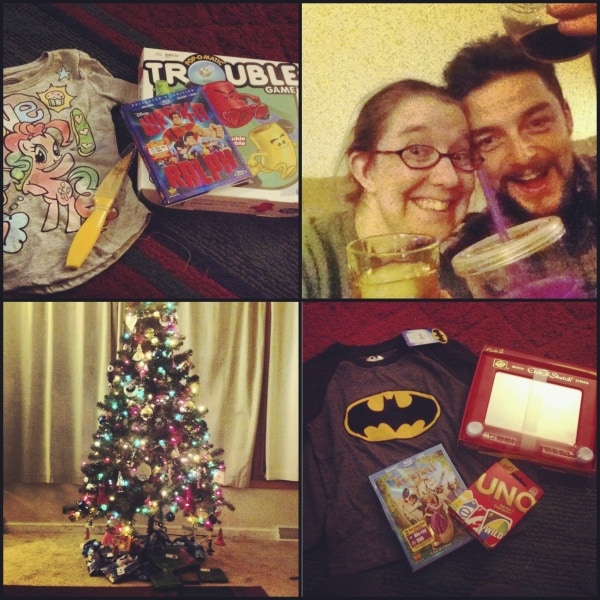 This was the haul from last year's Christmas. Along with our humble tree. And that is how we like it. We keep things simple, humble, and meaningful. Because that is what we want our kids to remember about the holidays. The memories we made together.
Sunday afternoon we were watching Christmas movies, and Mickey's Christmas Carol came on. One of my mom's holiday traditions is to give us one ornament each year, even as adults. They are always an ornament in a part of a series. She has done that for the grandkids as well. One of Fofo's recent ornament series was Mickey's Christmas Carol. The movie came on, the girls gasped. "This is our favorite movie! I love this movie!" And started to take the Christmas Carol ornaments off the tree. I said, "What are you doing?" And the girls said, "We did this last year! We have to do it again."
That's when it struck me. As much as kids seem like all they care about is presents, deep down, they care about the traditions they participate in every year. Baking the cookies, decorating the tree, Christmas ornaments, taking family pictures, looking at Christmas lights, and opening Christmas presents on Christmas morning. As the girls get older and seem to not appreciate the traditions and want more things, I will have to remind myself of these simple days and the fact they do care about making memories just as much as the gifts.
Have a great week everyone 🙂