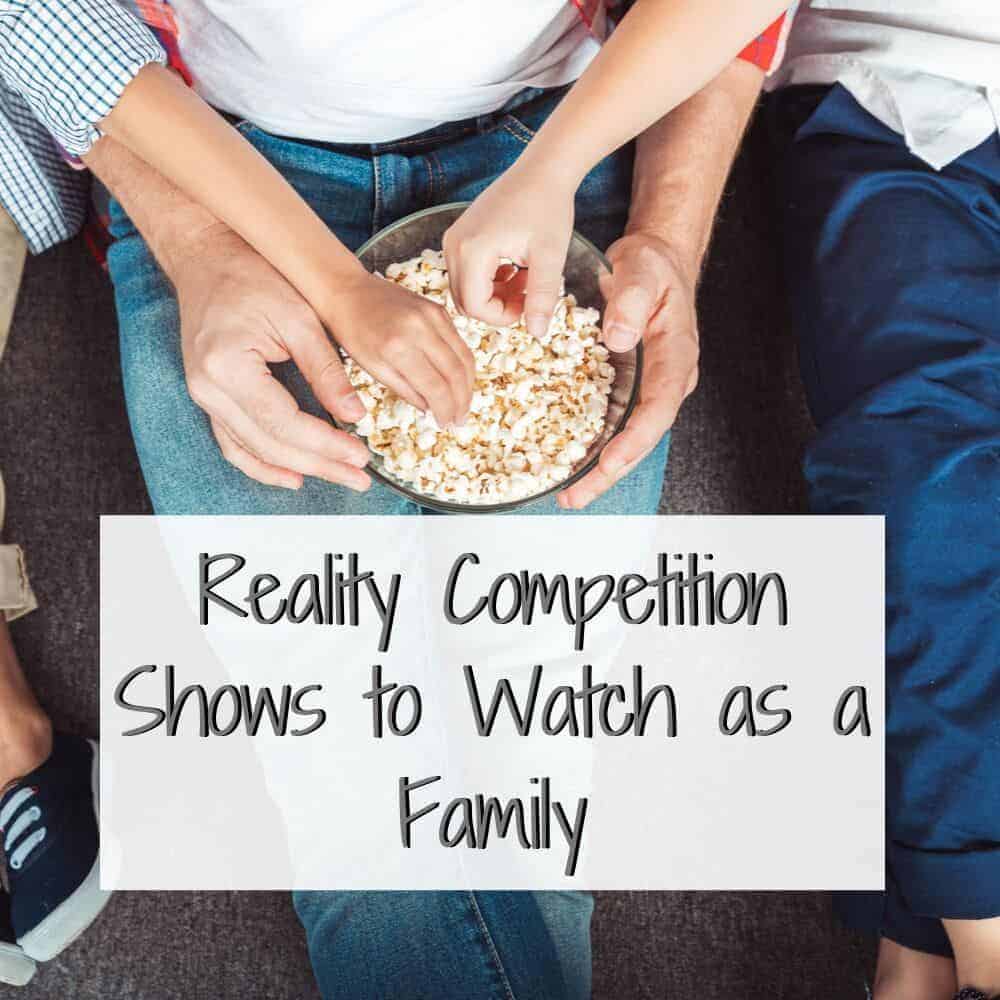 I don't know about you, but I love watching tv shows with my family. Especially now that we are way past Mickey Mouse Clubhouse. We watch sitcoms, dramas, and docuseries.
TV can be a really fun way to spend time together as a family. However, finding a show that everyone can agree on and is appropriate for all the ages in your family is another story.
Competition shows are a great way to please everyone in your family. Who doesn't love a good competition?! You have one you love to cheer on and another that you love to hate!
I threw out a wide net here. I included talent shows, food competitions, fashion shows, and shows that are pure contests! I find them all to be family friendly and enjoyable by kids of all ages.
I should note that my husband and I have much more liberal view on what our children can watch. We don't mind swearing or sexual innuendo (which goes over kids heads most of the time); we love the gays and if they happen to get a glimpse of butt or side boob, we don't panic.
You know your child best and know what they can or can't handle. If you are looking for more information about the content of these shows check out Common sense media or the parent's guide on IMDB.com.
10 Competition Shows to Watch as a Family
Dancing with the Stars
Debuting it's 28th season in 2019, Dancing with the Stars pairs professional dancers with celebrities. From reality stars to Olympic gold medalists, Dancing with the Stars has a wide variety of stars to cheer on to the mirrorball trophy!
America's Got Talent
America's Got Talent is a "weekly talent competition where an array of performers — from singers and dancers, to comedians and novelty acts — vie for a $1 million cash prize."
This post contains affiliate links. If you click and make a purchase, we earn a commission at NO extra cost to you. For more information, please read my full disclosure policy.
American Ninja Warrior
Contestants compete to become the next American Ninja champion by running, jumping, climbing, and swinging through crazy obstacles.
The Amazing Race
This is such a fun show to watch!! Teams of 2 compete against other teams in a race around the world for a million dollar prize. It has been running for over 30 seasons! It is filled with other cultures, cities, and (at times) silly tasks which make it fun for the whole family!
Survivor
The OG reality show where a group of contestants are stranded in a remote location and must figure out a way to survive and become the sole survivor for a million dollar prize. The series is still going after 40 seasons!
Chopped
This was probably the first competition show we watched with our kids and it quickly became a family favorite. It challenges four chefs to turn a basket of everyday ingredients into an extraordinary three-course meal. After each course, a contestant gets "chopped" until a champion is crowned after the last course.
The Great British Bake Off
Obsessed would be an understatement about how my kids feel about this show. Amateur bakers are tested in three challenges each week as they try to advance to the next round and eventually be crowned Britain's best amateur baker.
Masterchef Jr
Masterchef Junior is another favorite in our our house! Talented kids between the ages of eight and 13 compete for the Masterchef trophy with a series challenges and cook-offs.
America's Next Top Model
Young models compete to see if they have what it takes to make it in the world of modeling.
Project Runway
Aspiring fashion designers compete for a chance to break into the industry. They are "challenged to create innovative fashion within ever-changing constraints. "
Family friendly doesn't mean a show has to be boring or squeaky clean. Family friendly means the whole family enjoys it! You can find the right show for YOUR family that fits YOUR interests and values. I hope this list helped you. What is your favorite show to watch as a family?
Related Reads: