Chapter audiobooks are a great way to include more reading in your family's daily life.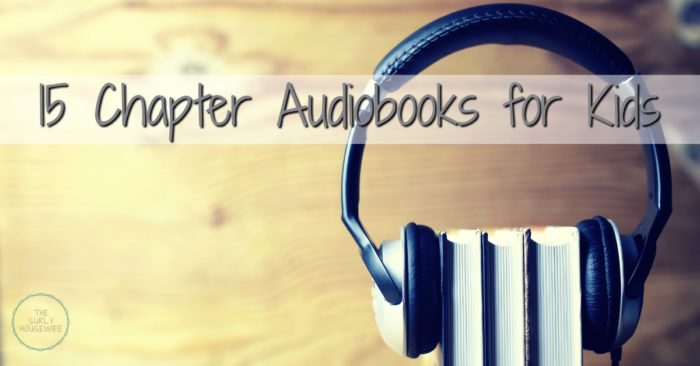 I have such a love affair with audiobooks. One of the best times of my life was when my husband was a long-haul truck driver, and I would go with him on the road for two week stretches. As fun as it was, you still need to occupy your time and one of the best ways is with audiobooks. We listened to Harry Potter and Lord of the Rings (just to name a few) and we were hooked!
Audiobooks also helped my oldest daughter learn to read! We would listen to chapter audiobooks, and she would follow along with the book. It really fired up her love of reading. We have listened to about 30 audiobooks in the past year and today I am sharing with you 15 chapter audiobooks you and your kids will love listening to!
Related Reads:
This post contains affiliate links. If you click and make a purchase, we earn a commission at NO extra cost to you. For more information, please read my full disclosure policy.
15 Chapter Audiobooks for Kids (and Parents!)
The Adventures of Huckleberry Finn by Mark Twain
"Huckleberry Finn stars in his own adventure as he and his friend Jim, a runaway slave, travel up the Mississippi River towards freedom in the northern states." This American classic is beautifully narrated by Elijah Wood (a previous Huck Finn actor) curtesy of Audible's Signature Classics.
The Adventures of Tom Sawyer by Mark Twain
Nick Offerman narrates "The adventures of a mischievous young boy and his friends growing up in a Mississippi River town in the nineteenth century." A perfect book for learning new vocabulary words. I may have had to explain that lick means "a hard hit," rather than actually licking something. 😂
"Benjamin Franklin's companion, Amos the mouse, recounts how he was responsible for Franklin's inventions and discoveries." Now and Ben, a picture book about Benjamin Franklin, first sparked my kids' interest in Ben. Ben and Me is a wonderful companion to any unit study on the United States.
Flora and Ulysses by Kate DiCamillo
"Rescuing a squirrel after an accident involving a vacuum cleaner, comic-reading cynic Flora Belle Buckman is astonished when the squirrel, Ulysses, demonstrates astonishing powers of strength and flight after being revived." This adorable book includes comic book-like illustrations and the point of view of the squirrel, perfect for any animal lover.
House of Robots by James Patterson
"It was never easy for Sammy Hayes-Rodriguez to fit in, so he's dreading the day when his genius mom insists he bring her newest invention to school– a walking, talking robot he calls E (for Error)." The House of Robots series is three books featuring, for lack of a better term, a house of robots designed by Sammy's mom. This quick paced and illustrated book is fun for all ages.
How to Train your Dragon by Cressida Cowell
David Tennant does a phenomenal job narrating the adventures of Viking hero Hiccup Horrendous Haddock III, my children's favorite book series.
The Mysterious Howling: The Incorrigible Children of Ashton Place by Maryrose Wood
The first in a six book series about "Fifteen-year-old Miss Penelope Lumley, a recent graduate of the Swanburne Academy for Poor Bright Females, is hired as governess to three young children who have been raised by wolves and must teach them to behave in a civilized manner." This refined English series will have you quoting the book day after day.
Little House in the Big Wood by Laura Ingalls Wilder
The Ingalls family stories from the big woods of Wisconsin, to the prairies of South Dakota, and the adventures in-between. This American classic is a must-read when studying westward expansion.
"Matilda applies her untapped mental powers to rid the school of the evil, child-hating headmistress, Miss Trunchbull, and restore her nice teacher, Miss Honey, to financial security." This classic read by Kate Winslet is one of my favorite audible narrations to date!
The Ramona Quimby Audio Collection by Beverly Cleary
"Meet Ramona. She lives on Klickitat Street with her mother, father, and big sister, Beezus. She's not afraid of anything and is always up to something. And that's just the beginning…." Stockard Channing narrates this eight book collection on Audible. One of my favorite series growing up and it hasn't lost it's charm.
The Bad Beginning: A Series of Unfortunate Events by Lemony Snicket
"If you have not read anything about the Baudelaire orphans, then before you read even one more sentence, you should know this: Violet, Klaus, and Sunny are kindhearted and quick-witted, but their lives are filled with bad luck and misery. All of the stories about these three children are unhappy and wretched and will most likely fill you with deep despair." 10 of the 13 books in the series are narrated by Tim Curry. And let me tell you, Curry knocks it out of the park with his narration.
The Tales of the Frog Princess by E.D. Baker
This book series follows Princess Emeralda, "when convinced to kiss a frog so he might return to being a prince, somehow the spell is reversed and Emma turns into a frog herself! Thus begins their adventure-a quest to return to human form." This princess book will please girls and boys alike as you follow Emma and Eadric on their adventures!
Treasure Hunters by James Patterson
"An adventure series, jam-packed with action, humor, and heart for young readers." The Treasure Hunters series features four books, four kids, and lots of laughs.
Way of the Warrior Kid by Jocko Willink
"Fifth grade was the worst year of Marc's life. He stunk at gym class, math was too hard for him, the school lunch was horrible, and his class field trip was ruined because he couldn't swim. But what was most awful thing about fifth grade? Kenny Williamson, the class bully, who calls himself the 'King of the Jungle.' When Marc's mother tells him that his Uncle Jake is coming to stay for the whole summer, Marc can't wait. Uncle Jake is a for real, super-cool Navy SEAL. And Uncle Jake has a plan. He's going to turn Marc into a warrior." The world needs more warrior kids. If you were to only pick one book on this list, READ THIS ONE!
"When robot Roz opens her eyes for the first time, she discovers that she is alone on a remote, wild island. Why is she there? Where did she come from? Most important, how will she survive in her harsh surroundings?" This book is one of my children's favorites! We are anxiously awaiting the sequel.
WANT A FREE PRINTABLE CHECKLIST OF THESE AUDIOBOOKS?? ENTER YOUR EMAIL BELOW!!
[convertkit form=944960]
Chapter audiobooks are an excellent and efficient way to include more reading in your family's daily life. I hope one of these 15 books spark an interest for you!!