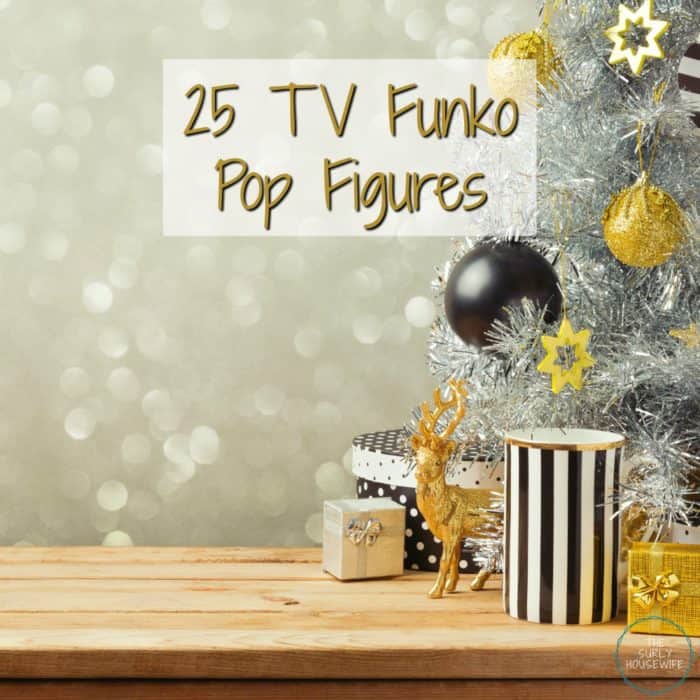 I'm not a huge knick-knack person, but I LOVE Funko Pop figures. They are fun, creative, and remind you of your favorite geeky things. For me, that means tv!! I love relaxing and getting lost in my favorite tv show. Today I am sharing with you 25 Funko Pops from some of TVs BEST shows. And the best part is you can order them right from Amazon. Click on the image or description to be taken to Amazon.
This post contains affiliate links. If you click and make a purchase, we earn a commission at NO extra cost to you. For more information, please read my full disclosure policy.
Stranger Things
Amazon's Choice from Season 3! Steve in his Scoops Ahoy uniform!
I love this classic Eleven figure!
Isn't Dustin just the cutest?! I love his update Funko from the latest season!
Erika might just be my new favorite character. Because you can't spell America without Erica. NERD!
The Walking Dead
If you are having trouble finding a gift for a Walking Dead fan, this figure of Daryl on his bike with thrill any fan!!
Love him or hate him, Negan is a fantastic character.
From seasons 1 and 2, Shane, sorry if that's a spoiler!
Game of Thrones
I think Daenerys and Drogon is my favorite set on this whole list!
Ok I lied. The Night King on a dragon might be my favorite!
Or maybe Jon Snow is my favorite?
Or maybe it's the girl who has no name?
Oooooh!! I found my favorite: "I drink and I know things."
Other Funko Favorites
Golden Girls
Don't panic, but all four of The Golden Girls!!
Westworld
Can't wait for Season 3 of Westworld. But let's check out Classic Maeve first!
Don't forget the Man in Black!
Breaking Bad
I think I love this Funko of Walter White so much because it reminds me of "The Fly" episode. Classic!
Who can forget the other favorite bad guy: Gus Fring!
Bob's Burgers
Because I am in fact Linda Belcher, I have to recommend her figure.
But who could resist ESPRESSO TINA!!!
The X-Files
I think Dana Scully needs to be a fixture on my desk. Amazon has some other cool X-Files characters like Smoking Man and of course Agent Mulder!
Parks and Recreation
Ron Swanson, one of the best characters ever on television! You can find more Parks and Rec characters, including Lil Sebastian, here!
And there you have it! 25 tv Funkos you can get on Amazon! I hope you found something for the TV addict on your gift list. Thanks for reading.