25 Books for 4th Graders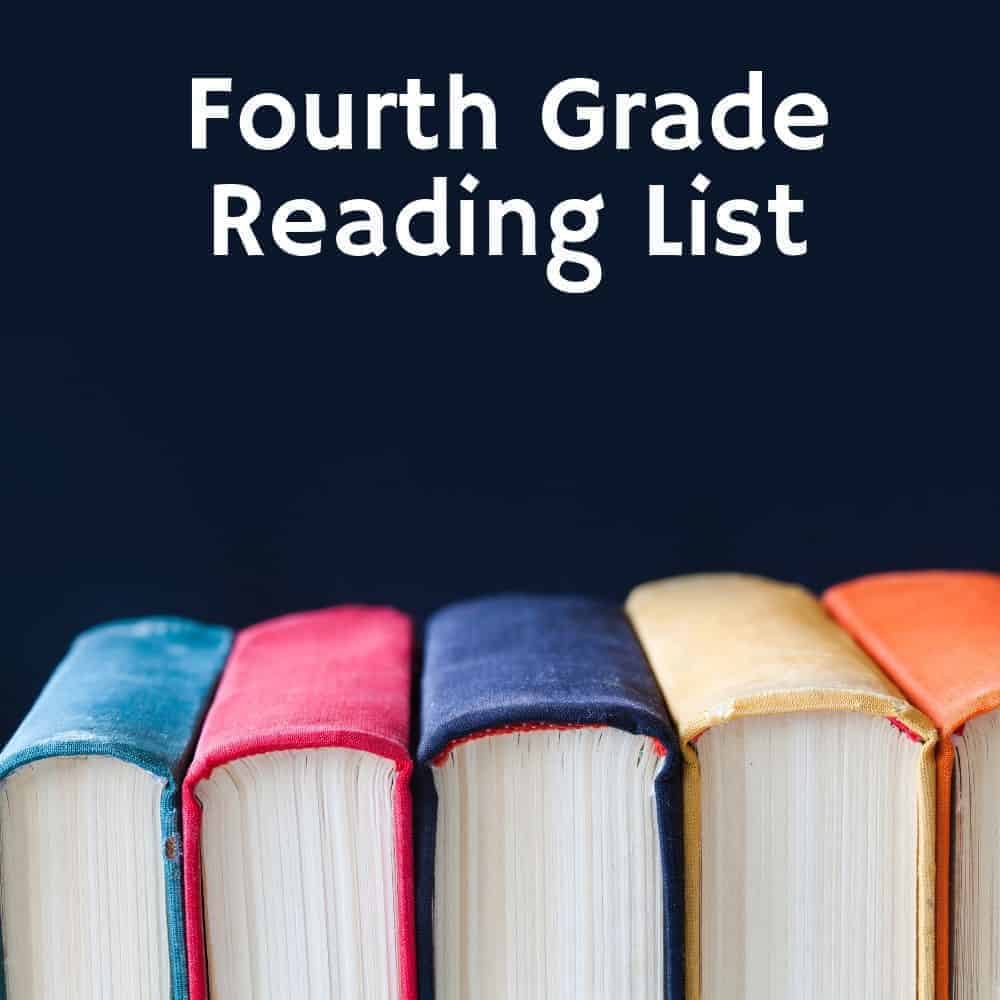 It's no secret that we love books here at The Surly Housewife. My whole homeschool is built around books. I love reading, I love books, I love researching books, and I love creating reading lists.
As much as I love picture books, chapter books are really my thing. It's the age when I started to really enjoy reading. It was the age when I realized books are so much more than words on a page. Books, and more specifically readers, can change the world.
Sarah Mackenzie said in her book The Read Aloud Family "A book can't change the world on its own. But a book can change readers. And readers? They can change the world."
As hard as it was, I have narrowed down this reading list to 25 amazing books. They cover a range of genres to fantasy to historical fiction. They are great for read alouds as well as individual reading.
Searching for more difficult books?
4th Grade Books
This post contains affiliate links. If you click and make a purchase, we earn a commission at NO extra cost to you. For more information, please read my full disclosure policy.
Harry Potter and the Sorcerer's Stone
By J.K. Rowling (1998) 309 pages
"Harry Potter has no idea how famous he is. That's because he's being raised by his miserable aunt and uncle who are terrified Harry will learn that he's really a wizard, just as his parents were. But everything changes when Harry is summoned to attend an infamous school for wizards, and he begins to discover some clues about his illustrious birthright. From the surprising way he is greeted by a lovable giant, to the unique curriculum and colorful faculty at his unusual school, Harry finds himself drawn deep inside a mystical world he never knew existed and closer to his own noble destiny."
By Roald Dahl (1961) 146 pages
"After James Henry Trotter's parents are tragically eaten by a rhinoceros, he goes to live with his two horrible aunts, Spiker and Sponge. Life there is no fun, until James accidentally drops some magic crystals by the old peach tree and strange things start to happen. The peach at the top of the tree begins to grow, and before long it's as big as a house. Inside, James meets a bunch of oversized friends—Grasshopper, Centipede, Ladybug, and more. With a snip of the stem, the peach starts rolling away, and the great adventure begins!"
By Robert McCloskey (1943) 160 pages
"Welcome to Centerburg! Where you can win a hundred dollars by eating all the doughnuts you want; where houses are built in a day; and where a boy named Homer Price can foil four slick bandits using nothing but his wits and pet skunk. The comic genius of Robert McCloskey and his wry look at small-town America has kept readers in stitches for generations!"
By Katherine Applegate (2012) 336 pages
"Inspired by the true story of a captive gorilla known as Ivan, this illustrated book is told from the point of view of Ivan himself. Having spent twenty-seven years behind the glass walls of his enclosure in a shopping mall, Ivan has grown accustomed to humans watching him. He hardly ever thinks about his life in the jungle. Instead, Ivan occupies himself with television, his friends Stella and Bob, and painting. But when he meets Ruby, a baby elephant taken from the wild, he is forced to see their home, and his art, through new eyes."
By Phyllis Reynolds Naylor (1991) 137 pages
"When Marty Preston comes across a young beagle in the hills behind his home, it's love at first sight—and also big trouble. It turns out the dog, which Marty names Shiloh, belongs to Judd Travers who drinks too much and has a gun—and abuses his dogs. So when Shiloh runs away from Judd to Marty, Marty just has to hide him and protect him from Judd. But Marty's secret becomes too big for him to keep to himself, and it exposes his entire family to Judd's anger. How far will Marty have to go to make Shiloh his?"
The Lion, the Witch and the Wardrobe
By C.S. Lewis (1950) 206 pages
"Four adventurous siblings—Peter, Susan, Edmund, and Lucy Pevensie—step through a wardrobe door and into the land of Narnia, a land frozen in eternal winter and enslaved by the power of the White Witch. But when almost all hope is lost, the return of the Great Lion, Aslan, signals a great change . . . and a great sacrifice."
By Beverly Cleary (1965) 176 pages
"A young mouse named Ralph is thrown into a world of excitement when a boy and his shiny toy motorcycle check in to the Mountain View Inn. When the ever-curious Ralph spots Keith's red toy motorcycle, he vows to ride it. So when Keith leaves the bike unattended in his room one day, Ralph makes his move. But with all this freedom (and speed!) come a lot of obstacles. Whether dodging a rowdy terrier or keeping his nosy cousins away from his new wheels, Ralph has a lot going on! And with a pal like Keith always looking out for him, there's nothing this little mouse can't handle."
By Laura Ingalls Wilder (1932) 309 pages
"Little House in the Big Woods takes place in 1871 and introduces us to four-year-old Laura, who lives in a log cabin on the edge of the Big Woods of Wisconsin. She shares the cabin with her Pa, her Ma, her sisters Mary and Carrie, and their lovable dog, Jack. Pioneer life isn't easy for the Ingalls family, since they must grow or catch all their own food as they get ready for the cold winter. But they make the best of every tough situation. And every night, safe and warm in their little house, the sound of Pa's fiddle lulls Laura and her sisters into sleep."
By Beverly Cleary (1975) 190 pages
"For a girl as enthusiastic about life as Ramona, starting the first grade should be easy! But with a teacher who doesn't understand her, a tattletale classmate, and a scary dog who follows her on the walk home from school, Ramona has a hard time acting like the big girl everyone expects her to be. But when she shows up to school with a missing shoe, Ramona gets a fresh grip on her courage in order to make it through a mortifying situation."
By Kate DiCamillo (2000) 208 pages
"One summer's day, ten-year-old India Opal Buloni goes down to the local supermarket for some groceries – and comes home with a dog. But Winn-Dixie is no ordinary dog. It's because of Winn-Dixie that Opal begins to make friends. And it's because of Winn-Dixie that she finally dares to ask her father about her mother, who left when Opal was three. In fact, as Opal admits, just about everything that happens that summer is because of Winn-Dixie."
By E.B. White (1952) 184 pages
"Some Pig. Humble. Radiant. These are the words in Charlotte's Web, high up in Zuckerman's barn. Charlotte's spiderweb tells of her feelings for a little pig named Wilbur, who simply wants a friend. They also express the love of a girl named Fern, who saved Wilbur's life when he was born the runt of his litter. E. B. White's Newbery Honor Book is a tender novel of friendship, love, life, and death that will continue to be enjoyed by generations to come."
By E.B. White (1945) 131 pages
"Stuart Little is no ordinary mouse. Born to a family of humans, he lives in New York City with his parents, his older brother George, and Snowbell the cat. Though he's shy and thoughtful, he's also a true lover of adventure. Stuart's greatest adventure comes when his best friend, a beautiful little bird named Margalo, disappears from her nest. Determined to track her down, Stuart ventures away from home for the very first time in his life. He finds adventure aplenty. But will he find his friend?"
By Deborah Wiles (2001) 188 pages
"Ruby Lavender and Miss Eula are a pretty good team, for a couple of chicken thieves. What other granddaughter-grandmother duo could successfully drive the getaway car for chickens rescued from a journey to the slaughterhouse, paint a whole house shocking pink, and operate their own personal secret-letter post office? So, when Miss Eula leaves for Hawaii to visit her new grandbaby, Ruby is sure that she will have a lonely, empty, horrible summer in boring old Halleluia, Mississippi. Read to find out what happens instead!"
By Avi (1995) 163 pages
"At the very edge of Dimwood Forest stood an old charred oak where, silhouetted by the moon, a great horned owl sat waiting. The owl's name was Mr. Ocax, and he looked like death himself. With his piercing gaze, he surveyed the lands he called his own, watching for the creatures he considered his subjects. Not one of them ever dared to cross his path . . . until the terrible night when two little mice went dancing in the moonlight . . ."
By Roald Dahl (1982) 221 pages
"The BFG is no ordinary bone-crunching giant. He is far too nice and jumbly. It's lucky for Sophie that he is. Had she been carried off in the middle of the night by the Bloodbottler, or any of the other giants—rather than the BFG—she would have soon become breakfast. When Sophie hears that the giants are flush-bunking off to England to swollomp a few nice little chiddlers, she decides she must stop them once and for all. And the BFG is going to help her!"
Tales of a Fourth Grade Nothing
By Judy Blume (1972) 120 pages
"Life with his little brother, Fudge, makes Peter Hatcher feel like a fourth grade nothing. Whether Fudge is throwing a temper tantrum in a shoe store, smearing mashed potatoes on the walls at Hamburger Heaven, or trying to fly, he's never far from trouble. He's an almost three-year-old terror who gets away with everything, and Peter's had it up to here!When Fudge walks off with Dribble, Peter's pet turtle, it's the last straw. Peter has put up with Fudge for too long. Way too long! How can he get his parents to pay attention to him for a change?"
By Peter Brown (2016) 279 pages
"When robot Roz opens her eyes for the first time, she discovers that she is alone on a remote, wild island. Why is she there? Where did she come from? And, most important, how will she survive in her harsh surroundings? Roz's only hope is to learn from the island's hostile animal inhabitants. When she tries to care for an orphaned gosling, the other animals finally decide to help, and the island starts to feel like home. Until one day, the robot's mysterious past comes back to haunt her."
Flora and Ulysses: The Illuminated Adventures
By Kate DiCamillo (2013) 233 pages
"It begins, as the best superhero stories do, with a tragic accident that has unexpected consequences. The squirrel never saw the vacuum cleaner coming, but self-described cynic Flora Belle Buckman, who has read every issue of the comic book Terrible Things Can Happen to You!, is the just the right person to step in and save him. What neither can predict is that Ulysses (the squirrel) has been born anew, with powers of strength, flight, and misspelled poetry—and that Flora will be changed too, as she discovers the possibility of hope and the promise of a capacious heart. "
By Richard Peck (1998) 160 pages
"Join Joey and his sister Mary Alice as they spend nine unforgettable summers with the worst influence imaginable–their grandmother!"
By George Selden (1960) 134 pages
Tucker is a streetwise city mouse. He thought he'd seen it all. But he's never met a cricket before, which really isn't surprising, because, along with his friend Harry Cat, Tucker lives in the very heart of New York City―the Times Square subway station. Chester Cricket never intended to leave his Connecticut meadow. He'd be there still if he hadn't followed the entrancing aroma of liverwurst right into someone's picnic basket. Now, like any tourist in the city, he wants to look around. And he could not have found two better guides―and friends―than Tucker and Harry. But Chester has a hidden talent and no one―not even Chester himself―realizes that the little country cricket may just be able to teach even the toughest New Yorkers a thing or two.
By Eleanor Estes (1941) 210 pages
""Meet the Moffats. There is Sylvie, the oldest; Joey, who though only twelve is the man of the house; Janey, and Rufus, who may be the littlest but always gets in the biggest trouble. Even the most ordinary Moffat day is packed with extraordinary fun. Only a Moffat could get locked in a bread box all afternoon, or dance with a dog in front of the whole town, or hitch a ride on a boxcar during kindergarten recess. And only a Moffat could turn mistakes and mischief into hilarious one-of-a-kind adventure."
By Lois Lowry (1989) 160 pages
"As the German troops begin their campaign to 'relocate' all the Jews of Denmark, Annemarie Johansen's family takes in Annemarie's best friend, Ellen Rosen, and conceals her as part of the family. Through the eyes of ten-year-old Annemarie, we watch as the Danish Resistance smuggles almost the entire Jewish population of Denmark, nearly seven thousand people, across the sea to Sweden. The heroism of an entire nation reminds us that there was pride and human decency in the world even during a time of terror and war."
By Andrew Clements (1996) 105 pages
"Is Nick Allen a troublemaker? He really just likes to liven things up at school — and he's always had plenty of great ideas. When Nick learns some interesting information about how words are created, suddenly he's got the inspiration for his best plan ever…the frindle. Who says a pen has to be called a pen? Why not call it a frindle? Things begin innocently enough as Nick gets his friends to use the new word. Then other people in town start saying frindle. Soon the school is in an uproar, and Nick has become a local hero. His teacher wants Nick to put an end to all this nonsense, but the funny thing is frindle doesn't belong to Nick anymore. The new word is spreading across the country, and there's nothing Nick can do to stop it."
By Patricia MacLachlan (1985) 67 pages
"Set in the late nineteenth century and told from young Anna's point of view, Sarah, Plain and Tall tells the story of how Sarah Elisabeth Wheaton comes from Maine to the prairie to answer Papa's advertisement for a wife and mother. Before Sarah arrives, Anna and her younger brother Caleb wait and wonder. Will Sarah be nice? Will she sing? Will she stay?"
The Small Adventure of Popeye and Elvis
By Barbara O'Connor (2009) 176 pages
"Nothing ever happens in Fayette, South Carolina. That's what Popeye thinks, anyway. His whole life, everything has just been boring, boring, boring. But things start to look up when the Jewells' Holiday Rambler makes a wrong turn and gets stuck in the mud, trapping Elvis and his five rowdy siblings in Fayette for who knows how long. Then things get even better when something curious comes floating down the creek―a series of boats with secret messages―and Popeye and Elvis set out on a small adventure. Who could possibly be sending the notes and what do they mean?"
I'm a firm believer that you don't need a fancy reading curriculum to homeschool. Reading quality books is the key to getting your child to love books. In fact, the love of stories in general leads to better reading comprehension: using what they read and applying what they have read to what they already know. As Sarah Mackenzie said, "Even more important than teaching our kids the actual skill of reading is to cultivate a deep love of stories.
Fourth Grade Reading List
Harry Potter and the Sorcerer's Stone
James and the Giant Peach
Homer Price
The One and Only Ivan
Shiloh
The Lion, the Witch, and the Wardrobe
The Mouse and the Motorcycle
Little House in the Big Woods
Because of Winn-Dixie
Ramona the Brave
Charlotte's Web
Stuart Little
Love, Ruby Lavender
Poppy
The BFG
Tales of a Fourth Grade Nothing
The Wild Robot
Flora and Ulysses
A Long Way from Chicago
The Cricket in Times Square
The Moffats
Number the Stars
Frindle
Sarah, Plain and Tall
The Small Adventures of Popeye and Elvis