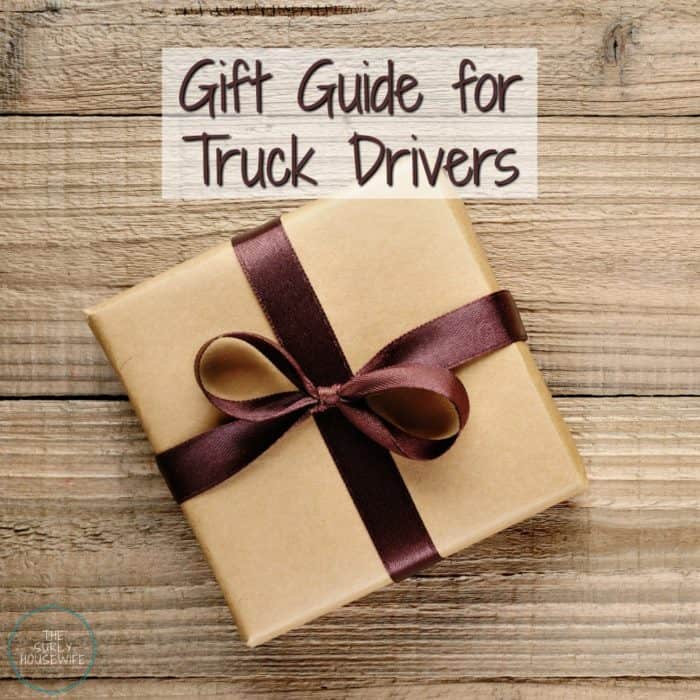 This post may contain some affiliate links for your convenience (which means if you make a purchase after clicking a link I will earn a small commission to help keep my blog up and running, but it won't cost you a penny more). For more information, please read my disclosure policy.
I'm the proud wife of a trucker and have been for over 10 years now. Whether it's your husband or brother, most families have a trucker in their life. And let me fill you in a little secret. Men LOVE practical gifts!! This means that finding a gift for the truck driver in your life is super easy!
Not excluding the ladies, but women make up only 6% of the trucking industry so I think it's safe to say men here 😉
Click on the description or the image to be taken to Amazon where you can purchase these trucker approved items!
Stocking Stuffers
Wool socks keep your feel warm in the winter and cool in the summer. My husband swears by these!
Every trucker needs a good pen and I guarantee you this will put a smile on his face to see these!
These notebooks are perfect for jotting down notes or doodling during those dreaded wait times.
Whether it's for an emergency or for fidgeting while waiting, a Zippo is great tool for your arsenal.
Both of these are an everyday carry essential.
Personal Items
An automatic watch will make all the difference for any man.
This leather hanging bathroom kit will please men and women truckers alike!
Caffeine is life to truck drivers and while not every truck stop has great coffee, EVERYWHERE has hot water to make tea. Jocko white tea is my husband's favorite.
Since you have the Jocko white tea coursing through your veins, you might as well get after it!!
Another practical item that's great for all men, not just truckers.
Work Gear
Yeti makes the best coolers and are well worth the investment. This size fits perfectly on the passenger seat where many truckers store their cooler.
Truckers can't be without their coffee.
This reliable, heavy-duty flashlight is like no other flashlight out there.
There is a saying amongst men, "I have a leatherman, I can help!"
My husband has to wear steel toe shoes at his job and so do many other truckers. He has tried just about every shoe and boot out there and these Pumas are THE best.
Gloves will help trucking not be such a dirty job.
An organizer for all his everyday carry needs!
Audible
Audiobooks are a lifesaver on the road so do yourself a favor and try Audible and get two free audiobooks
by clicking the link or image below.
With Audible you get 1 book each month for $14.95/month, 30% off the price of additional audiobook purchases, and you can cancel anytime. Your books are yours to keep, even if you cancel. It's great for those hard to find audiobooks that your library may not have.
And there you have it. 20 practical gifts men, but specifically trucker drivers will love! Thanks for stopping by 🙂
Stay Connected!
Subscribing via email is the best way to get up-to-date blog posts as well as staying connected to all things Surly 😉 Enter your email and you will be signed up for our weekly newsletter, which offers encouragment, inspiration, and laughter!