No matter who you are shopping for, this book list has something for every man on your list!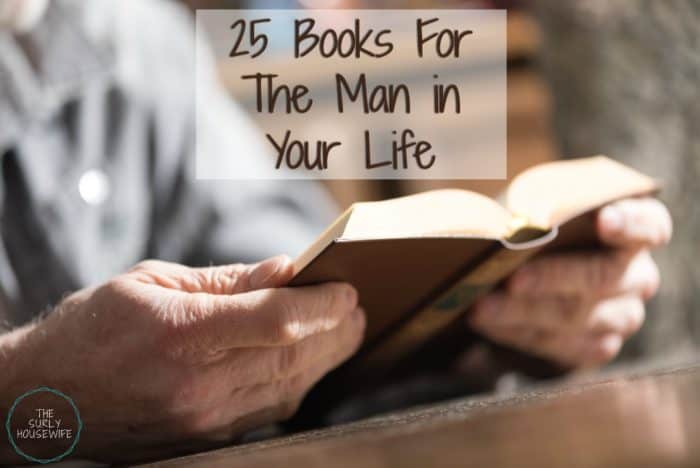 Ernest Hemingway said, "There is no friend as loyal as a book," which is why I love to give books as a gift.
No matter what a person is interested in you can find a book to match it. If someone is really hard they are to buy for, a good book is a perfect solution.
Whether it's for Dad for Father's Day or for you uncle on Christmas, this list of 25 books is sure to fit a man in your life.
This post contains affiliate links. If you click and make a purchase, we earn a commission at NO extra cost to you. For more information, please read my full disclosure policy.
Descriptions come from Amazon; some are edited for length
Top Books for Men
Business
Anything You Want: 40 Lessons for a New Kind of Entrepreneur by Derek Sivers
"10 years of experience in 1 hour." Derek Sivers' experiences, knowledge, mistakes, and lessons from his life as en entrepreneur. A quick read for any life-long learner you know.
Fitness
Discipline Equals Freedom: Field Manual by Jocko Willink
"Find your will, find your discipline – and you will find your freedom." The ultimate guide to getting after it. Not a "traditional" book, this field manual covers just about everything. From workouts to sleep to motivation for any area of your life. A daily dose of motivation in short, practical advice.
Finance
The Total Money Makeover: A Proven Plan for Financial Fitness by Dave Ramsey
A wonderful gift for someone starting out in life like a high school or college graduate. Or a couple getting married. A strategy for changing attitudes about personal finances where you learn how to get out of the debt cycle and truly "live like no one else."
Food
32 Yolks: From My Mother's Table to Working the Line by Eric Ripert
"Fascinating coming-of-age story of a boy becoming a man, finding his passion and learning to cook and how to be a professional chef."
The memoir of culinary icon Eric Ripert. It begins with his lonely and troubled childhood continues to his journey to culinary school, and cooking in the kitchen of an elite French restaurant under one of the most talented (and demanding) chefs. A wonderful gift for the foodie or memoir lover in your life.
Beer in America: The Early Years–1587-1840: Beer's Role in the Settling of America and the Birth of a Nation by Gregg Smith
"One of the most important but little-known aspects of early American history was beer's role in the founding of our country and its formative years. The definitive account of beer's impact on people and events that shaped the birth of a nation will astonish readers."
A fascinating and different take on early American history for a beer or history buff.
History
Alexander Hamilton by Ron Chernow
If you are looking for a biography, look no further than this Hamilton biography from Pulitzer Prize-winning author Ron Chernow. Chernow "tells the riveting story of a man who overcame all odds to shape, inspire, and scandalize the newborn America."
This book is probable best known as the source material for Lin-Manuel Miranda's Broadway show "Hamilton," but readers will be drawn in and mesmerized by the story. A book that actually lives up to the hype!
Shadow Divers: The True Adventure of Two Americans Who Risked Everything to Solve One of the Last Mysteries of World War II by Robert Kurson.
Shadow Divers comes highly recommended from my husband. A man who has little time to read but devoured this book. It tells the story of two Americans who discover a World War II German U-boat sunk 60 miles off the coast of New Jersey. A real life thriller and mystery that keeps the pages turning.
Humor
How to Fail at Almost Everything and Still Win Big: Kind of the Story of My Life by Scott Adams
"Blasting clichéd career advice, the contrarian pundit and creator of Dilbert recounts the humorous ups and downs of his career, revealing the outsized role of luck in our lives and how best to play the system." A book full of advice as well as witty humor.
Leadership
Extreme Ownership: How U.S. Navy SEALs Lead and Win by Jocko Willink and Leif Babin
Yes, this is the second book on the list written by Jocko Willink but this could one of the best books on the list. Tons of people recommend this book from author and entrepreneur Tim Ferris to blogger Ruth Soukup.
In Extreme Ownership, Willink and Babin, two U.S. Navy SEAL officers who led the most highly decorated special operations unit of the Iraq War, apply powerful leadership principles from the battlefield to business and life. It "challenges leaders everywhere to fulfill their ultimate purpose: lead and win." A leadership book with military stories and jargon which helps bring their principles alive.
Tools of Titans: The Tactics, Routines, and Habits of Billionaires, Icons, and World-Class Performers by Tim Ferriss
Speaking of Tim Ferris! His book, Tools of Titans, is an excellent book for the skimmers in your life. In fact, Tim encourages you to use this book as a tool to see what works for the titans in their trade. He put together "the distilled tools, tactics, and 'inside baseball' you won't find anywhere else" of 100+ people. It's not a traditional book by Ferris, but it's full of insight, humor, and inspiration.
Memoirs
Hillbilly Elegy: A Memoir of a Family and Culture in Crisis by J.D. Vance
"From a former marine and Yale Law School graduate, a powerful account of growing up in a poor Rust Belt town that offers a broader, probing look at the struggles of America's white working class."
All you need to do is read through the (positive) reviews to see why people love this book. "Edifying and inspiring," "Fascinating, beautifully written," and "Poignant, disturbing, enlightening, moving, personal, urgent." I love memoirs and am excited to read this one!
Mean Dads for a Better America: The Generous Rewards of an Old-Fashioned Childhood by Tom Shillue
In this book, "Tom reminisces about his childhood, his family, and the traditional values he cherishes." 23 lessons about parenting from a 1970's childhood such as be confident, be prepared, and be reckless. It's a funny read and much deeper than one would expect from such a funny memoir. And as the title says "Mean Dads," it's a perfect gift for dad 😉
Shoe Dog: A Memoir by the Creator of Nike by Phil Knight
"Nike founder and board chairman Phil Knight shares the inside story of the company's early days as an intrepid start-up and its evolution into one of the world's most iconic, game-changing, and profitable brands." It's a candid and riveting biography as well as a book about business. It's also just a great read as it reads like a story. Nonfiction books that read like fiction are some of favorite books!
Personal Development
What the Most Successful People Do Before Breakfast: And Two Other Short Guides to Achieving More at Work and at Home by Laura Vanderkam
I have read "I Know How She Does It" by the same author and she is a productivity guru! This book focuses on making over your mornings and setting your day up for success. It is a short book, made up 3 e-books: What the Most Successful People Do Before Breakfast, What the Most Successful People Do On the Weekend, and What the Most Successful People Do at Work. It is time management simplified.
Politics
The Great Revolt: Inside the Populist Coalition Reshaping American Politics by Salena Zito and Brad Todd
We all have that one person in our lives who are political junkies and they want everyone to hear what they have to say. Whether you want to hear it or not 😉
"Columnist Salena Zito, with veteran Republican strategist Brad Todd, reports across five swing states and over 27,000 miles to answer the pressing question: Was Donald Trump's election a fluke or did it represent a fundamental shift in the electorate that will have repercussions – for Republicans and Democrats – for years to come."
I love this book because it's important we seek to understand and not alienate one another. It goes beyond politics as "they meet with real people in real communities and break down why they supported Trump and why they think Washington ignores them." A fantastic and fascinating read.
Psychology
12 Rules for Life: An Antidote to Chaos by Jordan Peterson
"What does everyone in the modern world need to know? Renowned psychologist Jordan B. Peterson's answer to this most difficult of questions uniquely combines the hard-won truths of ancient tradition with the stunning revelations of cutting-edge scientific research."
The book is literally 12 rules of rock solid advice that combines science and common sense. If you know someone who wants to be better today than they were yesterday, this is the book for them.
Man's Search for Meaning by Viktor E. Frankl
Psychiatrist Viktor Frankl's memoir about his life in Nazi death camps and its lessons for spiritual survival. This critically acclaimed book is described as "One of the great books of our time," "One of the outstanding contributions to psychological thought in the last fifty years," and "An enduring work of survival literature." This short and intense book is perfect for anyone looking for a classic book to read.
Sports/Outdoors
The Stranger in the Woods: The Extraordinary Story of the Last True Hermit by Michael Finkel
"Many people dream of escaping modern life, but most will never act on it. This is the remarkable true story of a man who lived alone in the woods of Maine for 27 years, making this dream a reality–not out of anger at the world, but simply because he preferred to live on his own."
A great book for the outdoorsman/biography lover in your life!
What Doesn't Kill Us: How Freezing Water, Extreme Altitude, and Environmental Conditioning Will Renew Our Lost Evolutionary Strength by Scott Carney
I can honestly say cold training has saved this family. My daughter has been less sick, my husband is less annoying in the winter 😉 (he works outside most of the time), and I kept my sanity while potty training our new puppy. Scott Carney dives deep into the Wim Hoff method by tapping into the things that feel uncomfortable. This book comes highly recommended!
Technology
A Man and His Watch: Iconic Watches and Stories from the Men Who Wore Them by Matt Hranek
76 the never-before-told stories including Paul Newman, Franklin Roosevelt, JFK, Ralph Lauren, and Sir Edmund Hillary and their watches. If you have a watch freak like me, he will LOVE this book. And I mean love it. Don't even read the description. Just buy it 😉
Who Built That: Awe-Inspiring Stories of American Tinkerpreneurs by Michelle Malkin
"A rousing tribute to the hidden American capitalists who pioneered everyday inventions. They're the little big things we take for granted."
This fascinating book tells the little-known stories of the inventors who have contributed to the American technological progress from the colonial period to the Industrial Age to the present. A perfect gift for the engineer, mechanic, designer, artisan, and tinkerer in your life.
True Crime
I'll Be Gone in the Dark: One Woman's Obsessive Search for the Golden State Killer by Michelle McNamara
"A masterful true crime account of the Golden State Killer—the elusive serial rapist turned murderer who terrorized California for over a decade."
My favorite review of this book comes from Stephen King: "What readers need to know—what makes this book so special—is that it deals with two obsessions, one light and one dark. The Golden State Killer is the dark half; Michelle McNamara's is the light half. It's a journey into two minds, one sick and disordered, the other intelligent and determined. I loved this book." I mean, what else do you need to say?!
War
Band of Brothers: E Company, 506th Regiment, 101st Airborne from Normandy to Hitler's Eagle's Nest By Stephen E Ambrose
A historical account of the U.S. Army's Easy Company which was made into an HBO mini-series of the same name. "Ambrose tells of the men in this brave unit who fought, went hungry, froze & died, a company that took 150% casualties & considered the Purple Heart a badge of office."
It's history up close and personal, an incredible story with incredible men, and riveting action that will make you feel like you know each of these soldiers. Perfect for any war or history buff.
The Forgotten Highlander: An Incredible WWII Story of Survival in the Pacific by Alistair Urquhart
"Silent for over fifty years, this is Urquhart's extraordinary, moving, and inspirational tale as an ex-POW." You will never complain about first-world problems after reading this book. Wow. It's that good.
That's the last one! I hope you found a perfect book to give this to the man in your life. Thanks for reading.