Keep reading for 10 must-read children's books featuring the Inuit!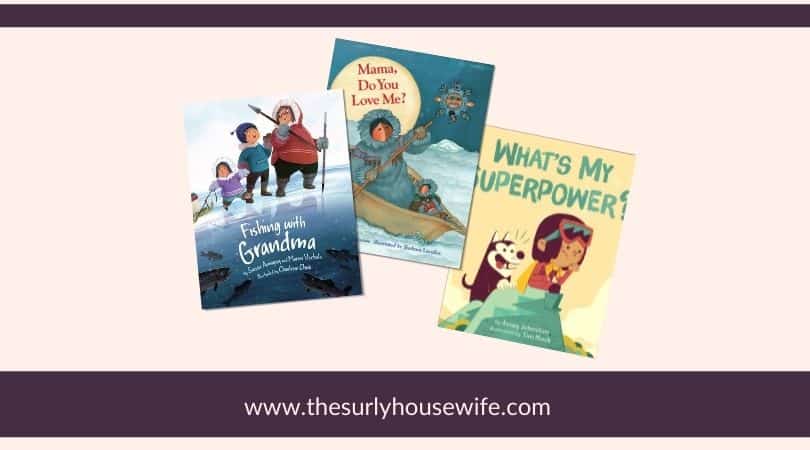 The Inuit people are an indegious tribe that covers an area from Greenland across northern Canada to Alaska. The 10 book on this list are just a small glimpse into the Inuit way of life. If you are looking to read more about Inuit folktales, click on this post!
This post contains affiliate links. If you click and make a purchase, we earn a commission at NO extra cost to you. For more information, please read my full disclosure policy.
Descriptions come from Amazon; some are edited for length
Inuit Picture Books
Whale Snow by Debby Dahl Edwardson
"Amiqqaq is excited when his family catches a bowhead whale. As his family prepares to celebrate the traditional Iñupiaq whaling feast, Amiqqaq learns about the spirit-of-the-whale."
"Nanook is a story of an Inuit father and son's fishing expedition in the Alaskan tundra. It is filled with excitement and danger that instills a lifelong lesson. An exciting adventure will test Nanook's responsibility as a young boy to prove he is ready to provide for his family. From the rushing waters and abundance of salmon of the Canning River to his close encounter with dreadful Old One Ear, Nanook's journey leads to a message that shows the unbreakable love between Father and Son."
Sweetest Kulu by Celina Kalluk
"This beautiful bedtime poem, written by acclaimed Inuit throat singer Celina Kalluk, describes the gifts given to a newborn baby by all the animals of the Arctic. Lyrically and tenderly told by a mother speaking to her own little Kulu; an Inuktitut term of endearment often bestowed upon babies and young children, this visually stunning book is infused with the traditional Inuit values of love and respect for the land and its animal inhabitants."
A Symphony of Whales by Steve Schuch
"Glashka can . . . but with that mysterious power comes great responsibility. When she discovers thousands of whales trapped in a rapidly freezing inlet, she knows it is up to her to gather the people of her town to help them. Based on an actual event, this inspiring story follows Glashka and her people as they come to understand the importance of all life."
Mama Do You Love Me by Barbara M. Joose
"In this classic, bestselling story of a child testing the limits of her independence, a mother reassures that a parent's love is unconditional and everlasting. This universal story is made all the more captivating by its unusual Arctic setting. Complemented by a detailed glossary, this tender story introduces young readers to a distinctively different culture and shows that the special love between parent and child transcends all boundaries of time and place."
Fishing with Grandma by Susan Avingaq
"Adventure begins when Grandma takes her two grandchildren out for a trip to the lake. After showing the kids how to prepare for a fishing trip, Grandma and the kids enjoy a day of jigging in the ice for fish. Grandma shows them every step they need to know to complete a successful fishing trip, from what clothes to wear, to how to drill and clear holes in the ice, to how to make a traditional Inuit jigging rod. By the end of the day, the kids have a yummy meal of Arctic char, and they have also learned everything they need to know to go out on the lake on their own."
Picture books with Inuit Characters
"Susan and her sister, Rebecca, love watching their mother write letters to people in other camps. Their mother has one precious pencil, and she keeps it safe in her box for special things. One afternoon, their mother leaves the iglu to help a neighbor, and Susan, Rebecca, and their brother Peter are left with their father. They play all their regular games but are soon out of things to do, until their father brings out the pencil! As Susan draws and draws, the pencil grows shorter and shorter. What will their mother think when she comes home? Based on author Susan Avingaq's childhood memories of growing up in an iglu, this charming story introduces young readers to the idea of using things wisely."
On Mother's Lap by Ann Herbert Scott
"A little Inuit boy discovers there's room for himself and his baby sister on their mother's lap."
Immi's Gift by Karin Littlewood
"Way, way up north in a snow-covered world, a young girl is surprised when, instead of a fish on the end of her fishing line, there is a small, brightly painted wooden bird. Day after day her fishing pole brings up more colorful surprises. When visiting the fishing hole for the last time, she drops a little wooden bear into the water. Far away, a young boy walks along a beach in the hot, hot sun. He throws a colorful object into the water. Then something catches his eye. A small wooden bear washed up on the beach. Karin Littlewood has crafted a simple, affecting story of how individuals around the world connect and enrich each other's lives. Her beautiful watercolor illustrations vibrantly depict the story's shifting locations―from the frozen Arctic to the tropical shoreline."
What's My Superpower? by Aviaq Johnston
"Nalvana feels like all of her friends have some type of superpower. She has friends with super speed (who always beat her in races), friends with super strength (who can dangle from the monkey bars for hours), and friends who are better than her at a million other things. Nalvana thinks she must be the only kid in town without a superpower. But then her mom shows Nalvana that she is unique and special, and that her superpower was right in front of her all along."
From superpowers to pencils, and fishing to igloos, I hope this list is exactly what you are looking for to learn more about the Inuit. If you are interesting in more reading lists, make sure you check out the ones below!