Learn more about Arctic animals with these 10 awesome children's books!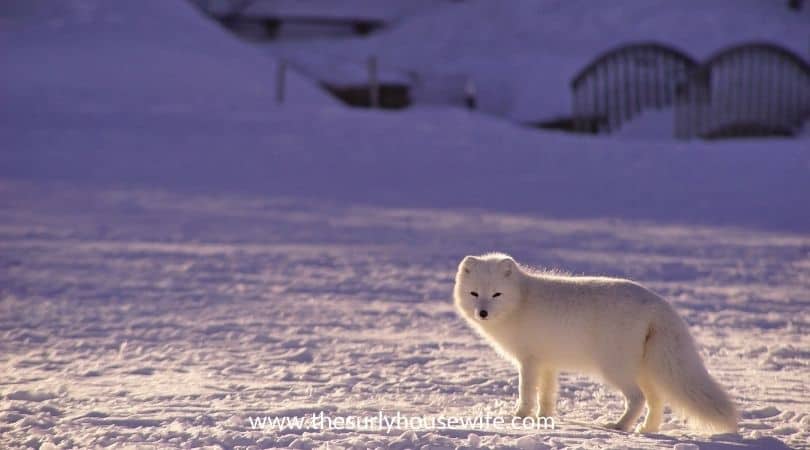 The Arctic is one of the most inhospitable places on earth. In fact, the average winter temperature in the Arctic is -30ºF!
One of the most fascinating things about the Arctic is the animals that live there and the adaptations they have made in order to survive. From their white appearance to hide amongst the landscape to hibernating over the long winter months.
These isn't a traditional book list filled with nonfiction books about Arctic animals. It features 10 books with Arctic animal characters in a well-told story that leaves you delightful understanding of these amazing creatures. Let's get started!
This post contains affiliate links. If you click and make a purchase, we earn a commission at NO extra cost to you. For more information, please read my full disclosure policy.
Descriptions come from Amazon; some are edited for length
Picture Books about Arctic Animals
"Cozy is the softest musk ox in Alaska, with the warmest fur you ever did feel. When a storm hits while he's separated from his family, he starts to feel lonely. but not for long. As the snow piles up, animals start to notice just how warm and cozy Cozy really is! One mama lemming has a bright idea. Maybe the best place to spend the winter is under Cozy's fur! Jan Brett brings a new lovable character to life through this gorgeous tale of sharing, friendship, and living in harmony."
Grandfather Bowhead, Tell Me A Story by Aviaq Johnston
"Bowhead whales are the longest-living mammals on the planet, living over 200 years. In this heartwarming story, a grandfather bowhead recounts to his young grandchild calf all the beautiful, amazing, and surprising things he has seen in his lifetime, all while assuring the little calf that there is nothing more wondrous than the love a grandfather has for his grandchild."
Tanna's Owl by Rachel Qitsualik-Tinsley
"When Tanna's father brings home an abandoned owl, she is not eager to take care of the needy, ugly little bird. She must feed it, clean up after it, all while avoiding its sharp, chomping beak and big, stomping talons. After weeks of following her father's instructions on how to care for the owl, Tanna must leave home for school. Her owl has grown. It has lost its grey baby feathers and is beginning to sprout a beautiful adult snowy owl coat. As she says good-bye to the owl, she is relieved not to have to care for it anymore, but also a bit sad. This heartwarming story based on the author's own life experience teaches young readers the value of hard work, helping, and caring, even when the thing you are caring for does not love you back."
Way up in the Arctic by Jennifer Ward
"Jennifer Ward and Kenneth Spengler have teamed up to create another wonderful, joyful, counting romp. This time they prance and dance readers through the Arctic and introduce kids to the fascinating animal mamas and babies that call the Arctic home. Set to the beloved tune of 'Over in the Meadow,' this book will have kids singing along from one to ten with polar bears, beluga whales, Arctic foxes and more!"
"Peter and Paul are puffins and the best of friends. But one day Peter gets lost in a terrible storm, and Paul is nowhere to be found. With the help of a big blue whale, Peter sets out, determined to find his pal. What the pair discovers is that many other birds match the description Peter gives of Paul, but none are quite like his friend. With gorgeous collage artwork and a lighthearted touch, this fun read-aloud tale will both amuse and enlighten."
Polar Opposites by Erik Brooks
"Alex is a BIG polar bear. Zina is a tiny penguin. Alex lives in the Arctic. Zina lives in the Antarctic. Alex and Zina are polar opposites! They live on opposite sides of the world. Their personalities are very different, too. But they find a way to meet in the middle. Erik Brooks's simple text and vibrant watercolor illustrations bring opposites to life in this lively look at two unusual best friends."
Who Lives Here? Polar Animals by Deborah Hodge
The polar regions are home to amazing animals whose bodies are built for living in the extreme cold. Emperor penguins, snowy owls and beluga whales all have special ways of staying warm, finding food and raising their young in a polar habitat of thick ice and snow. The Who Lives Here? series looks at animals in their natural habitats and explains how the body and habits of each animal are suited to the place it lives. Charming, realistic illustrations, playful language and intriguing facts make these books a perfect read for young children."
"A polar bear cub has lost his mother in the snow-covered forest. Unable to find her after a long search, he decides to build a big white bear out of snow to keep him company while he waits. His forest friends arrive one by one to help him, but when darkness falls, their own mothers call them home. The little white bear is left alone again. The cub cuddles close to the snow bear and falls fast asleep. But listen! As dawn breaks, who comes sniffing and searching through the trees?"
The White Fox by Jackie Morris
"The day the fox came, things began to change for Sol. Lost, alone and far away from home, Sol feels a deep connection with the little Arctic fox he discovers down at the Seattle docks. He too feels lost in the big city. Dad is always busy working and Sol misses the grandparents they have left behind. So Sol decides to take the little fox back home, reuniting his own family in the process."
The Arctic Fox's Journey by Wendy Pfeffer
"During the winter, the arctic fox begins an incredible journey. She heads north through the tundra, toward the top of the world. No larger than a house cat, she faces treacherous obstacles, frightening predators, and bitter cold along the way. It seems impossible that she could persist against the elements on her almost 2,000-mile journey—but she does. Read and find out about the arctic fox's quest for survival in this colorfully illustrated nonfiction picture book."
From polar bears to arctic foxes, and whales to owls, I hope this book list is exactly what you are looking for! If you want to learn more about the Arctic, check out the lists below. Happy reading!