Keep reading for letter J activities for home preschool!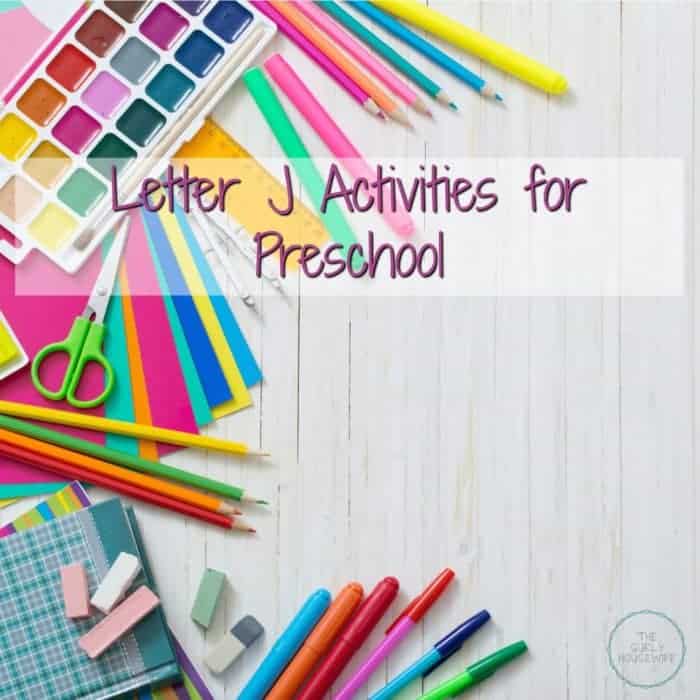 If you are just starting with home preschool you might be putting a lot of pressure on yourself to teach your child to read. Never fear! The goal is letter recognition (don't worry about the sounds of the letters) but have your child work on id'ing and writing the letter.
If you enjoy doing learning activities and reading with your child, then this blog post is for you! I have a simple 3 day preschool schedule that follows the motto: lots of books and lots of play.
When my children were preschool aged we spent about 30 minutes to an hour a few times a week doing formal sit down activities and crafts. For the letter "J" we did activities that related to jelly fish, jelly beans, and Jello.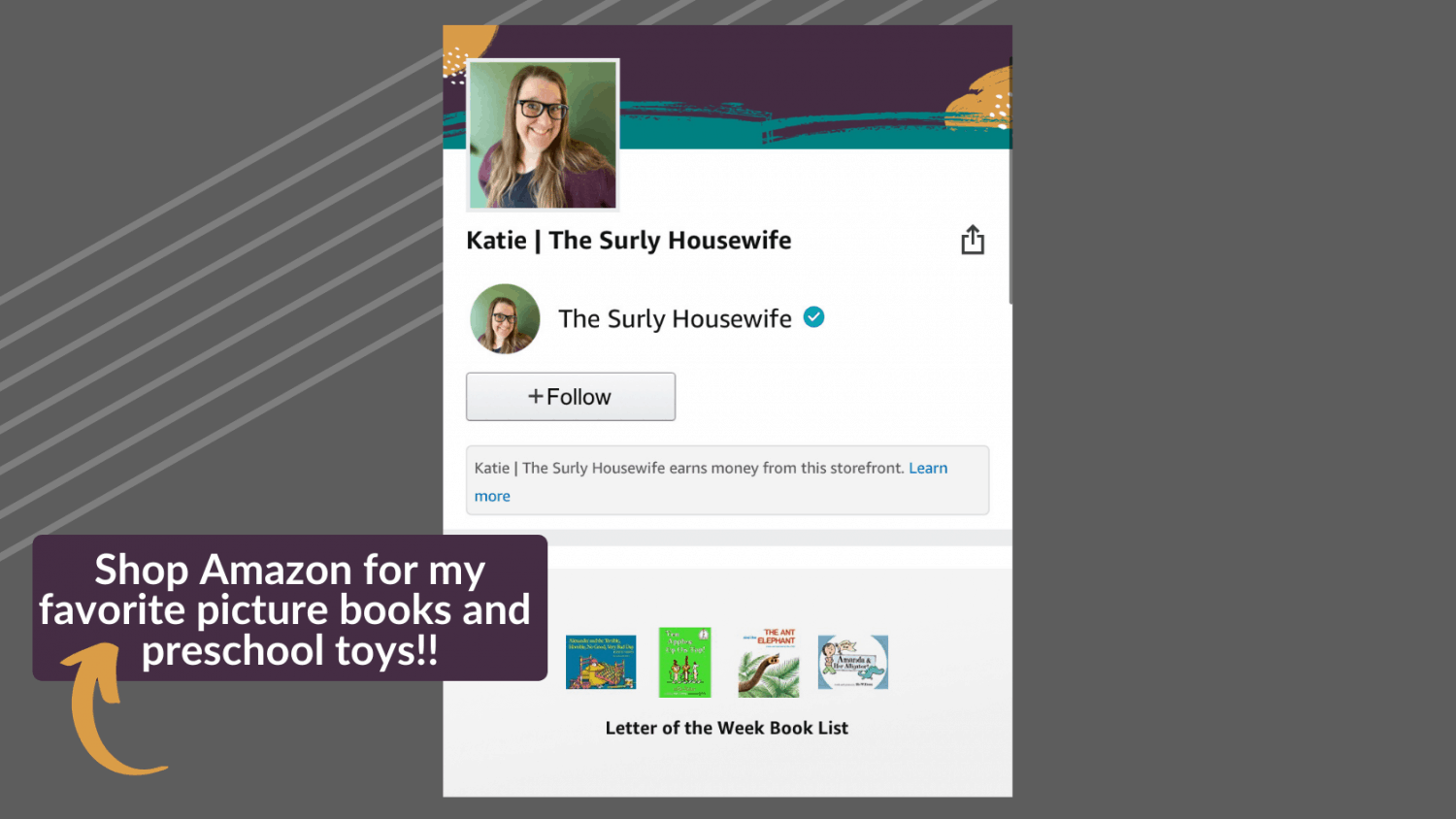 This post contains affiliate links. If you click and make a purchase, we earn a commission at NO extra cost to you. For more information, please read my full disclosure policy.
Letter J Activities
Day One – Printables and Jamberry
"A small boy and a big friendly bear embark on a berry-picking extravaganza, looking for blueberries, blackberries, and strawberries. Their fun adventure comes to a razzamatazz finale under a starberry sky."
The worksheets we used for the Letter J include letter tracing, writing, and identification.
The tracing printable is from the blog 3 Dinosaurs . . .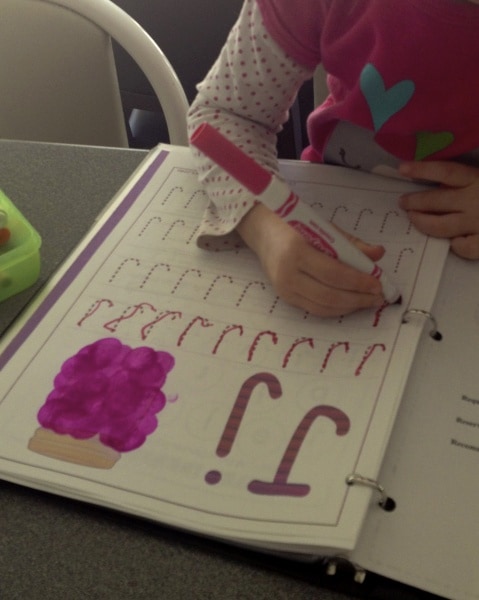 Letter writing, or rainbow writing, from Time 4 Kindergarten . . .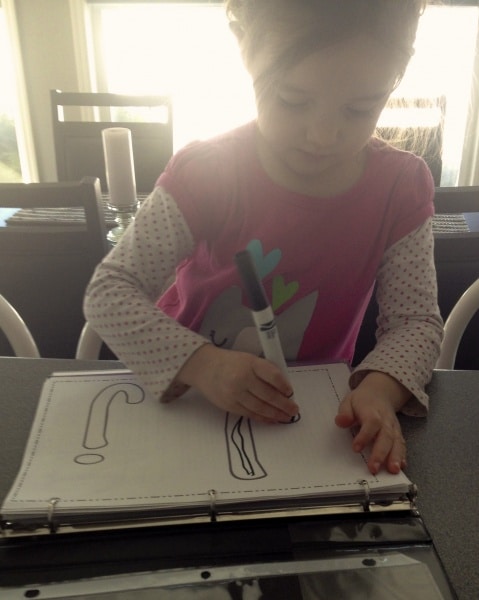 And letter identification with do-a-dot markers from Over the Big Moon . . .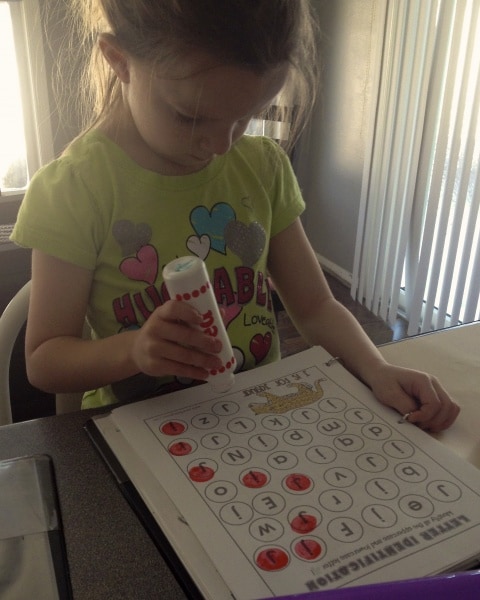 We used all three of these printables for different letters and I highly recommend all of them! They are simple, functional, and my kids loved them.
Day 2 – Jelly Beans and If you Were a Jellybean
Read this fun and interactive book featuring jellybeans and then do a fun jelly bean extension activity!
I was inspired by No Time for Flash Cards for this activity. I saw jelly beans, and I knew I needed to look no further. It's a super simple activity and one that the girls just loved. The hardest part was keeping from eating all the jelly beans. Ok, and me too 😉
I started by just cutting out a letter J, which the girls glued on the paper.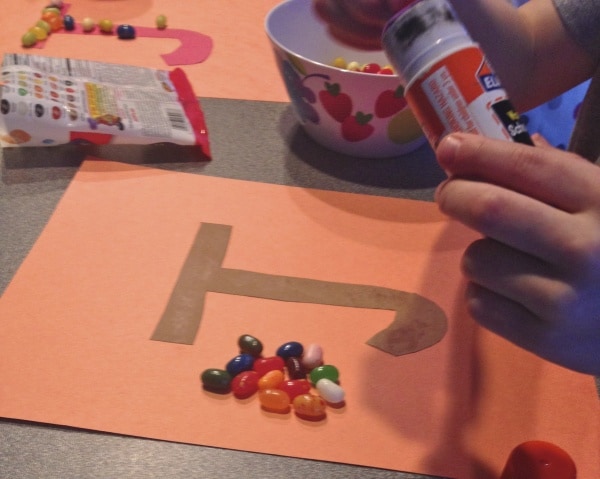 Then they simply glued the jelly beans on to the J. A simple letter identification activity that also worked fine motor skills.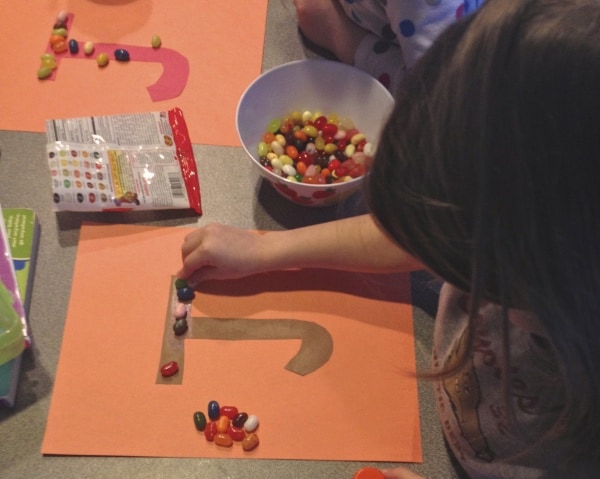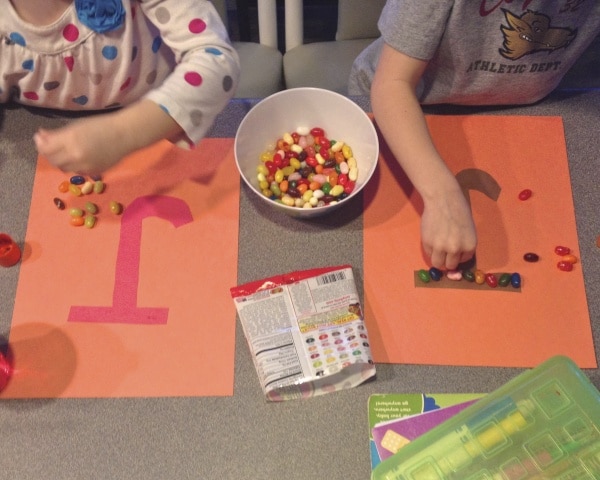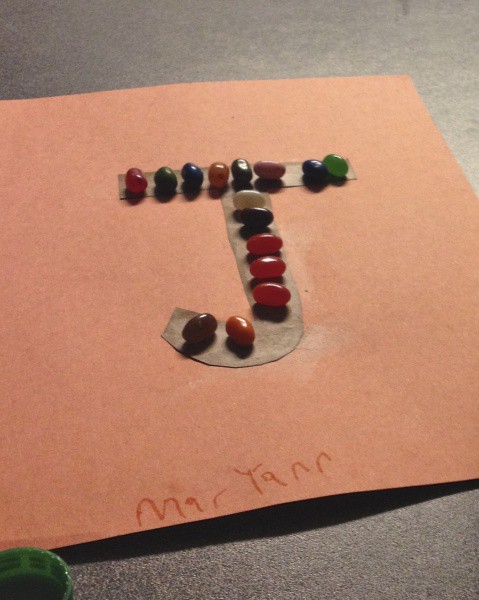 Day 3 – Sensory Play and Peanut Butter and Jellyfish
"Peanut Butter and Jellyfish are best of friends and swim up, down, around, and through their ocean home.
Crabby is their neighbor. He is not their best friend.
But when Crabby gets in trouble, will Peanut Butter and Jellyfish come to the rescue?
You bet they will!"
I was so excited to do this frozen jello sensory play that I found on The Imagination Tree. Actually, at first I was a little scared because I can literally not make jello. No joke. Never sets up for me. So I knew this sensory play would be interesting.

Right off the bat, the girls loved the smell of the gelatin.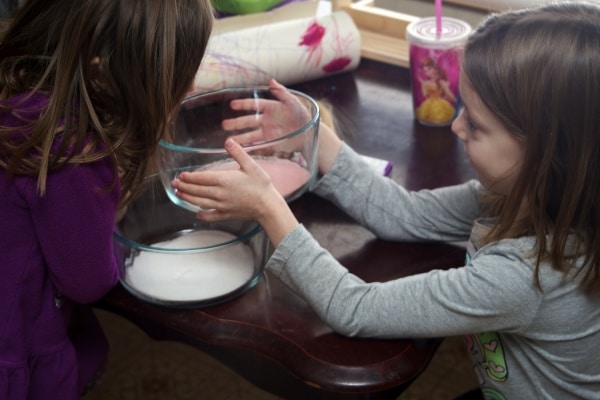 We mixed up the gelatin according to the directions and then added some glitter. The girls stirred it up some and then we put in the fridge to set up.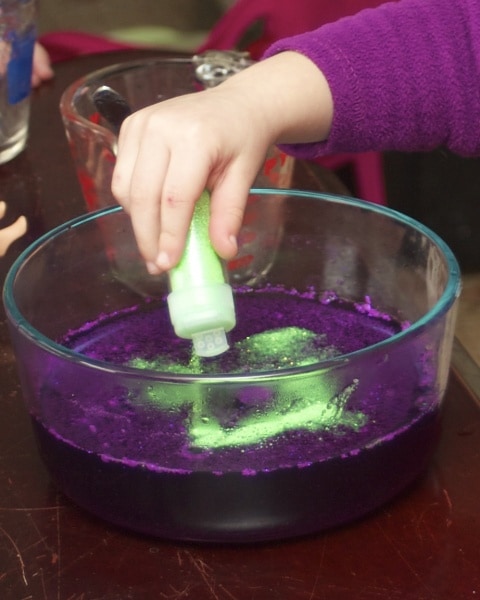 I got a pleasant surprise when the jello set up. I got it to work! Woot!! The girls then scooped the jello into some ziplock bags.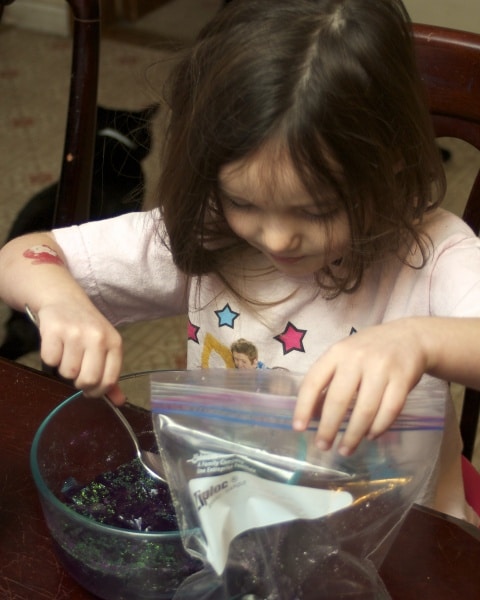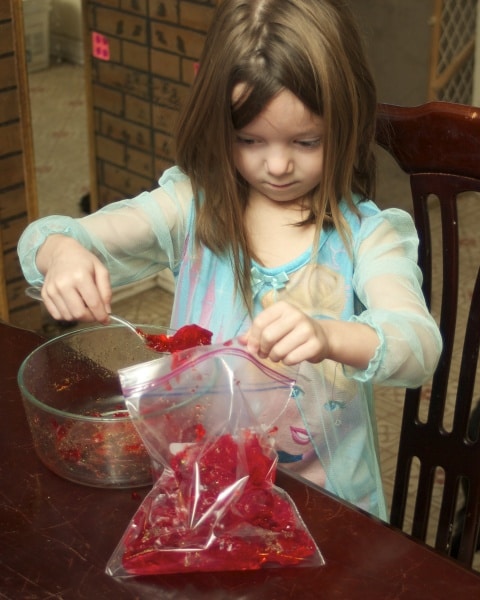 Then they played with it in the bags for a little mess-free fun. With Harley's head apparently.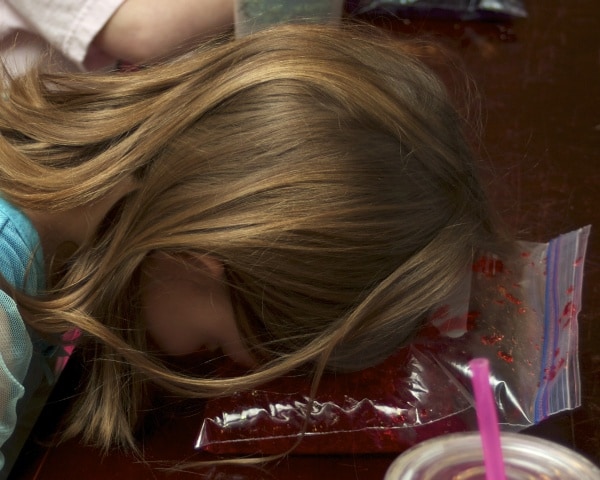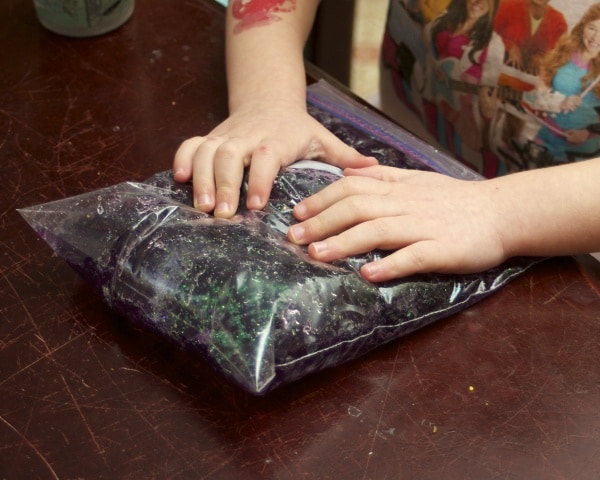 Then into the freezer it went! After it froze, we took it out for some more fun. Bear dug right in . . .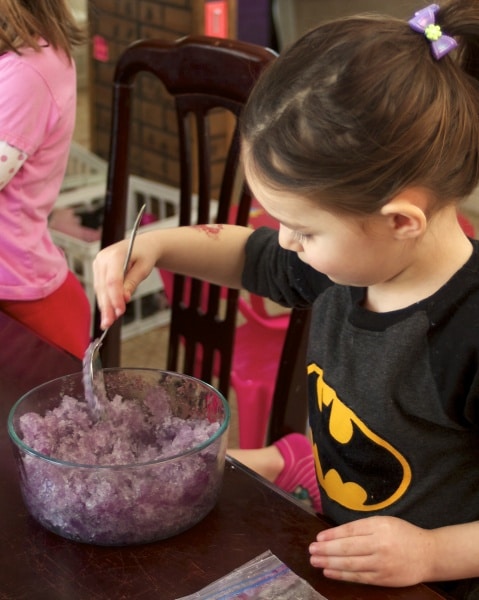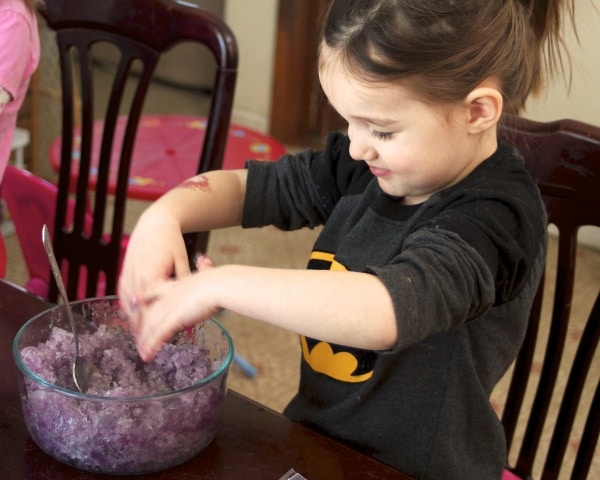 But Harley was a little more cautious. I think she was worried about it being too cold.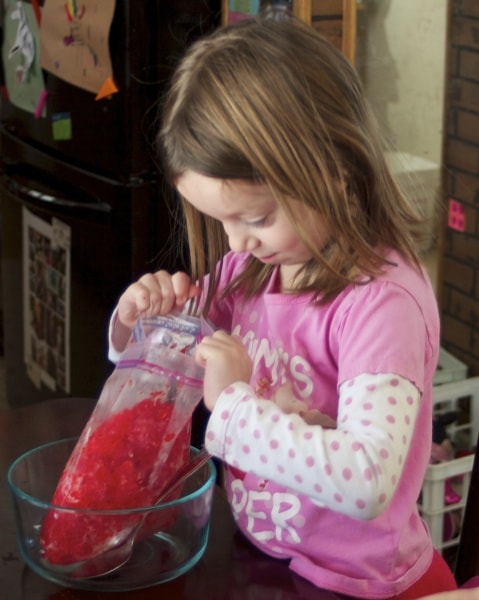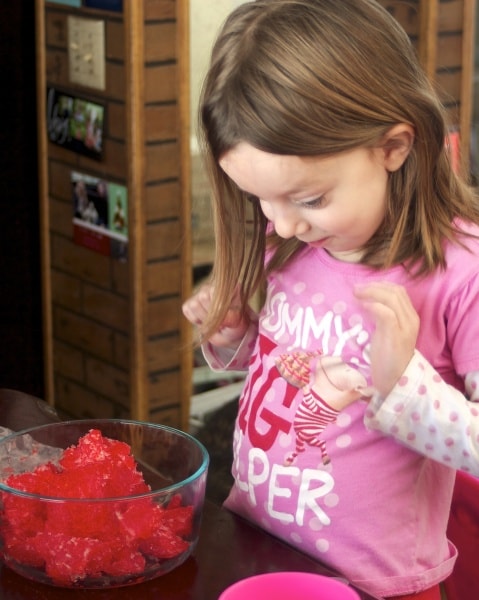 They LOVED this activity and got the jello out to play with several times. Playing with it both inside the bag and out. Towards the end we put it out on a cookie sheet so they could really dig in. It was awesome sensory experience. From the smell, to the feel of the different textures, and the look of it with the glitter. So fun!
Recommended reads:
Homeschool preschool should a be a fun time for you and your child. Reading books and spending time together is all you need! But if you enjoy doing crafts and activities with you kids, I hope you found this post useful. Drop a comment below and let me know!
WANT TO SAVE THIS POST FOR LATER? CLICK HERE TO SAVE TO YOUR FAVORITE PINTEREST BOARD!