Keep reading for 10 children's books about polar bears that you won't be able to put down!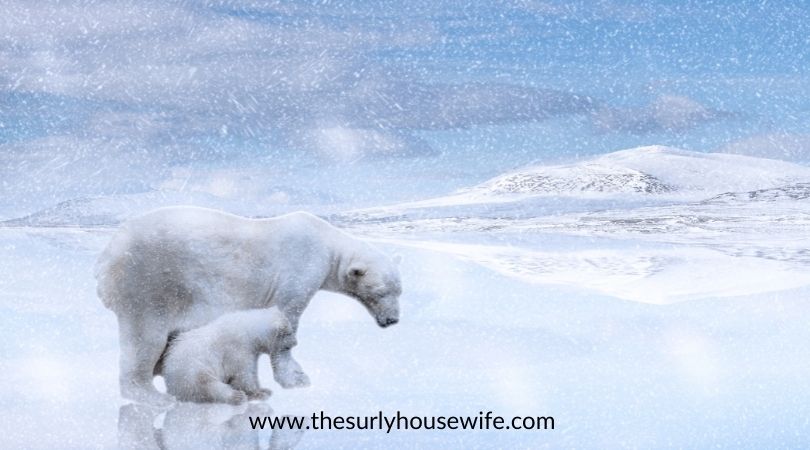 It's hard to resist the adorableness of a polar bear cub. I mean, sure, they grow up to be one of most (if not THE most) dangerous animals in the Arctic alongside the grizzly bear and killer whales. The deadly polar bear may grow up to 8 feet tall and way as much as 1500 pounds but that doesn't stop us from wanting to learn more about them.
You won't find any facts and figures books about polar bear on this list, BUT you will find some excellent stories featuring polar bear characters as well as some Inuit folktales about polar bears. Let's get started!
This post contains affiliate links. If you click and make a purchase, we earn a commission at NO extra cost to you. For more information, please read my full disclosure policy.
Descriptions come from Amazon; some are edited for length
Picture Books about Polar Bears
Polar Bear Night by Lauren Thompson
"One keen, clear night, a polar bear cub wakes inside her warm den. Something in the moonlit stillness quietly beckons. What is it? The little cub sets out for the snow and sky and sea and ice, and the moon follows. So begins a magical journey through a starlit world filled with love and wonder. Soothing words and luminous pictures make this nighttime tale as comforting as a goodnight kiss."
The Three Snow Bears by Jan Brett
"When Aloo-ki glances up from fishing and sees her sled dogs floating off on an ice floe, she races after them. She comes upon an igloo with no one home and goes inside. Turns out the polar bear family who lives there is out walking while their breakfast cools off. Aloo-ki eats some soup, tries on their boots, and finally crawls into the smallest bed for a nap. Meanwhile, Papa, Mama, and Baby Bear see her dogs adrift, swim out to rescue them and return home to find Aloo-ki fast asleep in Baby Bear's bed. Dramatic illustrations capture the shimmering ice, snow and deep blue seas of the Arctic, and when Jan adds a raven-haired Inuit girl and her appealing huskies, an endearing family of polar bears, and playful Arctic animals in the borders, the result is one of her most beautiful picture books."
Alaska's Three Bears by Shelley Gill
"One of the most beloved Alaskan children's picture books of all time, Alaska' Three Bears is a classic retelling of the three bears fairy tale, Alaska-style. Readers young and old will meet Alaska's three bears in this one-of-a-kind adventure. Join the polar, grizzly, and black bears as they travel across Alaska's vast wilderness."
Dot in the Snow by Corrinne Averiss
"A little polar bear, Miki, wanders away while his mother is diving for fish. He sees a dot in the snow and rushes towards it. Readers discover that the dot is a little girl. But Miki has never seen a human before and the little girl has never seen a polar bear. They discover more about each other as they play in the snow but then the perils of the polar landscape impel Miki to take the little girl home before undertaking the long journey to find his own mother. Although one is a polar bear and one is a little girl, Miki and Dot share a common experience: they are both separated from their mothers when they meet. Their bond of friendship gives them the strength to support each other during the course of a day that will last with them both forever."
"The polar bear is the biggest and most powerful of the animals that are able to survive the hostile climate of the Arctic. Cubs are born during the cold dark winter, even though they start out with only a thin coat of fur and weigh a little over one pound. The mothers raise and teach them so they may grow and survive in the wild. Here is information about how polar bears swim and hunt, how they keep warm and dry, and the many other ways they adapt to their environment."
The Polar Bear Son by Lydia Dabcovich
"A lonely old woman adopts, cares for, and raises a polar bear as if he were her own son, until jealous villagers threaten the bear's life, forcing him to leave his home and his 'mother,' in a retelling of a traditional Inuit folktale."
The Last Polar Bear by Jean Craighead George
"Bestselling duo Jean Craighead George and Wendell Minor team up to show young readers the natural world. 'The Last Polar Bear' is a poignant tale about a boy desperate to save one of the last polar bears in the rapidly changing Arctic environment. Can Tigluk and his grandmother help the young cub who lost his mother?"
Snow Bear by Jean Craighead George
"When Bessie explores a frozen ice ship one morning, she finds a baby polar bear with whom she instantly becomes friends, but Bessie's brother and Snow Bear's mother are worried and stand by to make sure nothing breaks up the happy pair."
Little Polar Bear by Hans de Beer
"It's a big day for the little polar bear Lars! His father takes him hunting for the very first time, and that night he is so tired from all his lessons that he falls fast asleep. He sleeps so soundly that he doesn't hear the ice crack, doesn't feel himself slowly drift away from his father and the North Pole. He doesn't realize that his adventures have just begun."
The Bear Report by Thyra Heder
"What's there to say about polar bears? They're big. They're mean. They eat things. Bor-ing. At least that's how Sophie feels when she sits down to do her homework. But then something decidedly unboring happens. Sophie is whisked away to the Arctic by a jovial polar bear named Olafur. In a whirlwind of a day, he shows the reluctant Sophie the many brilliant things there are to see in his home, from glacier mice to the northern lights. Sophie begins to learn that the polar bear's home is so much more than a barren, frozen land. It's a world filled with life, adventure and a new friend."
I hope this untraditional list of books about polar bears is what you were looking for! If you are looking to learn more about the Arctic, check out the posts below! Happy reading!