Keep reading for 10 excellent picture books set in the majestic state of Alaska!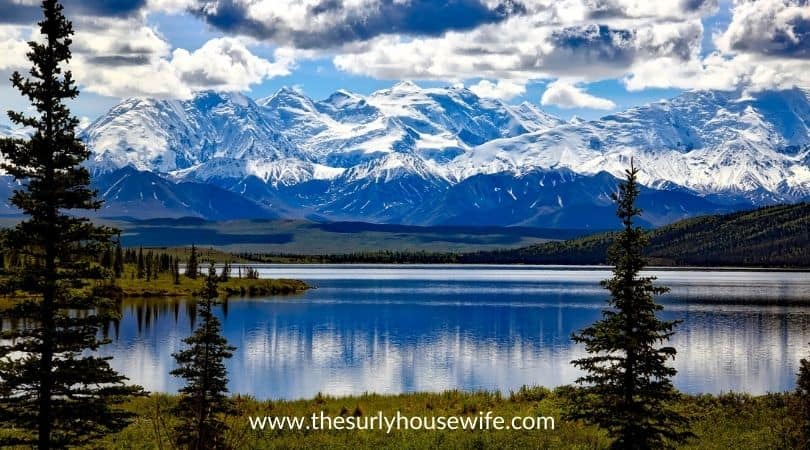 Most people know that Alaska is our biggest state, followed by Texas, California, and Montana, but did you know that Alaska has the lowest population per square mile with only 1.3 people?! Wyoming comes in second with 6 people per square mile.
Don't let the lack of people fool you, because Alaska is a magnificent state with soaring mountains, massive glaciers, epic coastlines, and charismatic wildlife. It's nickname is the Last Frontier, and it is truly one of the last places on planet Earth that has yet to be explored.
I think you could spend an entire year studying this amazing state. There are about 8 billion tv shows showcasing life in the Land of the Midnight Sun and practically as many books. Search 'Alaska' on Amazon filtering for books and nearing 10,000 results appear!
But don't worry, I have picked out 10 amazing picture books set in Alaska that will have you feeling like you look had a bird's eye view of the whole state! Let's get started!
This post contains affiliate links. If you click and make a purchase, we earn a commission at NO extra cost to you. For more information, please read my full disclosure policy.
Descriptions come from Amazon; some are edited for length
Picture Books Set in Alaska
Nonfiction
My Wilderness: An Alaskan Adventure by Claudia McGehee
"McGehee's lyrical nonfiction story recounts the 1918–1919 winter spent on Alaska's Fox Island from the point of view of nine-year-old Rocky, son of the painter Rockwell Kent. Vivid scratchboard-style illustrations echo the rugged subject matter with enchantment as Rocky explores the wilderness and becomes accustomed to island life. This engaging book shows Alaska from a young boy's appreciative and imaginative point of view."
Up on Denali: Alaska's Wild Mountain by Shelley Gill
"From its origins as a trick played by Raven (the scientific version involving plate tectonics is also included) to the flora and fauna and human explorations, this colorful children's book reveals every facet of Alaska's great Denali mountain. Employing the Gill-Cartwright signature style of mingling fiction and fact, this book is brimming with fun and fascinating information and wonder about the tallest, coldest, wildest mountain in America. Here is the story of Denali: its wildflowers and wildlife, tundra and glaciers, legends and history. Come explore Alaska's ultimate landmark."
Fiction Picture Books Set in Alaska
Under Alaska's Midnight Sun by Deb Vanasse
In the far northern parts of the world, near and above the Arctic Circle, summer days are very long. In Barrow, Alaska, for example, the sun rises in May and sets 83 days later, in early August. During this time, the sun shines all through the night. People call it the midnight sun. When the midnight sun is shining, people and animals stay active even at night. This sweet poetic narrative, illustrated by award-winner Jeremiah Trammell, showcases the many pleasures of this unique time as a little girl dances, fishes, plays games, watches moose and fox, and communes with family and nature."
The Salmon Princess: An Alaska Cinderella Story by Mindy Dwyer
"One of the most popular children's books about Alaska, The Salmon Princess retells the classic Cinderella story through an Alaskan lens.In this adaptation of the well-loved fairy tale, the father still has his head in the clouds and the stepmother is as mean as ever. But this story is set in the Last Frontier, and its details and imagery reflect Alaska's landscape and sensibility: the fairy godmother becomes an eagle spirit, the glass slipper a fisherwoman's boot. Evocative writing and colorful artwork distinguish this playful retelling of the classic. Here children learn about cultures and ways of life but happy endings are still the rule."
Benny's Flag by Phyllis Krasilovsky
"Benny was an Aleut Indian boy living in an Alaskan mission home many years before Alaska became a state. One day his teacher told the class about a contest to make a flag for Alaska. That night the boys and girls of the mission house made many designs for the flag. Benny thought about what he loved most about Alaska. Benny knew what he wanted his flag to be like: the blue field for the Alaska sky and the forget-me-not flower; the North Star for the future State of Alaska, the most northerly state in the Union; and the dipper for the Great Bear—symbolizing strength. A month later the teacher announced: 'Children, the flag contest is over. From all over Alaska children sent in designs for the flag. And Benny's design has won the contest!' Benny's Flag is a true story."
Charlie and the Blanket Toss by Tricia Brown
"Charlie loves to watch his relatives and friends get thrown high in the air during the traditional Inupiat blanket toss. But secretly, he's afraid to try it himself. At the Whaling Festival, he's ready to step up and overcome his fears. Warm humor and good energy fill the pages in this inspiring story while authentic details of Alaska Native life are shared to anchor the story in place. Glowing illustrations depict Charlie's family and village friends as they prepare for the big celebration while action scenes capture the excitement and spirit of the Festival."
Kumak's Fish: A Tale of the Far North by Michael Bania
"Taking place in Alaska, Kumak and his family head to the frozen lake to go fishing. They bundle up in their mukluks, huddle onto the dog sled and gather their fish. Each family member (besides the baby) take turns catching fish but Kumak doesn't have much luck. He sits, patiently and with the help of his Uncle Aglu's amazing hooking stick (and the rest of the villagers) he is able to capture the biggest fish from the water. Authentic details throughout the playful art and text, as well as endnotes on Inupiat fishing, provide young readers with a fascinating window into another culture."
Sunrise Summer by Matthew Swanson
"Sunrise Summer is a picture book that celebrates self-confidence and empowerment, as a girl's role changes in her family's fishing expeditions. When a girl and her family travel four thousand miles from home, it's not your typical summer vacation. Everything is different on the Alaskan tundra, where the grizzly bears roam and the sockeye salmon swim, including the rules. A girl can do things she wouldn't, and couldn't, do at home. She can wake up at midnight to work with her mom on a fishing crew. She can learn what it means to be an essential part of a team. She can become a braver, stronger, and ever-more capable version of herself. She can take her next big step. She's ready for her first real sunrise."
Dance on a Sealskin by Barbara Winslow
"The heartwarming story of Annie, a Yup'ik Eskimo girl, and her coming-of-age ceremony in her Alaskan village."
The Great Chicken Escape by Nikki McClure
"This simple and spare picture book about four chickens fleeing their coop for a day when the chickens got loose at an Alaskan monastery and had an adventure. Features Nikki McClure's signature cut-paper artwork and a beautiful die-cut cover."
I hope you found this list useful! If you are looking for more books about Alaska, make sure you check out the posts below!