Keep reading for 10 terrific YA novels set in Alaska!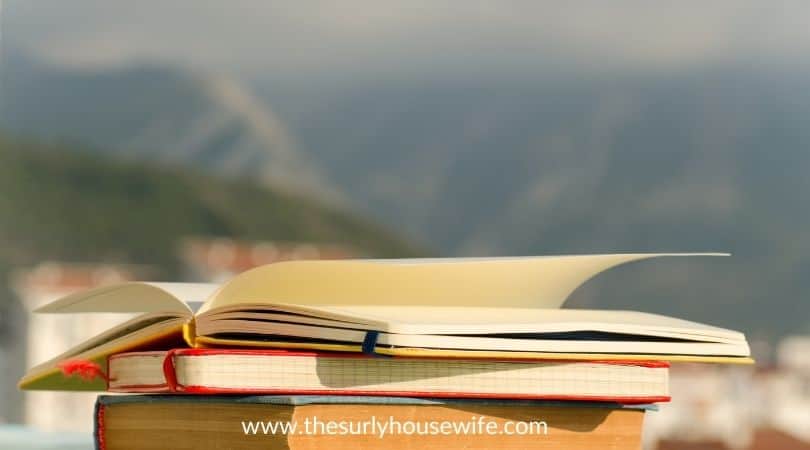 Alaska is a state home to many nicknames: The Last Frontier, Land of the Midnight Sun, and The Great Land. With a setting so beautiful and vast, it's no wonder there are so many books set in this amazing state. Books featuring sled dogs and wolves as well as stories about gold and spirit bears.
I should note that my definition of YA literature differs from most. I consider YA books to be a genre rather than a reading level. So if you are picking out books for your kids, do your due diligence with any books that are labeled YA or Young Adult as the subject matter might not be appropriate for younger readers.
For more information on this topic, check out this podcast episode from the Read-Aloud Revival.
This post contains affiliate links. If you click and make a purchase, we earn a commission at NO extra cost to you. For more information, please read my full disclosure policy.
Descriptions come from Amazon; some are edited for length
YA Books Set in Alaska
The Call of the Wild by Jack London
"First published in 1903, The Call of the Wild is regarded as Jack London's masterpiece. Based on London's experiences as a gold prospector in the Canadian wilderness and his ideas about nature and the struggle for existence, The Call of the Wild is a tale about unbreakable spirit and the fight for survival in the frozen Alaskan Klondike."
Child of the Wolves by Elizabeth Hal
"Granite, a Siberian husky puppy, is all alone in the Alaskan forest after escaping from his kennel. Each moment of his life is threatened until Snowdrift, a great white wolf, welcomes him into a wolf pack. But Granite must earn his place among the wolf tribe by facing vicious attacks from the other wolves, the human wolf hunters, and the constant challenges of the frozen forest."
The Smell of Other People's Houses by Bonnie-Sue Hitchcock
"This deeply moving and authentic debut set in 1970s Alaska is an intertwining story of love, tragedy, wild luck, and salvation on the edge of America's Last Frontier. Ruth has a secret that she can't hide forever. Dora wonders if she can ever truly escape where she comes from, even when good luck strikes. Alyce is trying to reconcile her desire to dance, with the life she's always known on her family's fishing boat. Hank and his brothers decide it's safer to run away than to stay home, until one of them ends up in terrible danger. Four very different lives are about to become entangled. This unforgettable William C. Morris Award finalist is about people who try to save each other, and how sometimes, when they least expect it, they succeed."
"Within hours of hearing the thrilling news that gold has been discovered in Alaska, fifteen-year-old Jason Hawthorn jumps a train for Seattle, stow away on a ship bound for the goldfields, and joins thousands of fellow prospectors attempting the difficult journey to the Klondike. The Dead Horse Trail, the infamous Chilkott Pass, and a five-hundred-mile trip by canoe down the Yukon River lie ahead. With help from a young writer named Jack London, Jason and his dog face moose, bears, and the terrors of a subarctic winter in this bone-chilling survival story."
Aleutian Sparrow by Karen Hesse
"In June 1942, seven months after attacking Pearl Harbor, the Japanese navy invaded Alaska's Aleutian Islands. For nine thousand years the Aleut people had lived and thrived on these treeless, windswept lands. Within days of the first attack, the entire native population living west of Unimak Island was gathered up and evacuated to relocation centers in the dense forests of Alaska's Southeast. With resilience, compassion, and humor, the Aleuts responded to the sorrows of upheaval and dislocation. This is the story of Vera, a young Aleut caught up in the turmoil of war. It chronicles her struggles to survive and to keep community and heritage intact despite harsh conditions in an alien environment."
"Twelve-year-old Willow would rather blend in than stick out. But she still wants to be seen for who she is. She wants her parents to notice that she is growing up. She wants her best friend to like her better than she likes a certain boy. She wants, more than anything, to mush the dogs out to her grandparents' house, by herself, with Roxy in the lead. But sometimes when it's just you, one mistake can have frightening consequences. And when Willow stumbles, it takes a surprising group of friends to help her make things right again. Using diamond-shaped poems inspired by forms found in polished diamond willow sticks, Helen Frost tells the moving story of Willow and her family. Hidden messages within each diamond carry the reader further, into feelings Willow doesn't reveal even to herself."
"A teen boy wants to trade in the noise of his contemporary world for the song of nature and the old ways in this poignant young adult adventure. Something is bothering Russel Susskit. He hates waking up to the sound of his father's coughing, the smell of diesel oil, the noise of snow machines starting up. Only Oogruk, the shaman who owns the last team of dogs in the village, understands Russel's longing for the old ways and the songs that celebrated them. But Oogruk cannot give Russel the answers he seeks; the old man can only prepare him for what he must do alone. Driven by a strange, powerful dream of a long-ago self and by a burning desire to find his own song, Russel takes Oogruk's dogs on an epic journey of self-discovery that will change his life forever."
Jasper and the Riddle of Riley's Mine by Caroline Starr Rose
"Desperate to get away from their drunkard of a father, eleven-year-old Jasper and his older brother Melvin often talk of running away, of heading north to Alaska to chase riches beyond their wildest dreams. The Klondike Gold Rush is calling, and Melvin has finally decided the time to go is now—even if that means leaving Jasper behind. But Jasper has other plans, and follows his brother aboard a steamer as a stowaway. Onboard the ship, Jasper overhears a rumor about One-Eyed Riley, an old coot who's long since gone, but is said to have left clues to the location of his stake, which still has plenty of gold left. In an endearing, funny, pitch-perfect middle grade voice, Caroline Starr Rose tells another stellar historical adventure young readers will long remember."
Touching Spirit Bear by Ben Mikaelsen
"A powerful coming-of-age story of a boy who must overcome the effects that violence has had on his life. After severely injuring Peter Driscal in an empty parking lot, mischief-maker Cole Matthews is in major trouble. But instead of jail time, Cole is given another option: attend Circle Justice, an alternative program that sends juvenile offenders to a remote Alaskan Island to focus on changing their ways. Desperate to avoid prison, Cole fakes humility and agrees to go. While there, Cole is mauled by a mysterious white bear and left for dead. Thoughts of his abusive parents, helpless Peter, and his own anger cause him to examine his actions and seek redemption, from the spirit bear that attacked him, from his victims, and, most importantly, from himself."
Fighter in Velvet Gloves: Alaska Civil Rights Hero Elizabeth Peratrovich by Annie Boochever
"'No Natives or Dogs Allowed,' blared the storefront sign at Elizabeth Peratrovich, then a young Alaska Native Tlingit. The sting of those words would stay with her all her life. Years later, after becoming a seasoned fighter for equality, she would deliver her own powerful message: one that helped change Alaska and the nation forever. In 1945, Peratrovich stood before the Alaska Territorial Legislative Session and gave a powerful speech about her childhood and her experiences being treated as a second-class citizen. Her heartfelt testimony led to the passing of the landmark Alaska Anti-Discrimination Act, America's first civil rights legislation. Today, Alaska celebrates Elizabeth Peratrovich Day every February 16, and she was honored on the gold one-dollar coin in 2020."
This is by no means a complete list. If you are interested in more books set in Alaska, make sure you check out this other posts! Happy reading!