5 genres of books to add to your poolside reading list!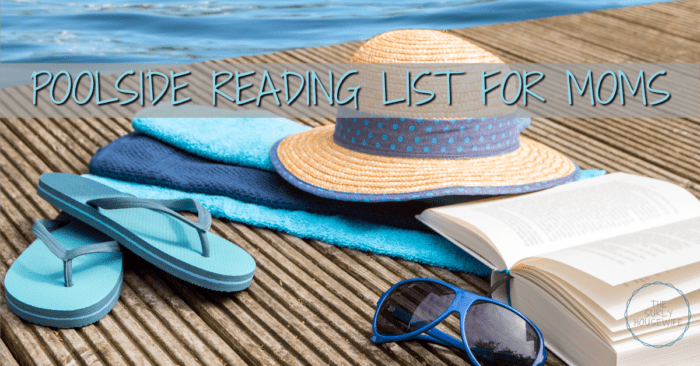 Poolside reading is one of the best things about summer. Relaxing in the hot summer air with cool breezes while your kids get out all their energy playing, splashing, and swimming. When it comes to poolside reading, I have five basic genres I go to: mystery series, young adult literature, major works, parenting books, and personal development.
If you have not checked out Surly's Reading List, make sure you click on over to see ALL the books on my reading list.
This post contains affiliate links. If you click and make a purchase, we earn a commission at NO extra cost to you. For more information, please read my full disclosure policy.
Poolside Reading List
Mystery Series
The first genre is mystery series which are perfect for summer reading. First, mysteries keep the plot of the book moving forward so you don't get bored. And second, because they are a series you are familiar with. You know all the characters and the writing style of the author so it doesn't require as much concentration when you first start a brand new book. Some of my favorite series are the Grant County series by Karin Slaughter, the culinary mystery series by Diane Mott Davidson, and the Bernie Rhodenbarr (a burglar and bookseller) series by Lawrence Block.
I have only read the first book in the following series, but I can't wait to read more. Bernard Gunther series by Philip Kerr, The Dublin Murder Squad by Tana French, Cormoran Strike by Robert Galbraith aka JK Rowling. And I am desperately wanting the Beatrice Kaspary novels to have an English edition because I adored the first novel in the series "Five."
Young Adult Fiction
Young Adult fiction is the second genre on the list. Again, it is easy, breezy reading, and sometimes it's just what you need. John Grisham's young adult series "Theodore Boone" are quick and fun reads. I also enjoyed the Charlotte Holmes series about the modern descendents of the original Sherlock and Holmes by Brittany Cavallaro.
Major Work
If you don't like jumping from book to book or want to use the summer to read something of more substance. Use your summer reading time to tackle a major work you have wanted to read. Like William Faulkner or the Game of Thrones series. I read Gone with the Wind at the beginning of the year and I highly recommend reading if you haven't already.
Parenting Books
Nonfiction books are great for reading by the pool because you can break them up into chunks. I know when I am at the pool with the kids, I get interrupted every once in a while. Either for snacks or to play with the kids. If you are like me, you have purchased a parenting book and it is just sitting on your night stand. Summer is perfect time to cross the book off the list! Check here for five positive parenting books.
Personal Development
Maybe the book you have been dying to read is a self-help book! Or you have been wanting to learn more about a particular subject. I know I will be doing a little homeschool prep this summer. My kids have taken an interest in learning ALL about the 50 states so I will be doing some history reading this summer as a refresher.
What is on your beach reads list for the summer? What do you like to read on vacation?