My current reading list, an excellent start for a reading list for women!
This post may contain some affiliate links for your convenience (which means if you make a purchase after clicking a link I will earn a small commission to help keep my blog up and running, but it won't cost you a penny more). For more information, please read my disclosure policy.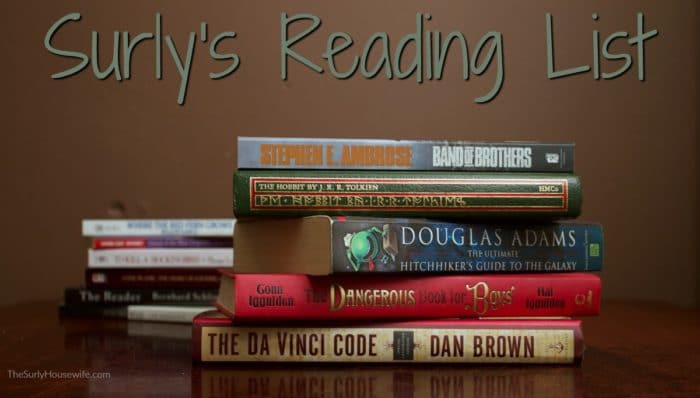 "As far back as I can remember, I always wanted to be a gangster." Wait a minute. That isn't right. But a Surly trivia point to whoever can name that movie!! For as long as I can remember, I have always loved reading. I had stacks of Babysitters Club books, and I would spend my weekends reading and rereading them. To this day I still love libraries and book stores and am always on the hunt for the next great book.
After college I sort of fell off the reading train and I wanted to make myself more accountable so I set a goal to read 40 books by 40. I am so glad I did because completing this goal revived my love of reading, and I reached my goal in the summer of 2016!
So many people, moms especially, are always looking for good book recommendations. So I thought I would create a place where I could list all of the books in one place! This is a full list of all the books I have read. Mostly fiction, a few non-fiction, as these are books are read in my leisure time. Links in the bold go to the books I have written about and links in italics go to Amazon.
Let me know which books you want to hear more about and what you have been reading lately!!
Currently reading
Fiction: A Game of Thrones by George R.R. Martin
Nonfiction: The Great Revolt by Salena Zito and Brad Todd
40 Books by 40 (Jan 2013-July 2016)
Sharp Objects by Gillian Flynn
Blindsighted by Karin Slaughter
God, If You're Up There, I'm F*cked by Darrell Hammond
Gone Girl by Gillian Flynn
Life After Death By Damian Echols
Catering to Nobody by Diane Mott Davidson
Burglars Can't be Choosers by Lawrence Block
The Last Jew of Treblenka by Chil Rajchman
Theodore Boone: The Abduction by John Grisham
Kisscut by Karin Slaughter
Seven Wonders by Ben Mezrich
Bonk by Mary Roach
Half Broke Horses by Jeannette Walls.
The Burn Palace by Stephen Dobyns
We Are Water by Wally Lamb
Adios America by Ann Coulter
You're Better Than Me: A Memoir by Bonnie McFarlane
Five Presidents by Clint Hill
Digging up Mother: A Memoir by Doug Stanhope
July-December 2016
2017
Free-Range Kids by Lenore Skenazy
How to Talk so Kids will and Listen so Kids will Talk by Adele Faber
2018