5 simple tips for Thanksgiving recipe planning.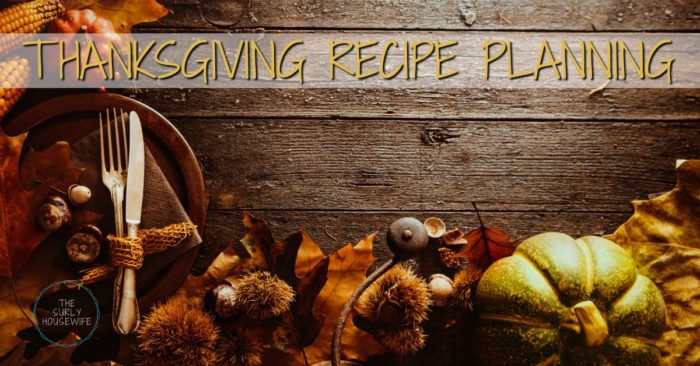 This post contains affiliate links. If you click and make a purchase, we earn a commission at NO extra cost to you. For more information, please read my full disclosure policy.
Thanksgiving has all the elements of a perfect holiday: food, family, and fun. I love sitting down to a big meal. I love spending time with all my family, and despite my introverted nature, I do like fun 😉 But let's face it, planning a Thanksgiving meal can be stressful, expensive, and tedious. But it doesn't have to be!! With my five tips, you can plan a delicious meal, have fun preparing it, and actually sit down and enjoy your meal.
Thanksgiving Recipe Planning
1. Change the menu sparingly!
It requires a little bit of legwork at first, but the following years will prove easy to plan as people already know their responsibilities. My sister is the host of Thanksgiving in our family. Her first year hosting, we planned the meal and haven't changed much since. Let me tell you, it makes planning so.much.easier. We might change who prepares a side or nix a dish that no one eats. But for the most part, the menu stays the same. It saves so much time!
2. Share the load.
Chances are if you don't have a chef's kitchen, you aren't gonna be able to cook the whole meal by yourself. Plus Thanksgiving is about being with your family. Cooking together as well as eating together. But how do you figure out who is going to be responsible for what? It leads me to tip number 3.
3. Use Social media.
Create a Facebook message or group email with all the guests who will be chipping in. Even those who don't cook can still lend a hand so don't be afraid to include them. More on that in tip 5. Start the ball rolling with a rough outline of a menu: turkey, mashed potatoes, etc. Ask who is willing to bring what. Ask for the best turkey recipe there is!! Who has the best side dish recipe? Best mashed potatoes? Stuffing? Look to Pinterest for inspiration if you get stuck on any aspect of the meal.
4. Slow cookers.
Use yours and ask others to bring theirs! So many things can be made in the slow cooker, plus other things can be cooked on the stove top (or precooked) and kept warm in the crock pot.
5. Sometimes homemade isn't best.
Remember those non-cooks I was talking about. Here is their opportunity to shine. Store bought rolls, pies, and appetizers are excellent ways to support local business and allows those who are short on time or traveling from a distance to contribute to the meal. Some other great things for the non-cooks in your family to be responsible for are decorations, extra chairs, plates and silverware, and beverages.
You can have too many cooks in the kitchen, but you can't have too many recipes when it comes to meal planning. I have included some links to some of our families favorite Thanksgiving recipes. I hope they they can inspire you to fill some of the holes in your menu!
Favorite Thanksgiving recipes
Roasted Butter Herb Turkey
Crock Pot Honey Baked Ham
Sage Sausage Stuffing (also made in the crock pot!)
Creamy Mashed Potatoes (can be made several days in advance!)
Roasted Butternut Squash Risotto
Corn Casserole
Best Ever Green Bean Casserole (not cream of mush here!)
Seven Layer Salad
Homemade Cloverleaf Rolls
Healthier Spinach Dip (Divine despite the name)
Creamy Pickle Dip (my ultimate fave!)
Brandy old fashioned
Thanksgiving is a time to count your blessings and be with those you love. Thanksgiving recipe planning does not need to be a chore! With these five tips and recipe recommendations you are prepared to have the best Thanksgiving ever!