Family movie night doesn't have to start with a fight. Use these tips and ideas to make the night drama-free.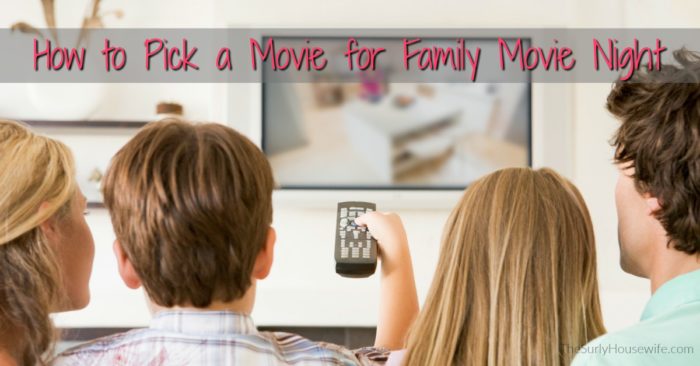 This post contains affiliate links. If you click and make a purchase, we earn a commission at NO extra cost to you. For more information, please read my full disclosure policy.
One of the hardest things about having kids, besides like actually raising them of course, is not being able to have your fun regular date nights. My husband and I used to LOVE going to the movies. We would see the new Harry Potter movie the day it came out. After work, we would head to the theatre and wait in line to make sure we would have good seats. A couple of times we drove 2 hours away to see the extended Lord the Rings version in a movie theatre! Insanely geeky, but it was an excellent time with friends.
If you love movies like we do, you are dying to share that with your kids. But movie night with your family isn't the same as a movie date night. For a few years, kids are too young to sit still through a whole movie. Plus your options are pretty limited.
Once the kids are finally ready for non-animated movies, either you aren't sure what is appropriate or the kids fight about which movie to watch!! I have a few tips and tricks for you today on how to pick out a movie for family movie night and how to make it drama free!
What to watch?
"What do you want to watch? I don't know. What do you want to watch?" This is the mantra of married couples everywhere. But picking out a movie should be the easiest part of family movie night.
Classic Movies
First off, start with movies you have already seen. It makes it much easier to gauge if it's appropriate for your kids if you have already know what happens. Start with your favorites growing up. My husband and I are children of the '80s so we have watched quite a few from this list from Thirty Homemade Days including The Princess Bride, Spaceballs, and The Goonies.
Binge watch a movie series like Indiana Jones, Star Wars, Pirates of the Caribbean, or Lord of the Rings. We spent the winter watching the Marvel movie series since hadn't seen ANY of them. It was a lot of fun and here is a link to the order we followed. The X-Men series is another fun one for the whole family to enjoy.
My kids aren't quite old enough to watch and enjoy The Godfather or The Shawshank Redemption but that doesn't mean we can't start watching some films from the best movies ever made list!! Imdb has a list of the top 250 movies as rated by the users. Or use this list from The Hollywood Reporter. Find a best movies ever list online that fits your family and start crossing them off!! It will ensure family movie night for years to come!
Other family movie night ideas
If your kids love a certain topic, like outer space or weather, you can find different movies to watch that relate to that topic. Some other ideas are sports, animals, movies made from popular children's books, dragons, or science fiction.
If all else fails and you can't decide, take turns having each family member pick a movie. You could do oldest to youngest or ladies first. Or you could do what we do in our house for screen time. The daughter who was born on the even day, picks on the even day. The daughter who was born on the odd day, picks on the odd day. Even/odd is an easy, no-nonsense way to pick. If they were both born on even days, try the month they were born, or the letters in their name, or letters in the month they were born. This method has saved us so many headaches.
Where to get the movie?
We have so many options for streaming and downloading these days, it can be a little overwhelming on where to get a movie. I summed up some of in this previous post. But to summarize you can rent movies from Redbox, borrow from the library, rent or buy from iTunes or Amazon, buy a physical dvd, or get them in the mail from dvd.com, the old Netflix dvd mail system.
How do I find out if new releases are available to watch?
Going to a movie in the theatre is so expensive. You can rent movies at home a few months after their release. If you are wondering when or if a newer movie is available, releases.com has movie releases for theaters, dvd, and blu-ray. A good rule of thumb is about three months after a film is in the theatere, it is available for rent or purchase online.
Is this movie even any good? Is it appropriate for family movie night?
I have two favorite websites/apps I use for this conundrum. Let's face it, no one likes to waste time and wasting time on a bad movie stinks. To judge if I want to see the movie I use Rotten Tomatoes. It has critics review AND audience reviews with makes it really easy to gauge if you will like the film.
To judge a movie's appropriateness, I use Common Sense Media. They break down the movie into seven categories as well as the age appropriateness of the movie. The seven categories are: positive messages, positive role models, violence, sex, language, consumerism, and drinking, drugs, and smoking. I love this because you can look and judge for yourself based on your family's beliefs and values.
Decision fatigue is a real thing and it can be hard to get bogged down with another decision. Picking out a movie for family movie night doesn't have to be a decision you dread. With these tips, choosing a movie is a breeze and you will be enjoying time with your family in no time!