My favorite hobby, jigsaw puzzles, is perfect for homeschool moms: fun AND educational!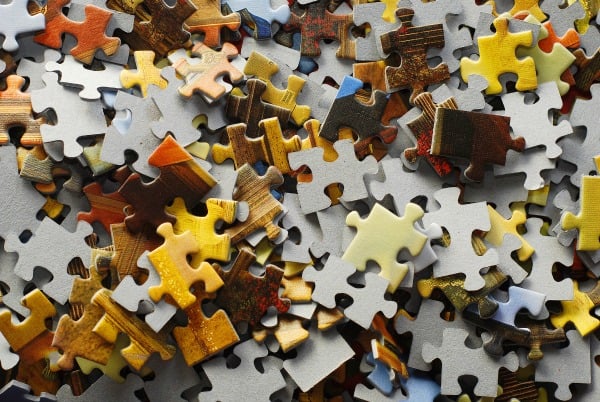 Raise your hand if you are as obsessed with jigsaw puzzles as I am?! I don't know when I turned 80 years old, but I've come to the realization that I'm "ecstatic-for-my-puzzle-of-the-month-club-puzzle" years old.
Benefits of Jigsaw Puzzles
As homeschool moms, we like to frame many things in the "how does this help us learn" category. Jigsaw puzzles are an excellent way for mom to practice self-care, but the whole family can benefit from this activity. Besides being fun and relaxing, puzzles help with reasoning, analyzing, sequencing, deduction, logical thought processes, problem solving skills, hand-eye coordination, and spatial arrangements. They also increase concentration, creativity, and helps sharpen our memory. But how?
Solving jigsaw puzzles are so amazing for us because they use both sides of our brain and forces them to work together. Think of puzzles as the "get along shirt" of the brain world. The left or analytical side sees all of the separate pieces and organizes them. The right or creative side sees the puzzle as a whole picture and puts it together based on that.
By exercising both sides of the brain at the same time, we create actual connections between the two opposite sides of our brain as well as between individual brain cells. This leads to increased brain function which helps our ability to learn, to comprehend, and to remember.
Studies have shown that exercising your brain with jigsaw puzzles and other cognitive challenging activities can actually reduce our chances of developing dementia and Alzheimer's Disease.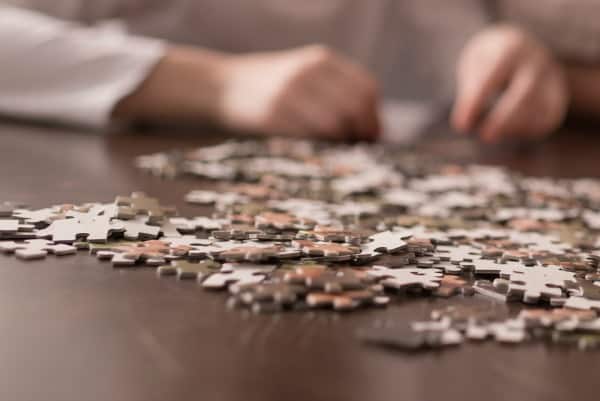 In addition to puzzles being good for our brains, they are also good for the soul. Puzzles are stress relievers! By focusing and concentrating on a puzzle, you are no longer occupying your mind with negative and stressful thoughts. This shift in focus creates a peaceful state of mind which decreases cortisol and blood pressure levels. Think of jigsaw puzzles as a form of focused meditation as it clears your mind of all to-do lists and stressors in your life.
Puzzles are also a great social activity. My love of puzzles was renewed when I saw several families on Instagram putting them together over the holiday season. I thought it would be a wonderful tradition to start with my own family. During our annual couple's weekend, we always have a puzzle set up one of the tables. Jigsaw puzzles are great for introverts and extroverts alike.
This post contains affiliate links. If you click and make a purchase, we earn a commission at NO extra cost to you. For more information, please read my full disclosure policy.
Types of Jigsaw Puzzles
For all these years, I thought there was just plain old jigsaw puzzles. While researching for this post, I found lots of different types of puzzles.
First are the run of the mill flat 2 dimensional jigsaw puzzles. They might feature landscapes, collages, recreations of works of art, photos of anything and everything, or paintings of any topic you can think of.
Next are the super difficult jigsaw puzzles. Think puzzles that are all the same color, round, two-sided, have extra pieces, or a difficult repeating pattern.
Recreate the Eiffel Tower, Hogwarts, or a perfect ball all in puzzle form!
These jigsaw puzzles combine both puzzling and murder mysteries. Read the story that comes with the puzzle, assemble the puzzle to find clues, and then solve the mystery. What a cool concept!
Wasjig, or "jigsaw" spelled backwards, is a puzzle you put together where the illustration you see on the box is different from the puzzle you are putting together. However, the box image and instructions hold clues to help you out.
Brands of Jigsaw Puzzles
People always have their preferences when it comes to brands of things. Here is a sampling of some of my favorite puzzle brands.
"Buffalo jigsaw puzzles combine popular licenses and work from talented artists with our 'signature snap,' so we know that every time you open a Buffalo box you're sure to have a great puzzling experience."
White Mountain Puzzles offers "colorful jigsaw puzzles from recognized artists that are available for all ages and at all levels of difficulty."
"From 300 pieces to the world's-largest 40,320 piece puzzle – and everything in between – Ravensburger has something for everyone!"
Melissa & Doug
They don't just make toys!
"Springbok has been a leading name in the puzzle world since 1963. Since Allied Products has taken on the challenge of upholding this world-famous name, we have focused on the qualities that give Springbok its reputation: originality, innovation and superior quality."
Where to Buy Jigsaw Puzzles
One of the great things about puzzles is that they are easy to find. No matter where I have bought my puzzle, I have never had a problem. Obviously Amazon is a great place to start. But I have found some of my favorite puzzles at WalMart, Target, and Shopko. Second-hand stores are another excellent source for puzzles as well as rummage sales.
Some other online resources include Puzzle Warehouse and Jigsaw Jungle.
Jigsaw Puzzle Accessories
Now to my favorite part of this post: accessories!! As I have gotten more interested in doing puzzles as a form of relaxation, I have found they take up a lot of space in my house. But no worries, the puzzle industry has you covered.
Organizers and Sorters
I love these sorters for keeping all your colors or types of pieces separate. I am sorting fool when it comes to puzzles.
Organizers allow you to sort all your pieces as well as put together your puzzle. This organizer helps you sort, assembly, store, and transport your jigsaw puzzles. It contains a 5-compartment sorting tray as well as a carrying case.
Portable Caddys and Roll-ups
If you (or your family) gets irritated at half done puzzles on your dining room table for weeks at a time, portable caddys and roll-ups might be for you.
Roll-ups allow you to "roll-up" your unfinished puzzle without worry about losing pieces or your progress.
Whereas caddies are more of a portable puzzle table. It's a lot like the organizer but it doesn't have sorting trays but rather side panels that allow you to sort and fits neatly on top of your puzzle for easy storage.
Tables
Pardon me while I geek out for a moment because puzzle tables might be one of my favorite things. I think because I love things that make you go "What a great idea!!" Or "Why didn't I think of that?" Anywho, here are some of my favorite puzzle tables.
Card-like tables with drawers added for extra storage.
As well as this tilt-up table which saves your back from being hunched over a puzzle for hours.
This fold-and-go table is pretty slick for setting up a puzzle and then putting away for flat storage.
A tabletop spinner for your game room.
And this tableau table that comes on wheels! Tilt, roll, and store.
Glue and Frames
Puzzle glue is pretty straight forward, but if glueing a whole puzzle seems daunting, you might want to try the peel and stick method!

I haven't glued and framed a puzzle before but it's something I'm excited to do in future home decoration projects. This post from Puzzle Warehouse is a good place to start if you are looking to frame one of your amazing puzzles.
I love doing puzzles, and I think many homeschool moms can benefit from this relaxing activity. Kids can participate if they want to, they lend themselves well to constant interruptions, and they are inexpensive. I hope this post gives some inspiration to try puzzling as a hobby. Thanks for reading!