Keep reading for 10 survival books for kids!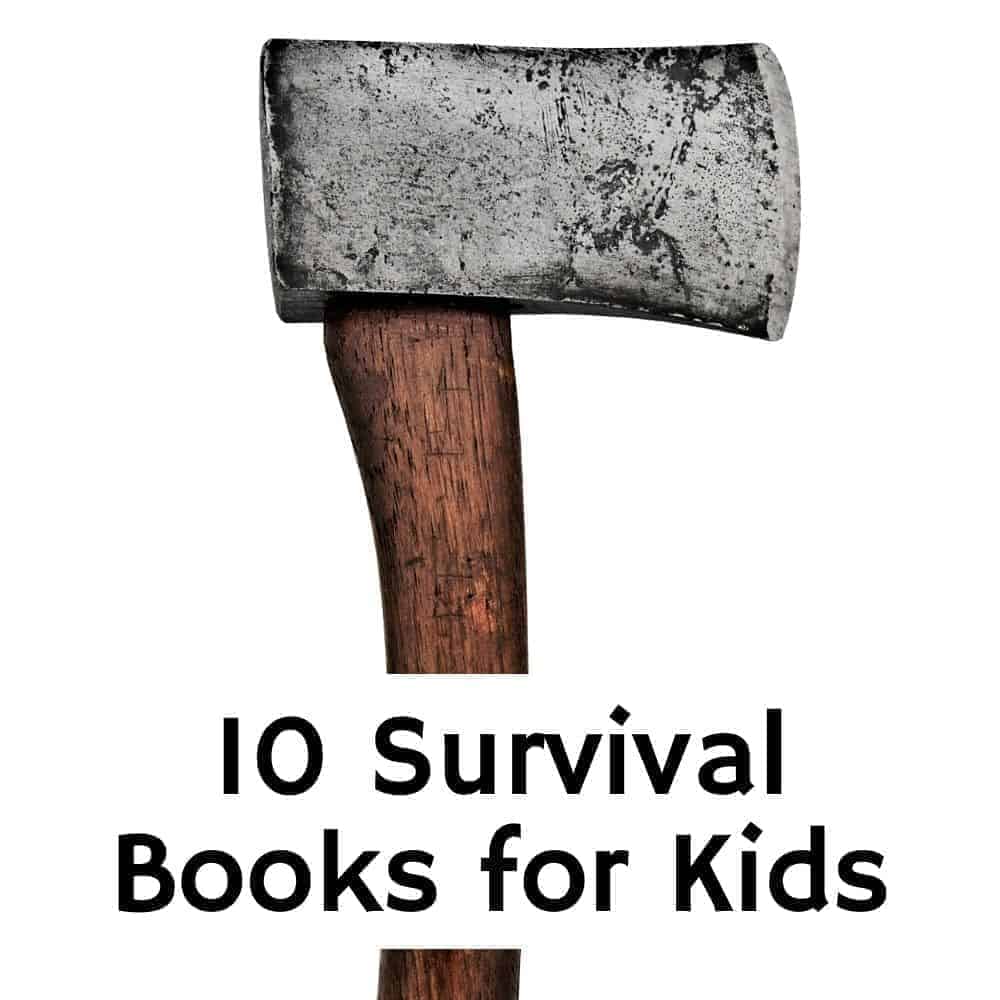 Once upon a time, when I was a college student we were asked to bring in a book that we loved as a kid. It didn't need to be our favorite book, just one that we really enjoyed.
I brought in My Side of the Mountain, the classic story of Sam Gribley who runs away to the Catskill mountains to create a life of his own. I said I really enjoyed the book because "Who doesn't dream of running away from home and living off the land?"
Silence. And blank stares.
Apparently, to a room of mostly 20-something females, they thought I was bizarre. And maybe I was. I probably still am. I love tragic love stories, I could debate the merits of The Sopranos vs Breaking Bad all day long, and I homeschool my kids who are every bit as strange and lovable as I am.
The oldest of which LOVES the book Hatchet, so this book list comes out of necessity when trying to find the next book for her to read. I came up with 10 that I hope fit the bill!!
This post contains affiliate links. If you click and make a purchase, we earn a commission at NO extra cost to you. For more information, please read my full disclosure policy.
10 Books Like Hatchet
Julie of the Wolves by Jean Craighead George
"Miyax rebels against a home situation she finds intolerable. She runs away toward her pen pal, who she calls Julie. But soon Miyax is lost in the Alaskan wilderness, without food, without even a compass. Slowly she is accepted by a pack of Arctic wolves, and she comes to love them as if they were her brothers. With their help, and drawing on her father's training, she struggles day by day to survive. In the process, she is forced to rethink her past, and to define for herself the traditional riches of Eskimo life: intelligence, fearlessness, and love."
My Side of the Mountain by Jean Craighead George
"Sam Gribley is terribly unhappy living in New York City with his family, so he runs away to the Catskill Mountains to live in the woods—all by himself. With only a penknife, a ball of cord, an ax, $40, and some flint and steel, he must rely on his ingenuity and on the resources of the land to survive. And survive he does. This is Sam's fascinating account of his live in the wild and what he learns about the wilderness, and himself, in the process."
The Sign of the Beaver by Elizabeth George Speare
"Although he faces responsibility bravely, thirteen-year-old Matt is more than a little apprehensive when his father leaves him alone to guard their new cabin in the wilderness. When a renegade white stranger steals his gun, Matt realizes he has no way to shoot game or to protect himself. When Matt meets Attean, a boy in the Beaver clan, he discovers new ways to survive in the forest. Matt also began to better understand the heritage and way of life the Beaver clan and their growing problem in adapting to the white man and the changing frontier."
Island of the Blue Dolphins by Scott O'Dell
"This is the story of Karana, the Indian girl who lived alone for years on the Island of the Blue Dolphins. Year after year she watched one season pass into another and waited for a ship to take her way. But while she waited, she kept herself alive by building shelter, making weapons, finding food, and fighting her enemies, the wild dogs. Hers is not only an unusual adventure of survival, but also a tale of natural beauty and personal discovery."
The Long Winter by Laura Ingalls Wilder
"The first terrible storm comes to the barren prairies in October. Then it snows almost without stopping until April. Snow has reached the rooftops, and no trains can get through with food or coal. The people of De Smet are starving, including the Ingalls family, who wonder how they're going to make it through this terrible winter. It is young Almanzo Wilder who finally understands what needs to be done. He must save the town, even if it means risking his own life."
The Swiss Family Robinson (Classic Starts Series) by Johann David Wyss
"A shipwreck; a deserted island; a single family, wondering if they can survive. Rich in suspense and surprises, The Swiss Family Robinson entices young readers to come along on a wonderful adventure, where each moment brings a new thrill. Featuring amazingly resourceful characters and a wondrous landscape bursting with exotic wildlife and plants, it's an irresistible tale of ingenuity."
This is an annotated version of Swiss Family Robinson, but don't let that discourage you! My kids LOVE these versions as the vocabulary is much easier to understand as well as illustrations.
Lord of the Flies by William Golding
"At the dawn of the next world war, a plane crashes on an uncharted island, stranding a group of schoolboys. At first, with no adult supervision, their freedom is something to celebrate; this far from civilization the boys can do anything they want. Anything. They attempt to forge their own society, failing, however, in the face of terror, sin and evil. And as order collapses, as strange howls echo in the night, as terror begins its reign, the hope of adventure seems as far from reality as the hope of being rescued."
Treasure Island (Classic Starts Series) by Robert Louis Stevenson
"Pirates, buried treasure, and action aplenty—that's what's served up in this fine story, mates, and kids will eat it up. After Jim Hawkins finds the map to a mysterious treasure, he sets sail in search of the fortune. Little does he realize he's boarded a pirate ship, and that surprises and danger await him . . . including a meeting with the unforgettable Long John Silver."
Although the story is abridged, the quality is not. My kids LOVED the story of Treasure Island when I read it aloud when they were around 5 years old!
"It's true that their mother has abandoned the four Tillermans in a mall parking lot somewhere in the middle of Connecticut. They have to find their own way to Great-aunt Cilla's house in Bridgeport. They need to spend as little as possible on food and seek shelter anywhere that is out of view of the authorities. The only way they can hope to all stay together is to just keep moving forward."
A different story of survival, but a gripping story nonetheless!
"After fourteen-year-old Peak Marcello is arrested for scaling a New York City skyscraper, he's left with two choices: wither away in Juvenile Detention or go live with his long-lost father, who runs a climbing company in Thailand. But Peak quickly learns that his father's renewed interest in him has strings attached. Big strings. As owner of Peak Expeditions, he wants his son to be the youngest person to reach the Everest summit–and his motives are selfish at best. Even so, for a climbing addict like Peak, tackling Everest is the challenge of a lifetime. But it's also one that could cost him his life."
And here are my 10 survival and adventure books that kids will love! I hope you found a book your and your family will enjoy. Thanks for reading!