Keep reading for beginner chapter books for independent reading time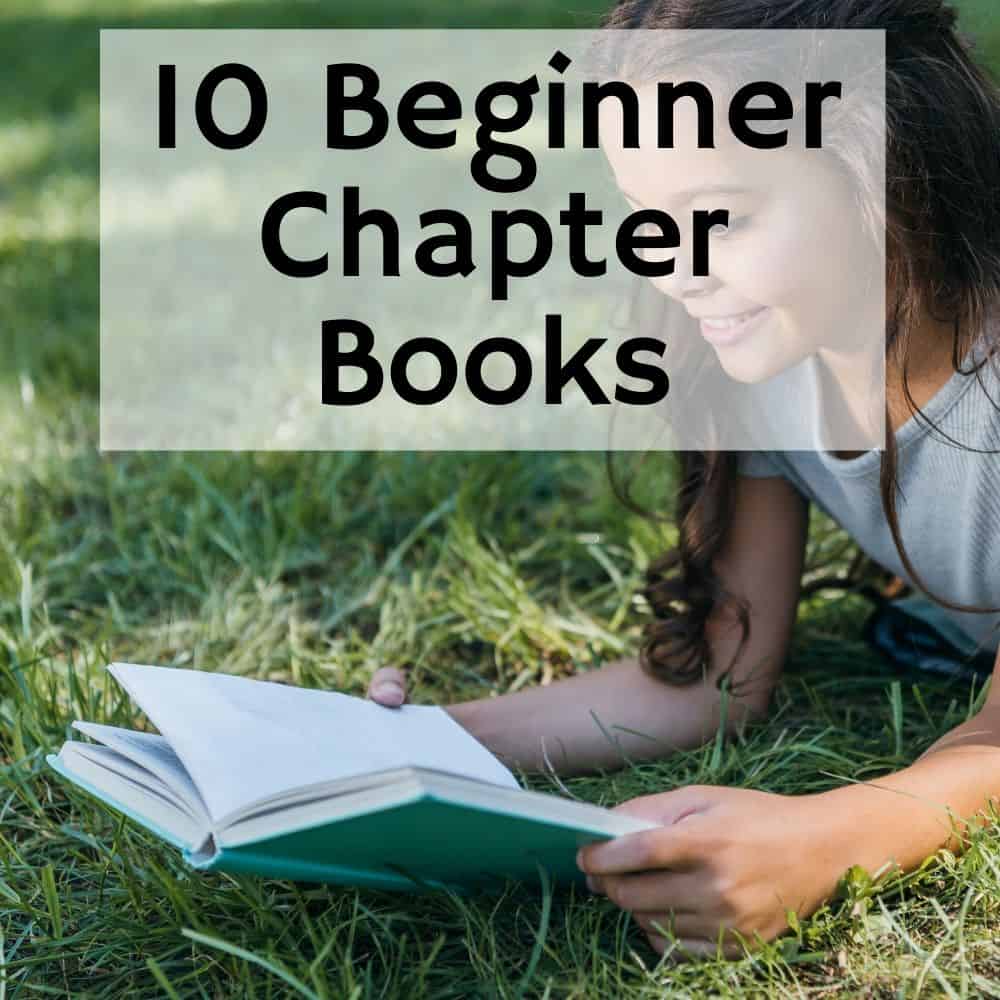 I love a good picture book, but nothing quite gets my reading juices flowing like a good chapter book. I think it's because chapter books are where I really started to fall in love with reading.
If your kids are anything like mine, they enjoy being read to but when it comes to reading for themselves they prefer chapter books to picture books. Finding a good chapter book for beginning readers can be a little bit of a challenge.
You don't what the language and story to be too far beyond their reading level because then they spend their brain energy decoding rather than enjoying the story. And when they spend all their energy decoding they are more likely to get frustrated and quit reading.
This frustration is why shorter, beginner chapter books are a great, and often overlooked, source of literature for kids. Whether they are an advanced reader or a late reader, beginner chapter books are a great way to advance a lifelong love of reading
This post contains affiliate links. If you click and make a purchase, we earn a commission at NO extra cost to you. For more information, please read my full disclosure policy.
Beginner Chapter Books
"Is Nick Allen a troublemaker? He really just likes to liven things up at school — and he's always had plenty of great ideas. When Nick learns some interesting information about how words are created, suddenly he's got the inspiration for his best plan ever…the frindle. Who says a pen has to be called a pen? Why not call it a frindle? Things begin innocently enough as Nick gets his friends to use the new word. Then other people in town start saying frindle. Soon the school is in an uproar, and Nick has become a local hero. His teacher wants Nick to put an end to all this nonsense, but the funny thing is frindle doesn't belong to Nick anymore. The new word is spreading across the country, and there's nothing Nick can do to stop it."
Mr. Popper's Penguins by Richard Atwater
"Mr. Popper's Penguins is one of the handful of American books for children that has attained the status of a classic. A humble house painter is sent a male penguin by the great Admiral Drake and, thanks to the arrival of a female penguin, soon has twelve penguins living in his house. First published in 1938, Mr. Popper's Penguins has amused and enchanted generations of children and their parents."
Easy Chapter Book Series
I have found that series of chapter books do really well with kids. Here are some of our favorites!
Clementine by Sara Pennypacker
The first in a series of six books. "When Clementine's best friend and neighbor, Margaret, comes to her with a problem, Clementine goes to many lengths to help her friend. This sets off a rollicking adventure-filled week that finds Clementine getting into and out of further trouble, while learning valuable life lessons."
Mercy Watson to the Rescue by Kate DiCamillo
"To Mr. and Mrs. Watson, Mercy is not just a pig — she's a porcine wonder. And to the portly and good-natured Mercy, the Watsons are an excellent source of buttered toast, not to mention that buttery-toasty feeling she gets when she snuggles into bed with them. Welcome to the wry and endearing world of Mercy Watson — an ebullient character for early chapter-book readers in a series that's destined to be a classic." Book 1 in a series of 6!
The 13-Story Treehouse: Monkey Mayhem! by Andy Griffiths
"Andy and Terry live in a treehouse. But it's not just any old treehouse, it's the most amazing treehouse in the world! This treehouse has thirteen stories, a bowling alley, a see-through swimming pool, a secret underground laboratory, and a marshmallow machine that follows you around and automatically shoots marshmallows into your mouth whenever you are hungry. Life would be perfect for Andy and Terry if it wasn't for the fact that they have to write their next book, which is almost impossible because there are just so many distractions, including thirteen flying cats, giant bananas, mermaids, a sea monsters pretending to be mermaids, enormous gorillas, and dangerous burp gas-bubblegum bubbles!"
This book is the 1st in a series of 8 where each book gets more levels added to the treehouse. Short chapters, many illustrations, and wacky antics make this a favorite with my kids.
If you like this list, check out these other reading lists!
How to Train Your Dragon by Cressida Cowell
"Hiccup Horrendous Haddock III, the quiet and thoughtful son of the Chief of the Hairy Hooligans, tries to pass the important initiation test of his Viking clan by catching and training a dragon. Can Hiccup do it without being torn limb from limb? Join his adventures and misadventures as he finds a new way to train dragons–and becomes a hero. This action-packed, hilarious, and perfectly illustrated novel is a modern classic beloved by millions across the globe."
How to Train your Dragon is the first book in a series of 12 and my kids fell in love with it before Harry Potter. If you child has a hard time reading it, try the audiobook narrated by David Tennant, it's in my top 10 audiobooks!
Mrs. Piggle-Wiggle by Betty MacDonald
"Meet Mrs. Piggle-Wiggle! She lives in an upside-down house with a kitchen that is always full of freshly baked cookies. She was even married to a pirate once! Best of all, she knows everything there is to know about children. Perfect for fans of Mary Poppins and Nanny McPhee, this classic series is all about learning and problem-solving. Young readers will love this book."
Treasure Hunters by James Patterson
"The Kidd siblings have grown up diving down to shipwrecks and traveling the world, helping their famous parents recover everything from swords to gold doubloons from the bottom of the ocean. But after their parents disappear on the job, the kids are suddenly thrust into the biggest treasure hunt of their lives. They'll have to work together to defeat dangerous pirates and dodge the hot pursuit of an evil treasure hunting rival, all while following cryptic clues to unravel the mystery of what really happened to their parents-and find out if they're still alive."
1st in a series of six books that my kids love! It's filled with wacky adventures and family quirks.
A Bear Called Paddington by Michael Bond
"Paddington Bear had traveled all the way from Peru when the Browns first met him in Paddington Station. Since then, their lives have never been quite the same . . . for ordinary things become extraordinary when a bear called Paddington is involved. First published in 1958, A Bear Called Paddington is the first novel by Michael Bond, chronicling the adventures of this lovable bear. Paddington has charmed readers for generations with his earnest good intentions and humorous misadventures."
"To start, Judy Moody doesn't have high hopes for third grade. Her new desk won't have an armadillo sticker with her name on it. Her new classroom will not have a porcupine named Roger. And with her luck, she'll get stuck sitting in the first row, where Mr. Todd will notice every time she tries to pass a note to her best friend, Rocky. An aspiring doctor, Judy does have a little brother who comes in handy for practicing medicine, a cool new pet, and a huge Band-Aid collection."
Judy Moody is a series of 12 books including several spin-offs.
Judy Moody is just one of a series early readers that kids seem to gravitate to. I have linked some other similar ones below including Nate the Great and the Magic Treehouse series!
Helping your kids pick out books is every bookworm's dream. With this list, I'm sure your child will be well on their way to becoming a bookworm themselves. Thanks for reading!