Keep reading for 10 animal fiction books for kids!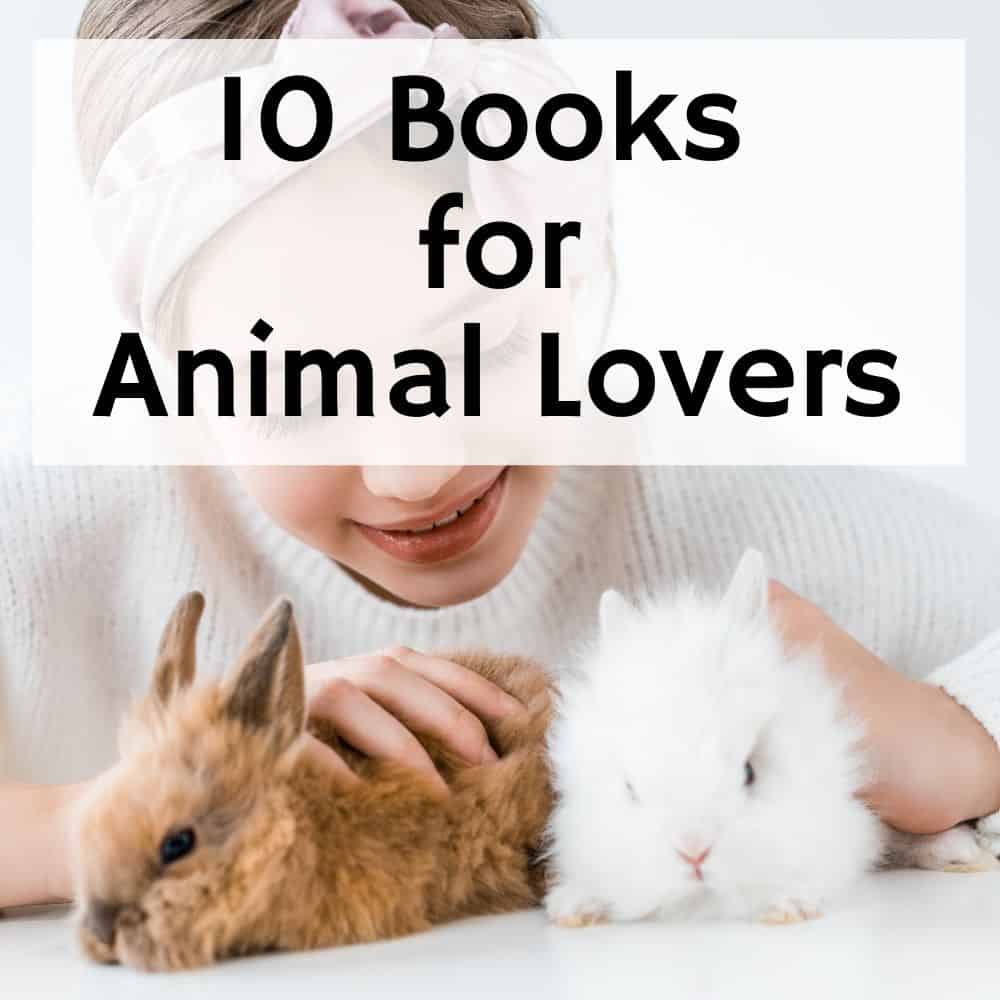 One of the things I love most about books is that they combine my two favorite things: stories and interesting words. I'm not a giant vocabulary buff but I do love learning new and interesting words.
Words like xenofiction. What is xenofiction do you ask? Xenofiction is a story that is told from the point of view of a non-human: animals, aliens, monsters, AI beings.
I totally geek out when I learn new words like this! It also makes me think about books in a new and interesting way. What are all the books that are told from a non-human POV?!
Today's blog post has a list of 10 books for animal lovers. Five "normal" books featuring animals, and five xenofiction books from an animal point of view.
This post contains affiliate links. If you click and make a purchase, we earn a commission at NO extra cost to you. For more information, please read my full disclosure policy.
Animal Fiction Books
Mr. Popper's Penguins by Richard Atwater
"A humble house painter is sent a male penguin by the great Admiral Drake and, thanks to the arrival of a female penguin, soon has twelve penguins living in his house. First published in 1938, Mr. Popper's Penguins has amused and enchanted generations of children and their parents."
"In 1918 Wisconsin, 11-year-old Sterling North has an almost perfect life. He keeps skunks in the backyard, goes everywhere with his enormous Saint Bernard, and is building a canoe in the living room. The only trouble is life gets a little lonely for him and his father since his mother died. While scouting around the woods one afternoon, he discovers an abandoned, month-old raccoon. Afraid the kit will die on its own, he takes it home to join his menagerie. Soon Sterling and the mischievous raccoon Rascal are sharing one adventure after another, swimming, fishing, and camping. Theirs is an unforgettable friendship and a heart-warming classic story."
My Side of the Mountain by Jean Craighead George
My Side of the Mountain tells the story of Sam Gribley. Sam runs away from his overcrowded New York City apparent to live in the Catskill Mountains – all by himself. There, with the help of his falcon Frightful, he learns to live in the wild and learns about himself in the process.
The Enormous Egg by Oliver Butterworth
"It all started the day Nate Twitchell's hen laid this enormous egg, and tried to hatch it! It was so big Nate had to help her turn it every few hours. Nate worked so hard that it seemed to him he practically hatched the egg himself. With such a big egg you couldn't guess whether a whole brood of chickens would hatch out of it, or what. Well, what did? You better let Nate himself tell you!"
Where the Red Fern Grows by Wilson Rawls
"Billy, Old Dan, and Little Ann—a boy and his two dogs. A loving threesome , they ranged the dark hills and river bottoms of Cherokee country. Old Dan had the brawn, Little Ann had the brains, and Billy had the will to train them to be the finest hunting team in the valley. Glory and victory were coming to them, but sadness waited too. And close by was the strange and wonderful power that's only found Where the Red Fern Grows. An exciting tale of love and adventure you'll never forget."
Xenofiction
Flora and Ulysses: The Illuminated Adventures by Kate DiCamillo
"It begins, as the best superhero stories do, with a tragic accident that has unexpected consequences. The squirrel never saw the vacuum cleaner coming, but self-described cynic Flora Belle Buckman, who has read every issue of the comic book Terrible Things Can Happen to You!, is the just the right person to step in and save him. What neither can predict is that Ulysses (the squirrel) has been born anew, with powers of strength, flight, and misspelled poetry — and that Flora will be changed too, as she discovers the possibility of hope and the promise of a capacious heart."
The One and Only Ivan by Katherine Applegate
"This unforgettable novel from renowned author Katherine Applegate celebrates the transformative power of unexpected friendship. Inspired by the true story of a captive gorilla known as Ivan, this illustrated book is told from the point of view of Ivan himself.
Having spent twenty-seven years behind the glass walls of his enclosure in a shopping mall, Ivan has grown accustomed to humans watching him. He hardly ever thinks about his life in the jungle. Instead, Ivan occupies himself with television, his friends Stella and Bob, and painting. But when he meets Ruby, a baby elephant taken from the wild, he is forced to see their home, and his art, through new eyes."
"Some Pig. Humble. Radiant. These are the words in Charlotte's Web, high up in Zuckerman's barn. Charlotte's spiderweb tells of her feelings for a little pig named Wilbur, who simply wants a friend. They also express the love of a girl named Fern, who saved Wilbur's life when he was born the runt of his litter."
---
Watership Down by Richard Adams
"Richard Adams's Watership Down is a timeless classic and one of the most beloved novels of all time. Set in the Hampshire Downs in Southern England, an idyllic rural landscape, this stirring tale follows a band of rabbits in flight from the incursion of man and the destruction of their home. Led by a stouthearted pair of brothers, they travel from their native burrows to a mysterious promised land and a more perfect society."
Mrs. Frisby and the Rats of NIMH by Robert C. O'Brien
"Mrs. Frisby, a widowed mouse with four small children, is faced with a terrible problem. She must move her family to their summer quarters immediately, or face almost certain death. But her youngest son, Timothy, lies ill with pneumonia and must not be moved. Fortunately, she encounters the rats of NIMH, an extraordinary breed of highly intelligent creatures, who come up with a brilliant solution to her dilemma. And Mrs. Frisby in turn renders them a great service."
There you have it! 10 animal fiction books for kids. I hope you found this list helpful. Thanks for stopping by!