Keep reading for over fifty books that boys will love!!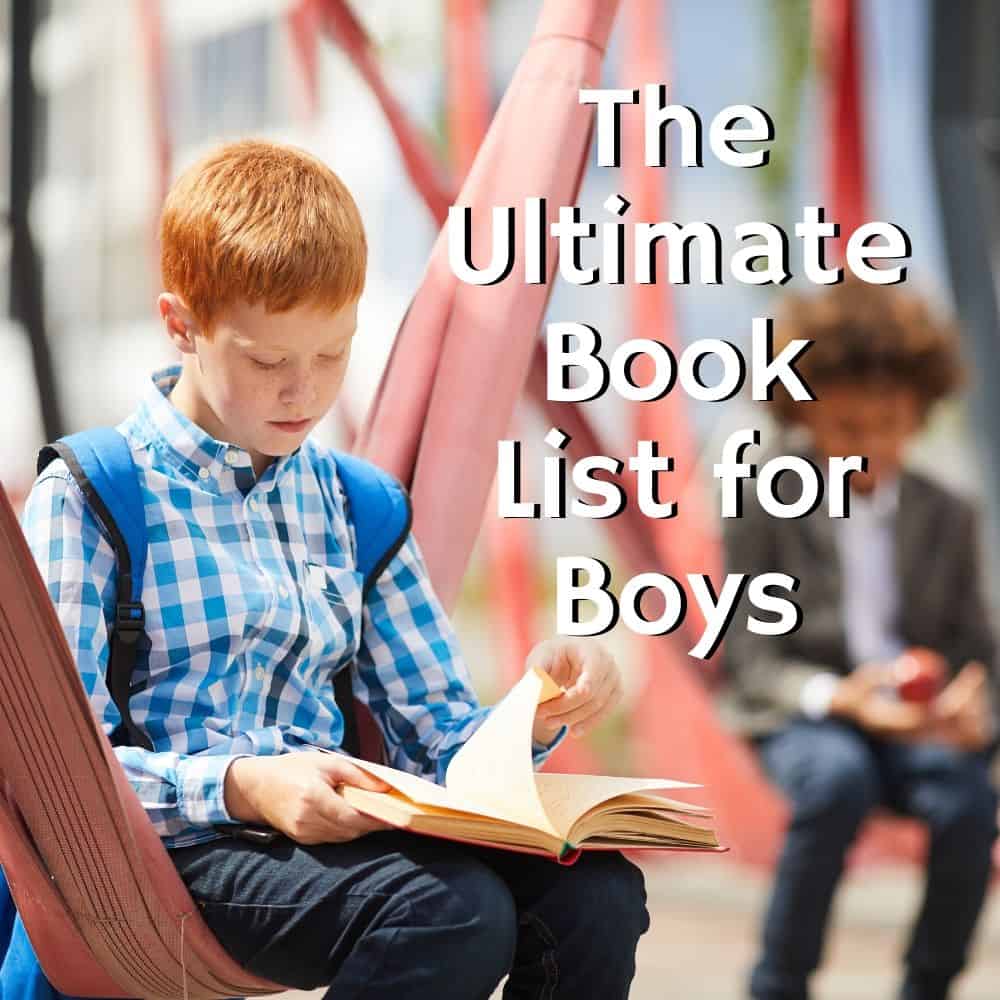 In her 1925 essay titled "How Should One Read a Book?," Virginia Woolf said: "The only advice, indeed, that one person can give another about reading is to take no advice, to follow your own instincts, to use your own reason to come to your own conclusions. If this is agreed between us, then I feel at liberty to put forward a few ideas and suggestions because you will not allow them to fetter that independence which is the post important quality that a reader can possess."
I don't think I can describe the epiphany that came over me when I first read this quote. I love recommending books to families. I love reading and discovering books and sharing them with others. But none of that really matters if you don't trust your own reading instinct.
All this to say, YOU know your child best. You know what kinds of books they like or don't like. It doesn't mean you don't try to occasionally introduce them to something new, it means you set the bar in a certain place. Any book you suggest to your child needs to meet that bar. I can't tell you what that bar is, only you can!
It can be tricky when your kids first start reading and you aren't sure WHAT to suggest but never fear! This post is here to help. It features several book lists for boys.
Boys aren't reluctant readers, they are discerning readers. They know what they like and if they are going to sit still and read, it better be a good book. So, to make it super easy for you to find books for boys, I have put all my book blog posts for boys in one place!! Following each post, I put in what my absolute FAVORITE book from that list is.
The first two books on this list are books that I recommend EVERY kid read!
This post contains affiliate links. If you click and make a purchase, we earn a commission at NO extra cost to you. For more information, please read my full disclosure policy.
Books All Kids Should Read
"Fifth grade was the worst year of Marc's life. He stunk at gym class, he can't swim, and he can't do his times tables. And the most awful thing about fifth grade? Kenny Williamson, the class bully, who calls himself the King of the Jungle Gym. When Marc's mother tells him that his uncle Jake is coming to stay for the whole summer, Marc can't wait. Uncle Jake is a for-real, super-cool Navy SEAL. And Uncle Jake has a plan. He's going to turn Marc into a warrior. Becoming a warrior isn't easy. It involves a lot of pull-ups, sit-ups, push-ups, squats, swimming, eating right, and studying harder than ever before! Can Marc transform himself into a warrior before school starts in the fall and finally stand up to the King of the Jungle Gym?"
The life lessons your kids will learn from this book are mind-blowing. If you value hard work, healthy habits, humility, and learning how to be a better person. This is the book for you!
"A normal kid doesn't push himself-a Warrior Kid does. A normal kid doesn't work constantly to improve himself-a Warrior Kid does. I look at all these problems you cried to me about yesterday. A Warrior Kid wouldn't cry about those problems. A Warrior Kid would DO something about those problems!"
After Way of the Warrior Kid, my second book recommendation is always the Harry Potter series. Harry Potter, The Boy Who Lived, The Chosen One, Potter, whichever you call him, HP is a phenomenal books for kids of all ages because of J.K. Rowling's masterful storytelling. Her true gift is in combining all the genres of fantasy and fiction together into this mishmash of wonderfulness!
Even if your child doesn't like Harry Potter, there will be some aspect of the story that they love. It could be the magical elements or the mystery and adventures or the dark prophecy. That's why I think it's a great book to get your kid hooked on reading because there will be SOMETHING in the book that sparks their interest.
"Happiness can be found in the darkest of times, if one only remembers to turn on the light."
Books For Boys
My favorite book from this list is the fun and adventurous Small Adventures of Popeye and Elvis.
"Nothing ever happens in Fayette, South Carolina. That's what Popeye thinks, anyway. His whole life, everything has just been boring, boring, boring. But things start to look up when the Jewells' Holiday Rambler makes a wrong turn and gets stuck in the mud, trapping Elvis and his five rowdy siblings in Fayette for who knows how long. Then things get even better when something curious comes floating down the creek (a series of boats with secret messages) and Popeye and Elvis set out on a small adventure. Who could possibly be sending the notes and what do they mean?"
One of the first chapter books I read aloud to my kids, The 13-Story Treehouse, is silly, fun, and perfect for boys!
"Andy and Terry live in a treehouse. But it's not just any old treehouse, it's the most amazing treehouse in the world! This treehouse has thirteen stories, a bowling alley, a see-through swimming pool, and a marshmallow machine. Life would be perfect for Andy and Terry if it wasn't for the fact that they have to write their next book, which is almost impossible because there are just so many distractions, including thirteen flying cats, giant bananas, enormous gorillas, and dangerous burp gas-bubblegum bubbles!
Summer of the Monkeys is not only my favorite on this list, but one of my favorite middle grade novels ever!
"The last thing fourteen-year-old Jay Berry Lee expects to find while trekking through the Ozark Mountains of Oklahoma is a tree full of monkeys. But then Jay learns from his grandpa that the monkeys have escaped from a traveling circus, and there's a big reward for the person who finds and returns them. His family could really use the money, so Jay sets off, determined to catch them. But by the end of the summer, Jay will have learned a lot more than he bargained for and not just about monkeys."
"You know, if a fellow can learn something through experience when he's young, he doesn't ever forget it."
Little Britches was one of our first family read alouds and we still discuss it to this day!
"Ralph Moody was eight years old in 1906 when his family moved from New Hampshire to a Colorado ranch. Through his eyes we experience the pleasures and perils of ranching there early in the twentieth century. Auctions and roundups, family picnics, irrigation wars, tornadoes and wind storms give authentic color to Little Britches. So do adventures, wonderfully told, that equip Ralph to take his father's place when it becomes necessary."
"You know, Son, sometimes a fellow has to take a licking for doing the right thing. A licking only lasts a short while, even if it's a hard one, but failing to do the right thing will often make a mark on a man that will last forever."
Boys love books filled with adventure, survival, and the wilderness. My favorite book on this list has all three!
"Sam Gribley is terribly unhappy living in New York City with his family, so he runs away to the Catskill Mountains to live in the woods all by himself. With only a penknife, a ball of cord, forty dollars, and some flint and steel, he intends to survive on his own. Sam learns about courage, danger, and independence during his year in the wilderness, a year that changes his life forever."
"Fortunately, the sun has a wonderfully glorious habit of rising every morning. When the sky lightened, when the birds awoke, I knew I would never again see anything so splendid as the round red sun coming up over the earth."
I update this post often so make sure you check back in to find more wonderful books for boys!