Keep reading for 20 of the best books about Alabama!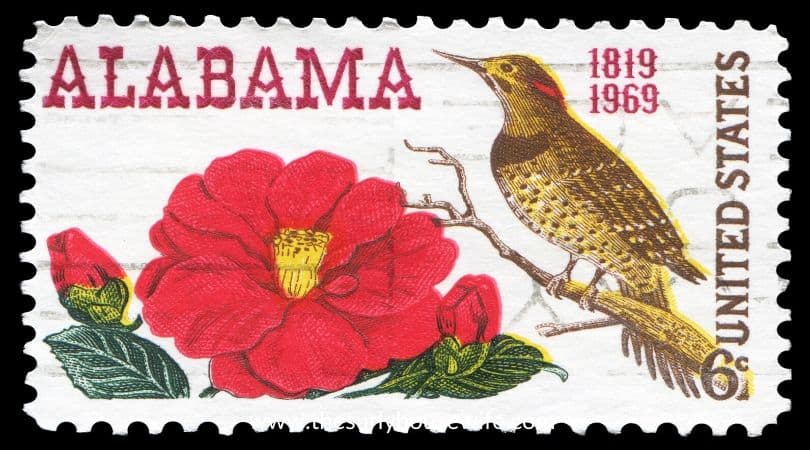 Did you know the Tennessee–Tombigbee Waterway is five times longer the the Panama Canal? The 234 mile man-made waterway stretches from the Tennessee River in Northeast Mississippi to Demopolis, Alabama. The goal of the project was to connect the gap between the Tennessee River (in Northern Alabama) and the Tombigbee River (Southern Alabama) so commercial boats could reach the Gulf of Mexico.
However, studying and learning about Alabama is more than memorizing its waterways and construction projects. My approach to homeschooling involves what as Charlotte Mason coined, living books. Living books are books that make the subject you are studying come alive and are written by people who love the subject.
While this book list might not contain nonfiction books filled with facts and figures about Alabama, they DO make the state of come alive to the reader. This book list contains picture and chapter books set in Alabama as well as books on the civil rights movement, Rosa Parks, and Helen Heller. Let's get started!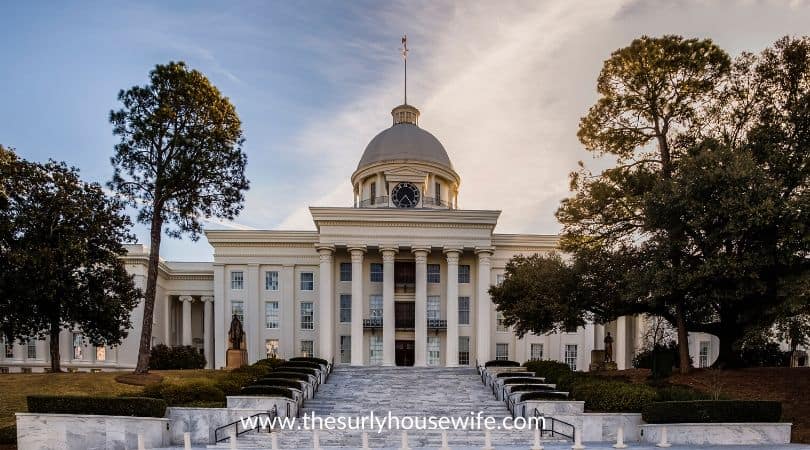 ICYMI! Here are the lists for the other states!
Alabama History and Facts
Alabama is nicknamed the Yellowhammer State.
Motto – We dare defend our rights.
Alabama entered the Union on December 14, 1819. It was the 22nd state.
Alabama means "tribal town in Creek Indian."
William King, the 13th Vice President of the United States, was a state Senator from Alabama.
Montgomery is the capital of Alabama.
This post contains affiliate links. If you click and make a purchase, we earn a commission at NO extra cost to you. For more information, please read my full disclosure policy.
Living Books about Alabama
Children's Books Set in Alabama
Picture Books Set in Alabama
Saturdays and Teacakes by Lester Laminack
"'When I was nine or ten years old I couldn't wait for Saturdays.' In this poetic memory, a young boy rides his bicycle every Saturday up and down country roads past farms, a graveyard, and a filling station, until he reaches his beloved Mammaw's house. She is waiting for him. While she picks tomatoes, he pushes the lawnmower through the dew-wet grass. Afterwards, he always helps her make teacakes from scratch, breaking the eggs and stirring the batter. But the best part, he remembers, is eating the hot, sweet cakes fresh from the oven. Lester Laminack's richly detailed prose perfectly portrays the special relationship of a young boy and his grandmother."
Stitchin' and Pullin': A Gee's Bend Quilt by Patricia McKissack
"For generations, the women of Gee's Bend have made quilts to keep a family warm, a pastime accompanied by sharing and singing, or to memorialize loved ones. Today, the same quilts hang on museum walls as modern masterpieces of color and design. Inspired by these quilts and the women who made them, award-winning author Patricia C. McKissack traveled to Alabama to learn their stories. The lyrical rite-of-passage narrative of her journey seamlessly weaves together the familial, cultural, spiritual, and historical strands of life in this community."
Alabama Spitfire: The Story of Harper Lee and To Kill a Mockingbird by Bethany Hegedus
"The inspiring true story of Harper Lee, the girl who grew up to write To Kill a Mockingbird. Nelle Harper Lee grew up in the rocky red soil of Monroeville, Alabama. From the get-go she was a spitfire. Unlike most girls at that time and place, Nelle preferred overalls to dresses and climbing trees to tea parties. Nelle loved to watch her daddy try cases in the courtroom. And she and her best friend, Tru, devoured books and wrote stories of their own. More than anything Nelle loved words. This love eventually took her all the way to New York City, where she dreamed of becoming a writer. Any chance she had, Nelle sat at her typewriter, writing, revising, and chasing her dream. Nelle wouldn't give up. Not until she discovered the right story, the one she was born to tell."
Chapter Books set in Alabama
Inside Out and Back Again by Thanhhà Lai
"Inspired by the author's childhood experience as a refugee (fleeing Vietnam after the Fall of Saigon and immigrating to Alabama) this coming-of-age debut novel told in verse has been celebrated for its touching child's-eye view of family and immigration. A moving story of one girl's year of change, dreams, grief, and healing. An author's note explains how and why Thanhha Lai translated her personal experiences into Hà's story as well as an interview with the author.
The Watson's go to Birmingham by Christopher Paul Curtis
"Enter the hilarious world of ten-year-old Kenny and his family, the Weird Watsons of Flint, Michigan. There's Momma, Dad, little sister Joetta, and brother Byron, who's thirteen and an 'official juvenile delinquent.' When Byron gets to be too much trouble, they head South to Birmingham to visit Grandma, the one person who can shape him up. And they'll be in Birmingham during one of the darkest moments in America's history."
Gone Crazy in Alabama by Rita Williams-Garcia
"The story of the Gaither sisters as they travel from the streets of Brooklyn to the rural South for the summer of a lifetime. Delphine, Vonetta, and Fern are off to Alabama to visit their grandmother Big Ma and her mother, Ma Charles. Across the way lives Ma Charles's half sister, Miss Trotter. The two half sisters haven't spoken in years. As Delphine hears about her family history, she uncovers the surprising truth that's been keeping the sisters apart. But when tragedy strikes, Delphine discovers that the bonds of family run deeper than she ever knew possible."
"For as long as ten-year-old Moon can remember, he has lived out in the forest in a shelter with his father. They keep to themselves, their only contact with other human beings an occasional trip to the nearest general store. When Moon's father dies, Moon follows his father's last instructions: to travel to Alaska to find others like themselves. But Moon is soon caught and entangled in a world he doesn't know or understand; he's become property of the government he has been avoiding all his life. As the spirited and resourceful Moon encounters constables, jails, institutions, lawyers, true friends, and true enemies, he adapts his wilderness survival skills and learns to survive in the outside world, and even, perhaps, make his home there."
Leaving Gee's Bend by Irene Latham
"Ludelphia Bennett may be blind in one eye, but that doesn't mean she can't put in a good stitch. In fact, Ludelphia sews all the time, especially when things are going wrong. But when Mama gets deathly ill, it doesn't seem like even quilting will help. Mama needs medicine badly, medicine that can only be found in Camden, over forty miles away. That's when Ludelphia decides to do something drastic. Leave Gee's Bend. Beyond the cotton fields of her small sharecropping community, Ludelphia discovers a world she never imagined, but there's also danger lurking for a young girl on her own."
Kids Book about Alabama
Y is for Yellowhammer by Carol Crane
"Travel across the diverse state of Alabama and meet its famous sons and daughters, from legendary football coach Bear Bryant to the remarkable Helen Keller and civil rights activist Rosa Parks. Visit landmarks such as the Bellingrath Home, or stop by Landmark Park and see how a farm was run in the 1890s. Written in the popular two-tier format for the Discover America State by State series, with simple rhymes for younger children and expository text for older children, Y is for Yellowhammer is a delightful tour of the state of Alabama."
This series of books called Discover America State By State are some of my favorites for introducing a state to kids. Each letter states a fact or a thing about that state. For example, for Alabama letter B is for Bellingrath Gardens, C is for Caves and Caverns and so on. Each letter comes with a four line rhyme about that respective letter's fact or subject. What I love most is on the side of the page it gives more in-depth description about each subject. It's a great jumping off point for what sparks an interest in your child!
Children's Books About Alabama History
Picture books about Alabama History
Child of the Civil Rights Movement by Paula Young Shelton
"Paula Young Shelton, daughter of Civil Rights activist Andrew Young, brings a child's unique perspective to an important chapter in America's history. Paula grew up in the deep south, in a world where whites had and blacks did not. With an activist father and a community of leaders surrounding her, including Uncle Martin (Martin Luther King), Paula watched and listened to the struggles, eventually joining with her family (and thousands of others) in the historic march from Selma to Montgomery. Poignant, moving, and hopeful, this is an intimate look at the birth of the Civil Rights Movement."
Let the Children March by Monica Clark-Robinson
"In 1963 Birmingham, Alabama, thousands of African American children volunteered to march for their civil rights after hearing Dr. Martin Luther King Jr. speak. They protested the laws that kept black people separate from white people. Facing fear, hate, and danger, these children used their voices to change the world. Frank Morrison's emotive oil-on-canvas paintings bring this historical event to life, while Monica Clark-Robinson's moving and poetic words document this remarkable time."
Nonfiction Books about the Civil Rights Movement
Marching for Freedom: Walk Together, Children, and Don't You Grow Weary by Elizabeth Partridge.
"Award-winning author Elizabeth Partridge leads you straight into the chaotic, passionate, and deadly three months of protests that culminated in the landmark march from Selma to Montgomery in 1965. Focusing on the courageous children who faced terrifying violence in order to march alongside King, this is an inspiring look at their fight for the vote."
We've Got a Job: The 1963 Birmingham Children's March by Cynthia Levinson
"The inspiring story of one of the greatest moments in civil rights history seen through the eyes of four young people at the center of the action.
The 1963 Birmingham Children's March was a turning point in American history. In the streets of Birmingham, Alabama, the fight for civil rights lay in the hands of children like Audrey Hendricks, Wash Booker, James Stewart, and Arnetta Streeter. We've Got a Job tells the little-known story of the 4,000 black elementary, middle, and high school students who voluntarily went to jail between May 2 and May 11, 1963. The children succeeded where adults had failed in desegregating one of the most racially violent cities in America."
Freedom Walkers: The Story of the Montgomery Bus Boycott by Russell Freedman
"Freedman's book tells the dramatic stories of the heroes who stood up against segregation and Jim Crow laws in 1950s Alabama. A master of succinct historical narratives, Freeman explains the contributions of and sacrifices made by Rosa Parks, Claudette Colvin, Jo Ann Robinson, and Martin Luther King, Jr. Full of eye-witness reports, iconic photographs from the era, and crucial primary sources, this work brings the narratives alive for contemporary readers. A map, source notes, a bibliography, and other back matter make is a valuable classroom resource."
Children's Books about Rosa Parks
Picture Books about Rosa Parks
"Fifty years after her refusal to give up her seat on a Montgomery, Alabama, city bus, Mrs. Rosa Parks is still one of the most important figures in the American civil rights movement. This tribute to Mrs. Parks is a celebration of her courageous action and the events that followed."
Rosa's Bus: The Ride to Civil Rights by Jo S. Kittinger
"Like all buses in Montgomery, Alabama in the 1950's, Bus #2857 was segregated: white passengers sat in the front and black passengers sat in the back. Until Rosa Parks refused to give up her seat to a white passenger. Her arrest sparked the Montgomery Bus Boycott, a major event in the Civil Rights movement led by a young minister, Dr. Martin Luther King, Jr. For 382 days, black passengers chose to walk rather than ride the buses in Montgomery."
Chapter Book About Rosa Parks
Rosa Parks: My Story by Rosa Parks
"Rosa Parks is best known for the day she refused to give up her seat on a segregated bus, sparking the Montgomery, Alabama, bus boycott. Yet there is much more to her story than this one act of defiance. In this straightforward, compelling autobiography, Rosa Parks talks candidly about the civil rights movement and her active role in it. Her dedication is inspiring; her story is unforgettable."
Children's Books about Helen Keller
Helen Keller Picture Book
Helen's Big World: The Life of Helen Keller by Doreen Rappaport and Matt Tavares
"With her signature style of prose laced with stirring quotes, Doreen Rappaport brings to life Helen Keller's poignant narrative. Acclaimed illustrator Matt Tavares beautifully captures the dynamism and verve of Helen Keller's life and legacy, making Helen's Big World an unforgettable portrait of a woman whose vision for innovation and progress changed America, and the world, forever."
Short Chapter Book About Helen Keller
Helen Keller: Courage In The Dark by Johanna Hurwitz
"A biography of the blind and deaf girl who overcame both handicaps with the help of her teacher, Anne Sullivan."
Young Adult Book about Helen Keller
Miss Spitfire: Reaching Helen Keller by Sarah Miller
"Annie Sullivan was little more than a half-blind orphan with a fiery tongue when she arrived at Ivy Green in 1887. Desperate for work, she'd taken on a seemingly impossible job: teaching a child who was deaf, blind, and as ferocious as any wild animal. But if anyone was a match for Helen Keller, it was the girl who'd been nicknamed Miss Spitfire. In her efforts to reach Helen's mind, Annie lost teeth to the girl's raging blows, but she never lost faith in her ability to triumph. Told in first person, Annie Sullivan's past, her brazen determination, and her connection to the girl who would call her Teacher are vividly depicted in this powerful novel."
Books Set in Alabama (for Mom!)
I love to read, and I love a good theme or challenge for a reading list. So my final two books on this book list are one adult fiction and one adult non-fiction.
Fiction Book Set in Alabama
Fried Green Tomatoes at the Whistle Stop Cafe by Fannie Flagg
"Folksy and fresh, endearing and affecting, Fried Green Tomatoes at the Whistle Stop Cafe is a classic novel about two women: Evelyn, who's in the sad slump of middle age, and gray-headed Mrs. Threadgoode, who's telling her life story. Her tale includes two more women, the irrepressibly daredevilish tomboy Idgie and her friend Ruth, who back in the thirties ran a little place in Whistle Stop, Alabama, offering good coffee, southern barbecue, and all kinds of love and laughter, even an occasional murder. And as the past unfolds, the present will never be quite the same again."
Non-fiction Book Set In Alabama
All Over But the Shoutin' by Rick Bragg
"This haunting, harrowing, gloriously moving recollection of a life on the American margin is the story of Rick Bragg, who grew up dirt-poor in northeastern Alabama, seemingly destined for either the cotton mills or the penitentiary, and instead became a Pulitzer Prize-winning reporter for The New York Times. It is the story of Bragg's father, a hard-drinking man with a murderous temper and the habit of running out on the people who needed him most. But at the center of this soaring memoir is Bragg's mother, who went eighteen years without a new dress so that her sons could have school clothes and picked other people's cotton so that her children wouldn't have to live on welfare alone. Evoking these lives with artistry, honesty, and compassion, Rick Bragg brings home the love and suffering that lie at the heart of every family. The result is unforgettable."
And there you have it! 20 living books about Alabama. It is my hope that this book list provides you with JUST ONE book to share with your kids. For our homeschool unit we read Inside Out and Back Again, which was our first time reading a story in verse. I was nervous my kids would be put off by the poetry but we all ended up loving the book!
From Selma to Montgomery, and from Rosa Parks to Harper Lee I hope you find some fun things to learn about Alabama!
What kind of books does your child love best? What kind of books would you like to see in the future? Drop a comment below to let me know!