Keep reading for 10 books any 10 year old boy will love!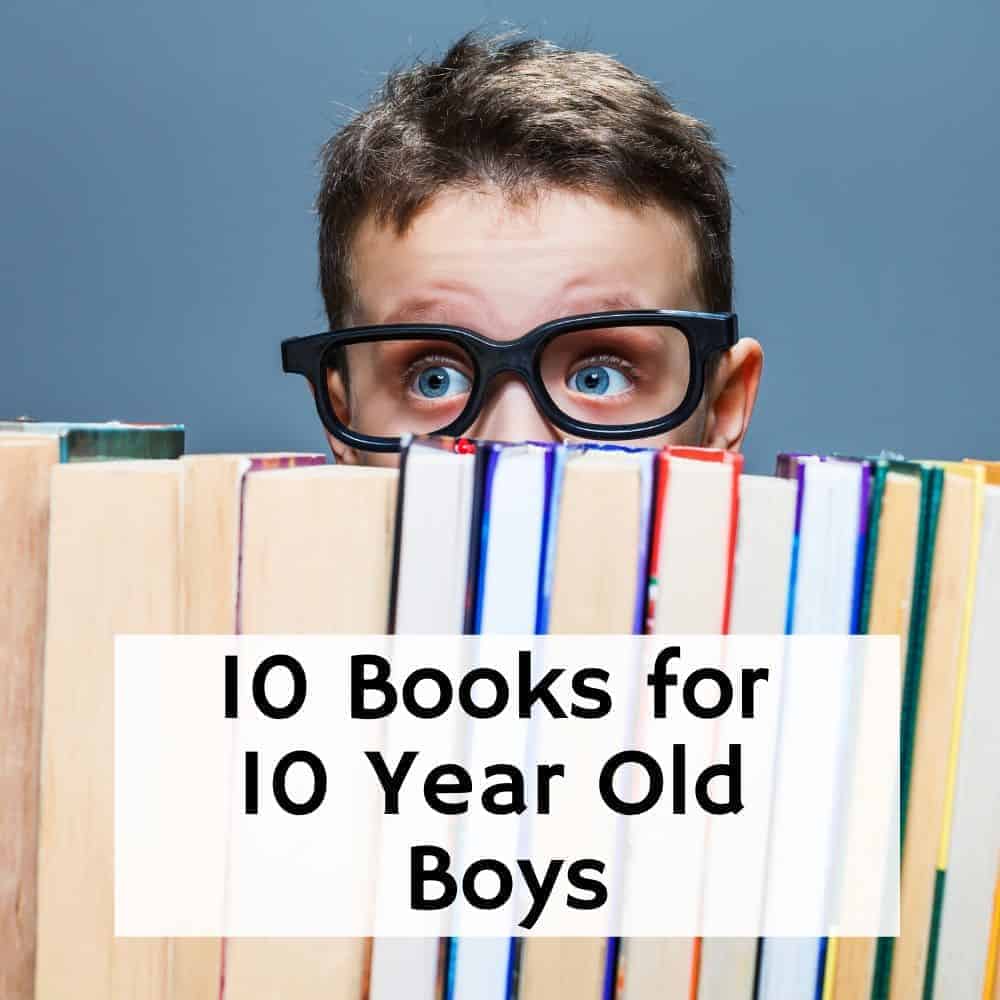 I don't find boys to be reluctant readers, I find them to be selective readers. If they are gonna sit down and be still, the book better be well worth it!!
The story needs to be engaging, plot-driven, and it helps if it is funny. I don't know why but give kids a funny book and they will read it all day.
Every child is different of course, but when I am picking books for boys, no matter what age, I want them to enjoy the book. The Hobbit is an amazing book, but it's not exactly a book that will hold the attention of a squirmy 10 year old boy.
My selections this post, as well as most of my reading lists, are kept to 10 books. I find that short lists makes it easier when you are picking out a book for you child.
This list includes action-packed stories of tornadoes and planes as well as fantasy stories of giants and a mysterious cupboard. Let's dive in!
---
This post contains affiliate links. If you click and make a purchase, we earn a commission at NO extra cost to you. For more information, please read my full disclosure policy.
Descriptions come from Amazon; some are edited for length
Books for 10 Year Old Boys
A Long Way from Chicago by Richard Peck
"Join Joey and his sister Mary Alice as they spend nine unforgettable summers with the worst influence imaginable-their grandmother!"
My daughters and I listened to the audio of this book, and it is so much fun! Lots of funny and outrageous adventures.
"Beware the hare! Harold the dog and Chester the cat must find out the truth about the newest pet in the Monroe household, a suspicious-looking bunny with unusual habits…and fangs! Could this innocent-seeming rabbit actually be a vampire?"
"The BFG is no ordinary bone-crunching giant. He is far too nice and jumbly. It's lucky for Sophie that he is. Had she been carried off in the middle of the night by the Bloodbottler, or any of the other giants, she would have soon become breakfast. When Sophie hears that the giants are flush-bunking off to England to swollomp a few nice little chiddlers, she decides she must stop them once and for all. And the BFG is going to help her!"
The 13-Story Treehouse: Monkey Mayhem! by Andy Griffiths
The 8 book Treehouse Series are one of my kids' favorites! They are short, goofy, have lots of pictures, and are perfect beginning chapter books.
"Andy and Terry live in a treehouse. But it's not just any old treehouse, it's the most amazing treehouse in the world! This treehouse has thirteen stories, a bowling alley, and a marshmallow machine that follows you around and automatically shoots marshmallows into your mouth whenever you are hungry. Life would be perfect for Andy and Terry if it wasn't for the fact that they have to write their next book, which is almost impossible because there are just so many distractions, including thirteen flying cats, giant bananas, a sea monsters pretending to be mermaids, and dangerous burp gas-bubblegum bubbles!"
Night of the Twisters by Ivy Ruckman
"When a tornado watch is issued one Tuesday evening in June, twelve-year-old Dan Hatch and his best friend, Arthur, don't think much of it. After all, tornado warnings are a way of life during the summer in Grand Island, Nebraska. But soon enough, the wind begins to howl, and the lights and telephone stop working. Then the emergency siren starts to wail. Dan, his baby brother, and Arthur have only seconds to get to the basement before the monstrous twister is on top of them."
If you have a child who loves weather and natural disasters this is a perfect book. It keeps you on the edge of your seat without being too scary or overwhelming.
---
The Indian in the Cupboard by Lynne Reid Banks
"It's Omri's birthday, but all he gets from his best friend, Patrick, is a little plastic Indian toy. Trying to hide his disappointment, Omri puts the Indian in a metal cupboard and locks the door with a mysterious skeleton key that once belonged to his great-grandmother. Little does Omri know that by turning the key, he will transform his ordinary plastic Indian into a real live man from an altogether different time and place! Omri and the tiny warrior called Little Bear could hardly be more different, yet soon the two forge a very special friendship. Will Omri be able to keep Little Bear without anyone finding out and taking his precious Indian from him?"
The Whipping Boy by Sid Fleischman
"Prince Brat and his whipping boy inadvertently trade places after becoming involved with dangerous outlaws. The two boys have nothing in common and even less reason to like each other. But when they find themselves taken hostage after running away, they are left with no choice but to trust each other."
The Graveyard Book by Neil Gaiman
"Nobody Owens, known as Bod, is a normal boy. He would be completely normal if he didn't live in a graveyard, being raised by ghosts, with a guardian who belongs to neither the world of the living nor the dead. There are adventures in the graveyard for a boy, but if Bod leaves the graveyard, he will be in danger from the man Jack, who has already killed Bod's family."
Ben and Me: An Astonishing Life of Benjamin Franklin by His Good Mouse Amos by Robert Lawson
"Ever wonder where inventors get their ideas? As it turns out, the great inventor Benjamin Franklin got his best ideas from a mouse named Amos! Funny, interesting and wise, this classic tale has been a favorite for generations. Once you've met Amos and read his account, you'll never think of Ben Franklin, or American history, quite the same way."
An adorable book for the animal lover or history buff in your life!
The Watsons Go to Birmingham–1963 by Christopher Paul Curtis
"Enter the hilarious world of ten-year-old Kenny and his family, the Weird Watsons of Flint, Michigan. There's Momma, Dad, little sister Joetta, and brother Byron, who's thirteen and an 'official juvenile delinquent.' When Byron gets to be too much trouble, they head South to Birmingham to visit Grandma, the one person who can shape him up. And they happen to be in Birmingham when Grandma's church is blown up."
From bunnies to mice and from graveyards to treehouses, this book list for boys includes something for everyone! Boys aren't hard to pick out books for, you just have to know what you are looking for.
Happy reading!
---